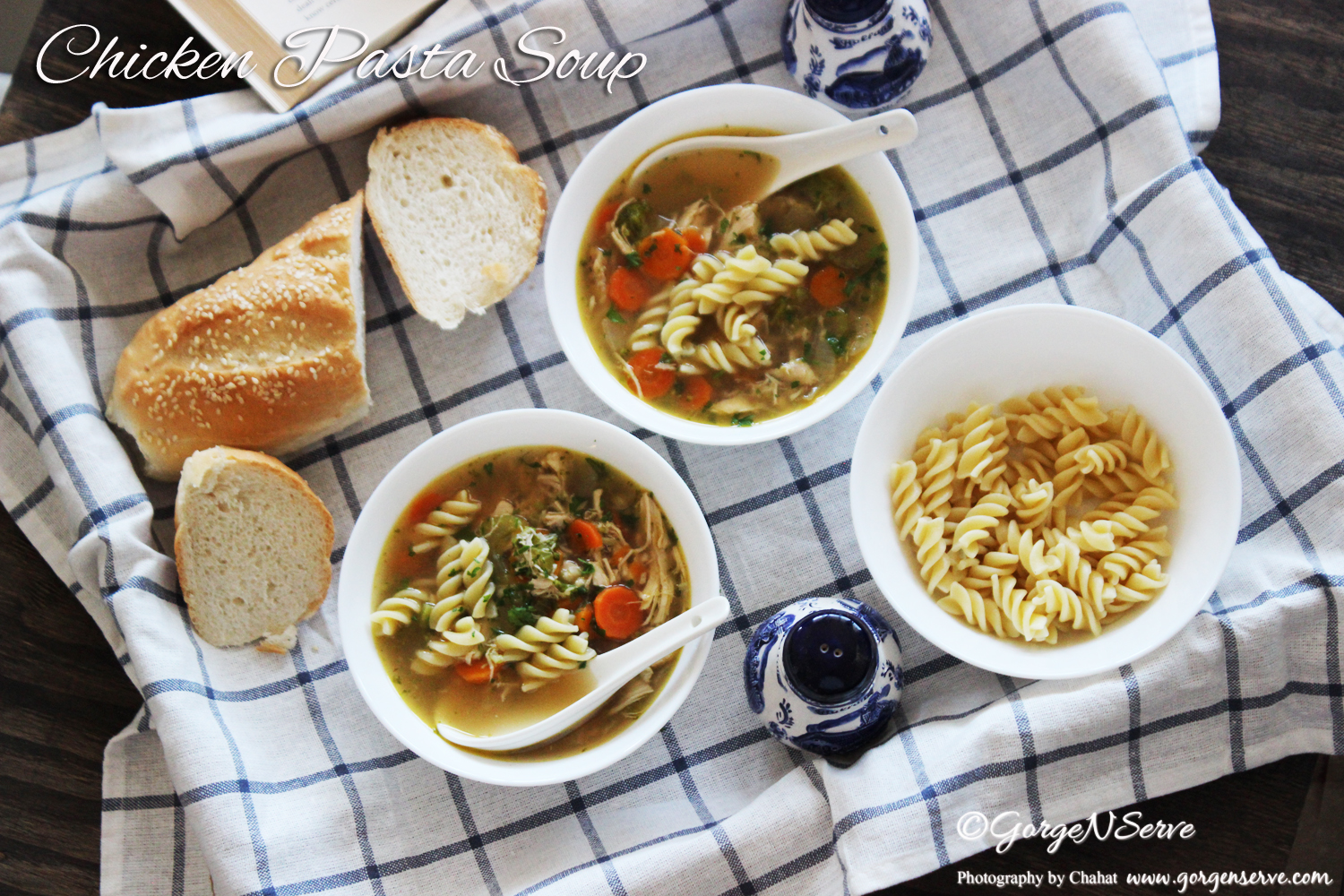 Hearty Chicken Pasta Soup
Few days back we went to meet a friend and on the way since we were hungry , we stop by and bought some Chicken soup and bagel from a place called Maccafe . I ate bagel and my Ka had this chicken soup, he asked me to taste the soup and it was delicious . I was sick for past two days and was craving for the same soup so I decided to make it at home , googled few recipes and came up with my own  🙂 the way I want to have it .I feel like I should seriously make batches of this soup and just keep them in my freezer for the next time I'm feeling sick 😛 When I am sick I don't feel like eating but I can drink ( not alcohol 😛 ) for sure , and this is the best dinner option. It's light, simple, easy, delicious and super healthy.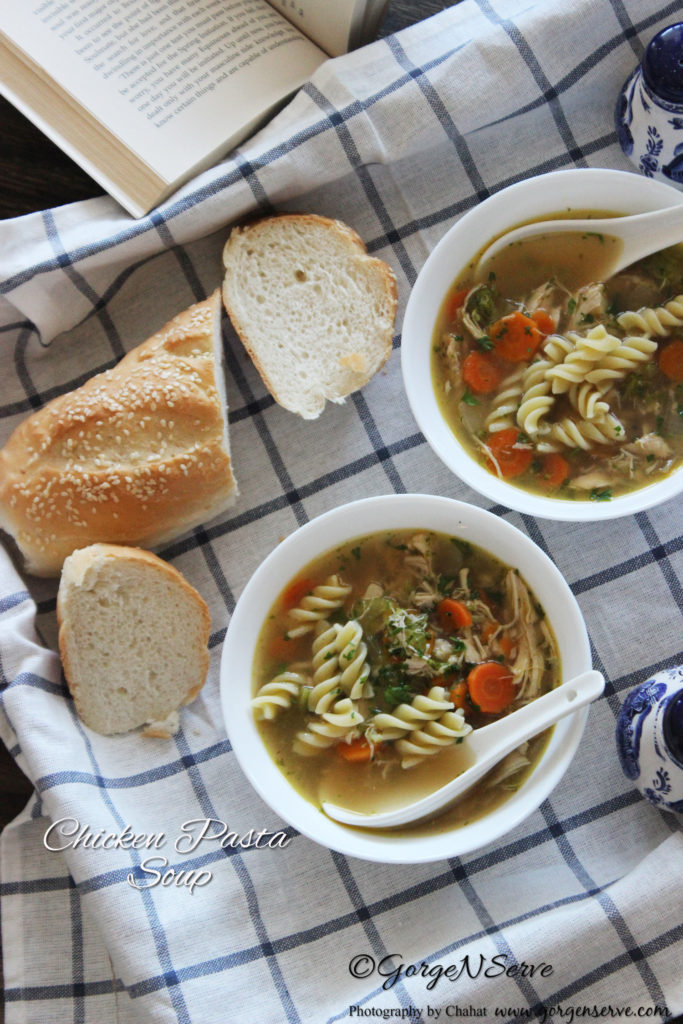 Ingredients ( for 3 person )
Medium size chicken breast
3 tbsp Olive oil
5 cloves garlic, minced
1 celery rib, diced small
2 carrot, peeled and cut into ½ -inch pieces
1/2 onion chopped into small pieces
4 cups chicken broth
1 small bay leaf
4 cup dried rotini pasta
1 tablespoon minced fresh parsley
Salt and Pepper to taste
Process
Heat the oven to 425 degrees.
Wash the chicken nicely and pat dry with paper towel.
Take a roasting pan and cover with silver foil , Drizzle a tiny bit of oil in the bottom of a roasting pan, add the chicken to the roasting pan, drizzle a little oil over the top, season with salt and pepper .
Roast the chicken for 1 hour.
Meanwhile in a large heavy duty pot, add 2 tbsp of the oil and let it heat over medium heat, add the onions, celery and carrots and season lightly with salt and pepper.
Cook the veggies until softened, about 5 to 7 minutes. Add the garlic and cook for an additional 30 seconds.
Now add the  chicken stock, add bay leaf and sprinkle in the parsley, bring to a boil .
Add the baked chicken , with any accumulated juices.
Cover and bring to a simmer. Cook on a low simmer for 30 min.
Transfer chicken to cutting board, let cool slightly, then shred into bite-size pieces using 2 forks, discarding skin and bones( if any )
Meanwhile, cook pasta or noodles separately in a pot of boiling salted water, according to package directions. Drain and keep aside.
To serve soup, discard bay leaf. Off heat, stir in shredded chicken and let sit until heated through, about 2 minutes.
Stir in parsley and season with salt and pepper to taste if needed.
Pour hot soup over pasta in bowls and serve hot 🙂
Enjoy this hearty soup with choice of your bread .