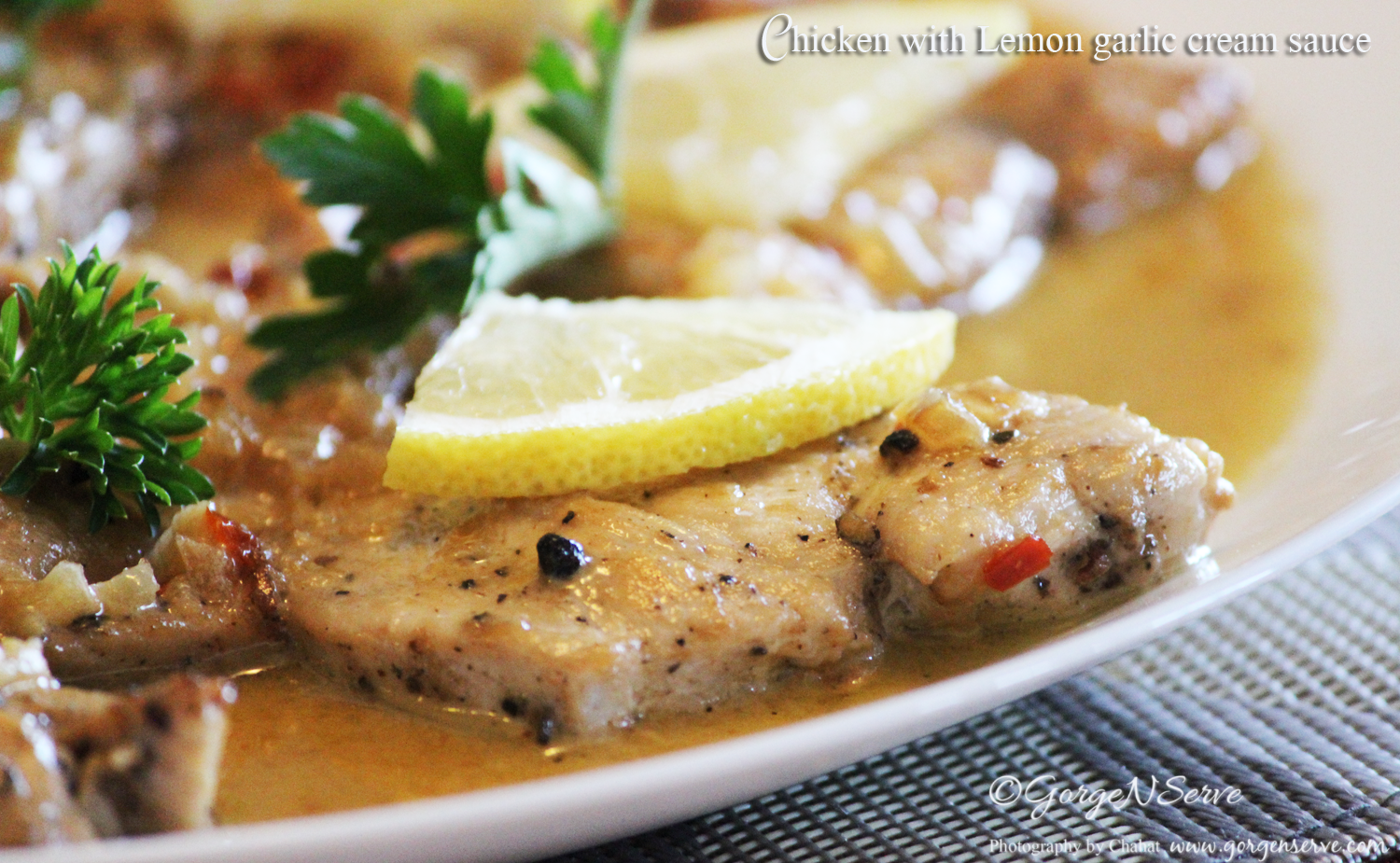 Chicken with Lemon garlic cream sauce
Please welcom my  new favorite chicken recipe that's topped with a lemon garlic butter cream sauce! 
I've gone completely head over heels for this recipe , the reason being it's super delicious and super creamy . Its damn to easy to cook and for a change from my normal daal-roti 🙂
To make this creamy dish we're using  ingredients like, butter, lemon juice, garlic, red pepper flakes, and parsley. To take it to next level we are adding chicken broth and a big splash of heavy cream. The sauce has a nice creamy consistency that would taste AMAZING !!!
I was so bored of my usual cooking that I wanted something different. This was in my mind for a long time and since it was a easy peasy dish I decided to make it along with some Pasta . It was PERFECT with a glass of my favorite french wine Moscato – peach flavored. It was divine.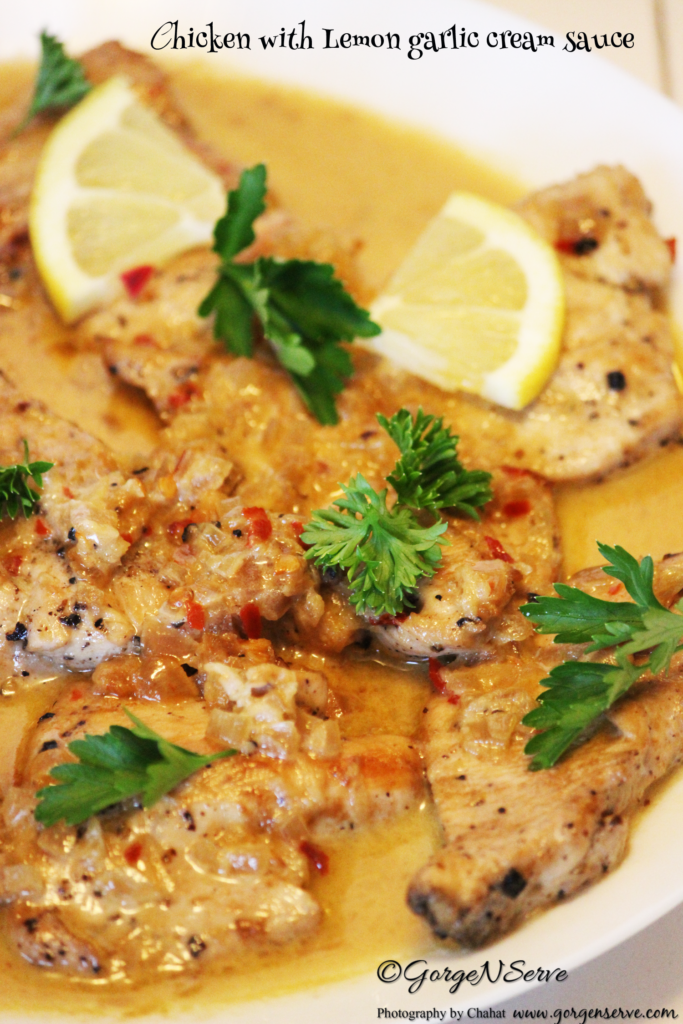 So lets learn how to make it .
Ingredients
2 boneless skinless chicken breasts (or thighs) same thickness . not so thick , should be ½ inch thickness
1 cup chicken broth or Veg broth
2 tbsp lemon juice
1 tbsp minced garlic
½ teaspoon red pepper flakes (or more to taste)
1 tbsp olive oil
⅓ cup finely diced  red onions
2 tbsp salted butter
¼ cup heavy cream
2 tablespoons chopped parsley or basil
salt and pepper ( 1/2 tbsp )
Process
Marinate chicken with salt to taste and pepper on both sides of the chicken and keep aside.
Now in a bowl, combine the chicken broth, lemon juice, garlic, and red pepper flakes.Mix well.
Meanwhile reheat the oven to 375ºF.
Now heat the olive oil in a large oven-safe skillet over medium high heat.
Add the chicken and allow to brown on both sides for 2-3 minutes per side. Don't worry if the chicken isn't cooked completely, we'll finish it in the oven. Remove the chicken to a plate.
Reduce the flame to medium, add the onions to the skillet along with the chicken broth mixture.
Using a whisk, scrape the bottom of the pan so all the brown bits are loosened.
Let sauce boil for some time and reduce until about ⅓ cup.
When the sauce has thickened, remove from the flame, add the butter and whisk until it melts completely.
With the skillet off the flame, add the heavy cream, whisk to combine and mix well.
Add the chicken back into the pan and drizzle the sauce over the chicken using a spoon.
Place the skillet in the oven for 20 minutes or until the chicken is completely cooked through.
Top with chopped parsley or basil and serve warm with additional lemon slices.
Isn't this such an amazing chicken recipe. Each bite is full of flavours, delicate aroma and a creamy scrumptious gravy that will make you want it more and more. Try it out and let me know your experience.
Love
CK