Samosa
Does Samosa needs an introduction , I guess  NOT-AT-ALL , Samosa is such a mouth watering delicacy stuffed with potato and peas , cooked in fragrant Indian spices !! A perfect snack option, especially for the impending winter evenings or rainy seasons 🙂 I am sure that even if you are health conscious , you would eat samosa in your cheat days 🙂 The reason being it's such an delicious and awesome snack.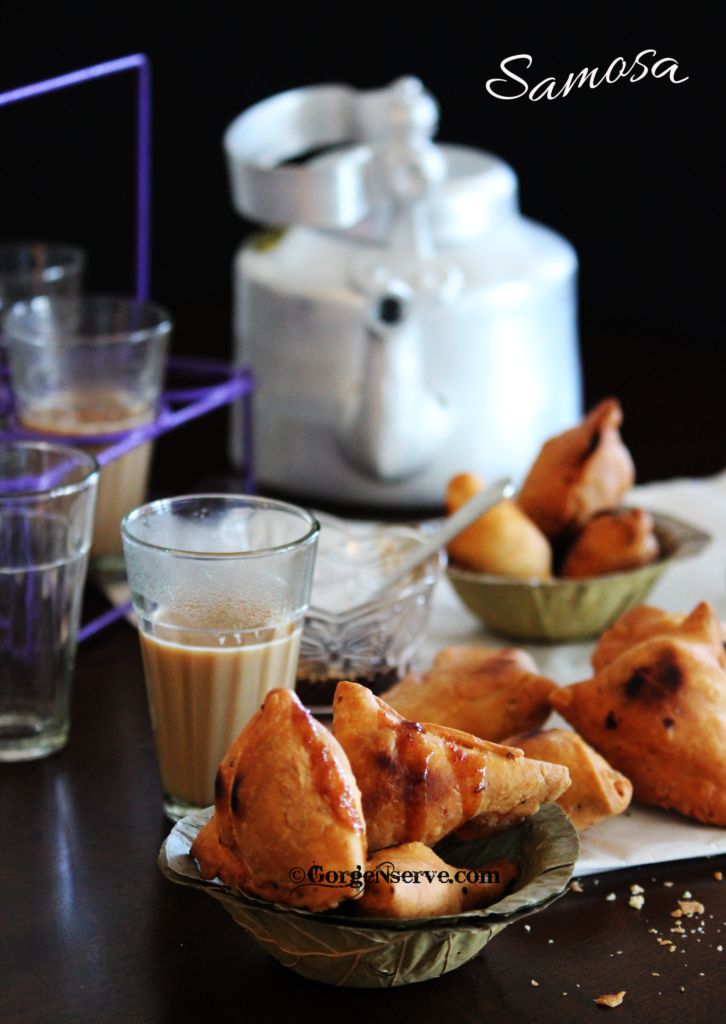 It is typical Indian snack that has been much loved since ages by all age groups.The flaky and crispy pastry stuffed with a spicy potato filling is deep fried to golden perfection and looks about ready to burst with all the deliciousness !!!  Usually served as a snack along with green chutney and tamarind dip, samosa is one of the most adored snacks in India.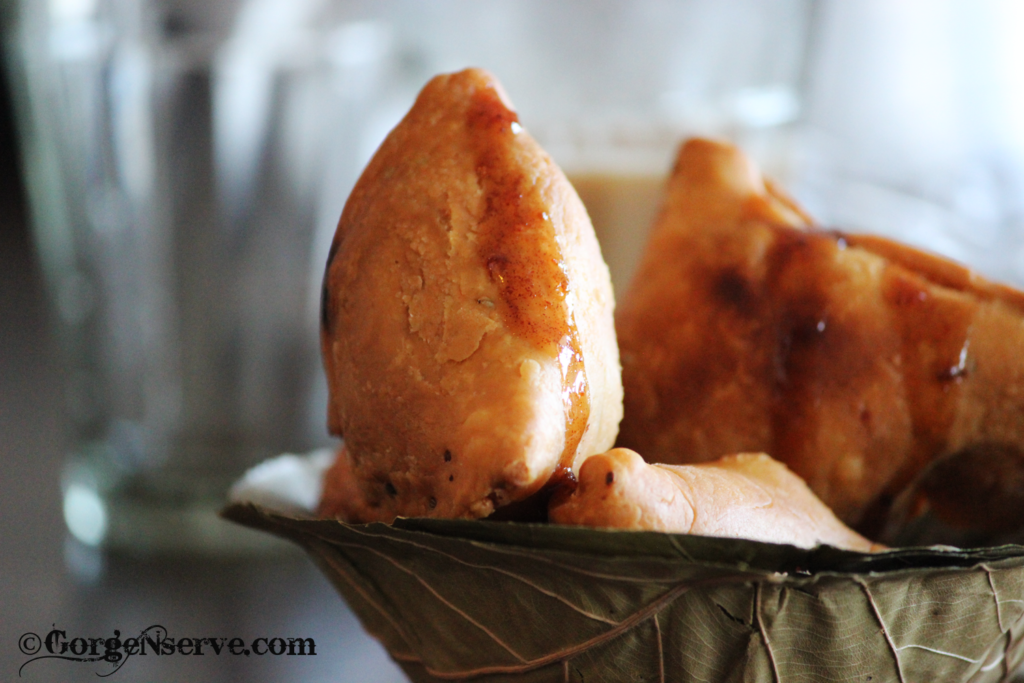 Ingredients 
For the Samosa dough
1 and 1/2 cup maida (all purpose flour)
4 tbsp, ghee or oil
1 tsp, ajwain (carom seeds)
Salt to taste
Water as required
Enough Oil for frying.
For the Aloo filling
4 medium size boiled potatoes, roughly mashed
½ cup, green peas.
½ tsp, cumin seeds
1 tbsp oil
1 tsp, aamchur (dry mango powder)
Handful of cashew nuts, roughly broken
1 tbsp Coriander powder
1 tsp roasted cumin powder
1 tsp kashmiri red Chilly powder
Salt to taste
Process
Dough :
In a bowl, add flour, carom seeds, salt and ghee/oil . Mix with your fingers into a crumble mixture.
Now adding water slowly and knead it to a stiff dough.
Cover with a damp cloth and keep it aside for 30 mins
Potato filling :
In a pan heat oil, add cumin seeds let it crackle.
Now add green peas and sauté it for a minute.
Then add broken cashews and toss until just light golden.
Now its time to add the mashed potatoes, Coriander powder,cumin powder ,aamchur and red chilly powder. Mix well.
Now add salt and mix it again and fry for 1 -2 min.
Remove from heat and let it cool.
How to make the Samosa :
After 30 min of give the dough a good knead again.
Divide the dough into equal balls depending upon the size of the samosas you prefer.( small or big )
Roll out into an oblong shaped disc. It should be neither too thick nor thin.
Using a knife cut the rolled disc into 2 parts.
Take one half in hand, apply little water on the straight edges. Bring the straight edges together to form a cone. Press it well so that the filling doesn't ooze out during frying.
Fill the cone with the prepared potato filling.
Once its filled,apply little water on the inner edges of the cone and seal it very well to form the shape of the samosa.
Repeat the same for the rest of dough and make all your samosa.
Now heat enough oil in a deep wok or kadhai.
Once the oil is just a little hot, (the temperature of the oil should be just a little more than room temperature)
Drop in few samosas and fry them until they are brown from all sides, crisp and properly cooked within.  Keep stirring in between to cook the samosa from all sides.
Do not over crowd the kadhai while frying the samosas. fry in batches .
When frying the next batch, please make sure that the temperature of the oil has come down to just above room temperature and then continue.
Keep the fried samosas in a absorbent paper and serve with chutney of your choice 🙂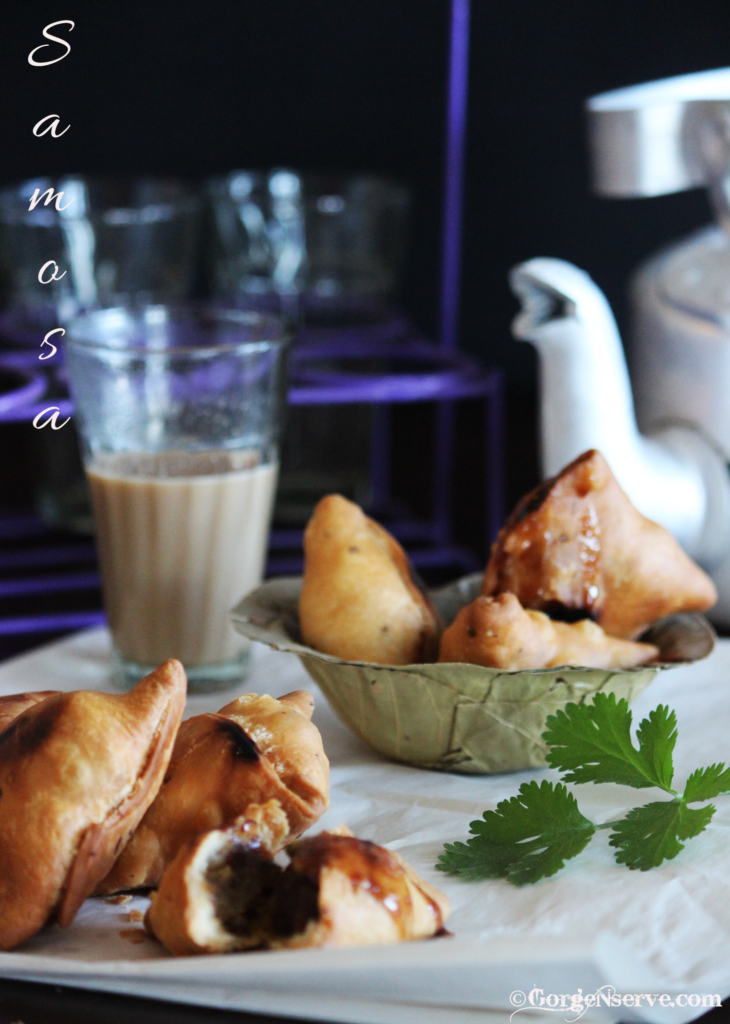 Eaing outside in restaurants is always an option but cooking at home gives me an immense pleasure and also motivation that I can cook anything I want. 🙂 above all  smile & appreciation from your loved ones is cherry on the cake. 🙂
 Love
CK