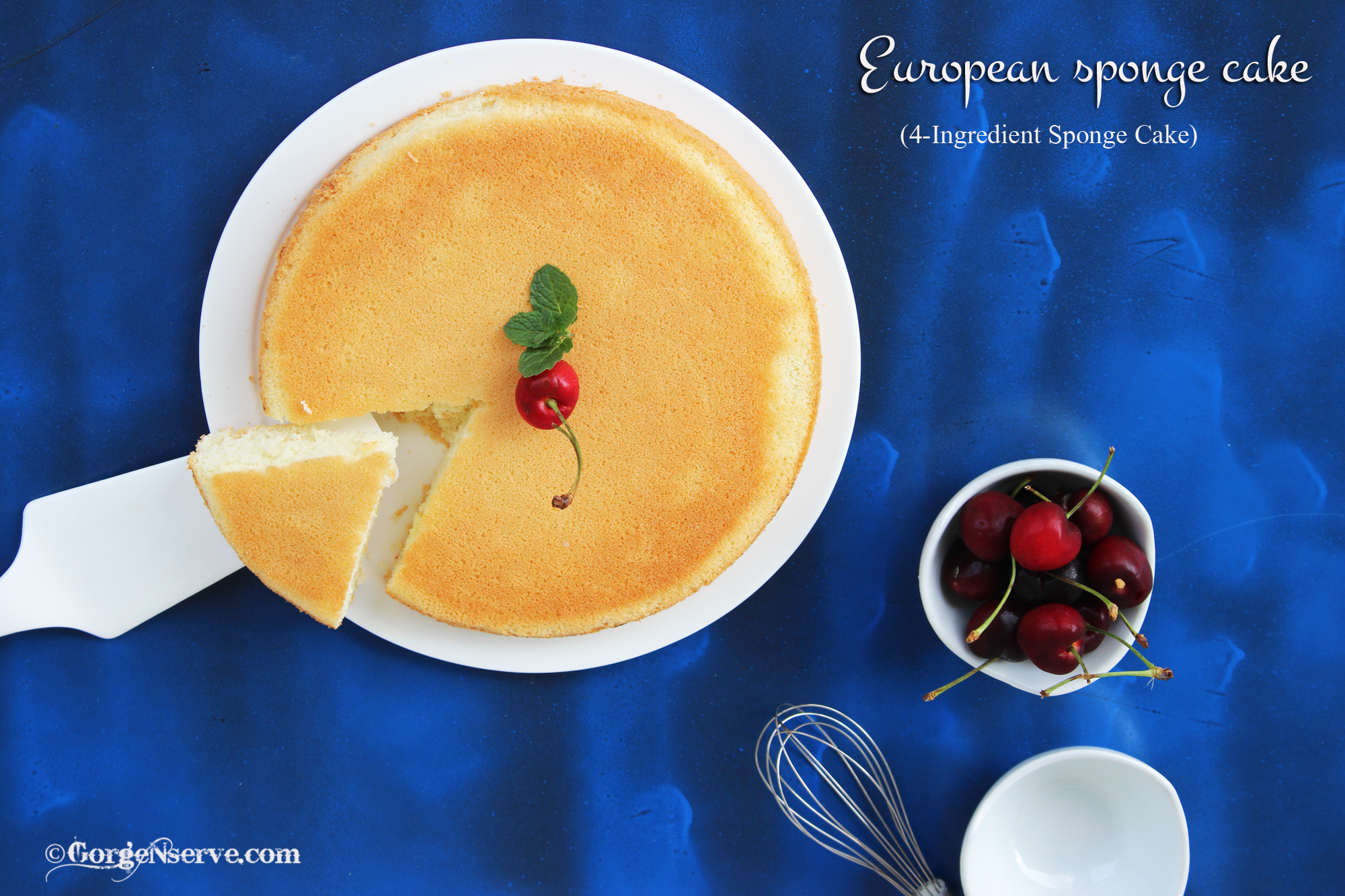 European sponge cake(Genoise)
Hello my dear people 🙂 Ca va bien ?  I know it's been months that I posted any new recipe . So today I present you this super delicious, fluffy and 4 ingredient sponge cake. Baking is scary for me , I have no idea as if why I am so paranoid to bake 🙁 but when I bake it's always a success , so  now I am getting a little motivation to continue my baking spree.
Coming to this cake , This is a classic European sponge cake (aka Genoise). A genoise is an Italian sponge cake named after the city of Genoa and closely associated with Italian and French cuisine. Instead of using chemical leavening, air is suspended in the batter through mixing to give volume to the cake
The most amazing part of this cake is that it takes on moisture really well from fruit, frosting, liqueurs and syrups. So with one basic cake you can make plenty of other cakes like Strawberry Cake or even black forest . I will soon share some more recipes .So lets begin 🙂
Ingredients
3  eggs, room temperature
1/2 cup granulated sugar
1/2 cup all-purpose flour
1/4 tsp baking powder
Process
Initial prep :
Preheat your Oven to 350˚F.
Line bottoms of  9″ cake pans with parchment paper (please do not grease the sides).
 Sponge Cake procedure :
In a big bowl beat 3  eggs for 1 minute on high speed using hand mixer or stand mixer.
Keeping the mixer on, gradually add 1/2 cup sugar and continue beating for 8-10 minutes until thick and fluffy. ( Please do not reduce the time as we need the sugar egg mixture thick )
In a separate bowl whisk together 1/2 cup flour and 1/4 tsp baking powder then sift this mixture twice .
Add this dry mixture into fluffy egg mixture slowly in batches ( 3-4 )
Fold with a spatula with each addition just until incorporated.
Make sure to scrape spatula from the bottom to catch any pockets of flour and stop mixing when no streaks of flour remain.
Do not over-mix or you will deflate the batter.
Bake at 350˚F for 23-28 minutes (my oven took 23 min), or until top is golden brown. Remove from pan & transfer to a wire rack and remove parchment backing.
Your Multipurpose European sponge cake is ready to be devoured 🙂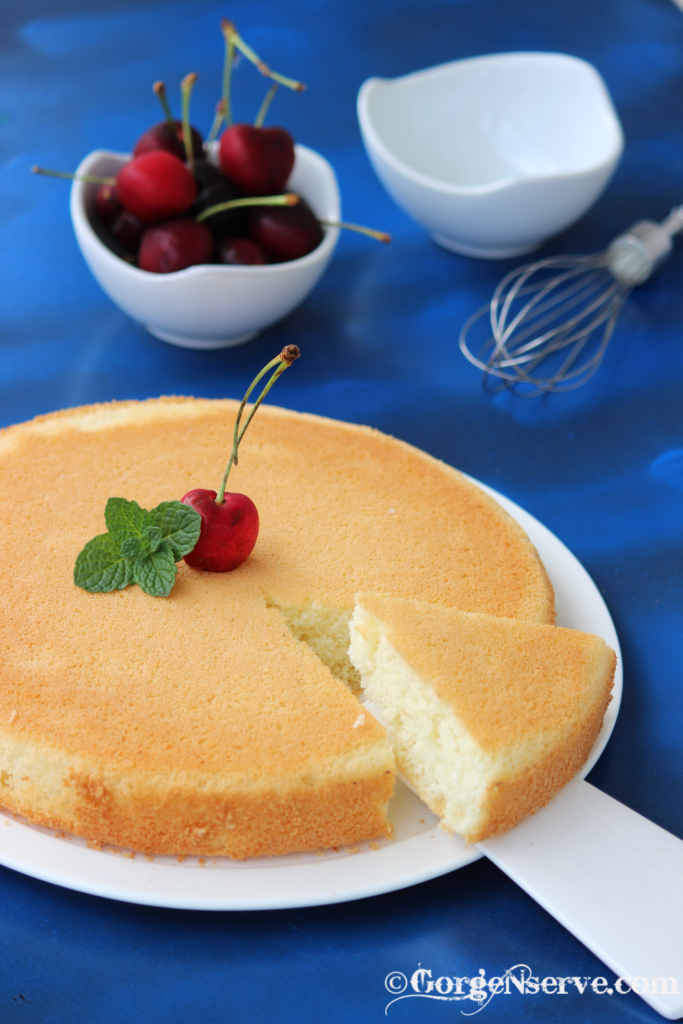 You can enjoy this yummy & easy cake with your evening tea 🙂 Once you master this easy European sponge cake , you can make hundreds of different cakes using this base! Doesn't that sound exciting guys 🙂 I will soon make some different cake using this base. So stay tuned 🙂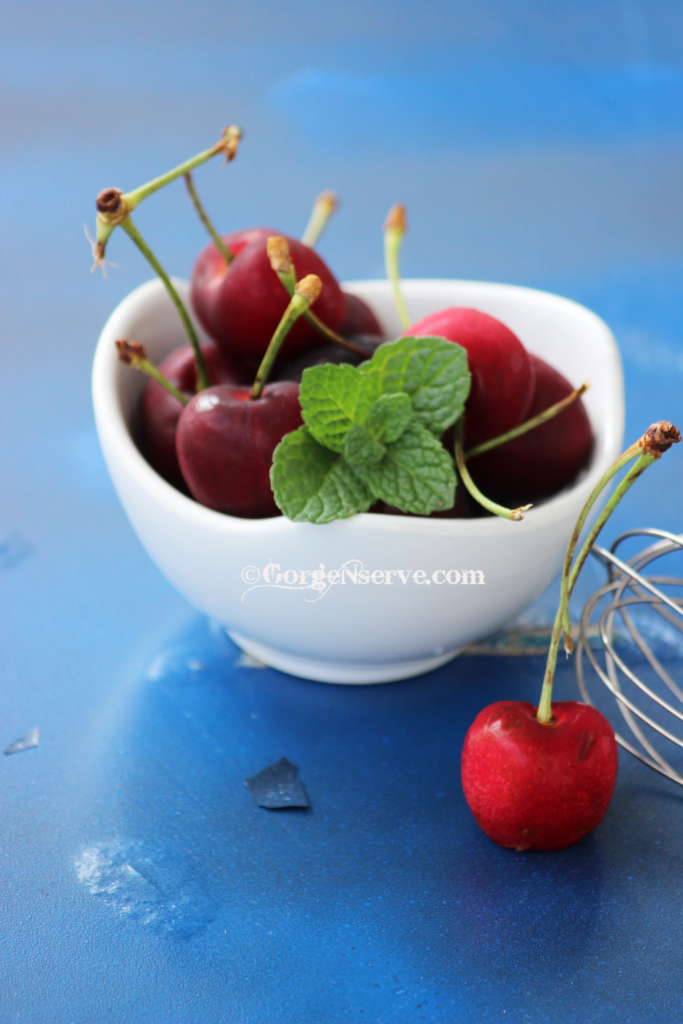 Hope you will try and let me know how it turned out 🙂
Love
CK