Do you know that Mousse was originated in France. Mousse can range from light and fluffy to creamy and thick, depending on preparation techniques.A mousse may be sweet or savory.Dessert mousses are typically made with whipped egg whites or whipped cream, flavored with chocolate, coffee, caramel, puréed fruits . It is stabilized with gelatin.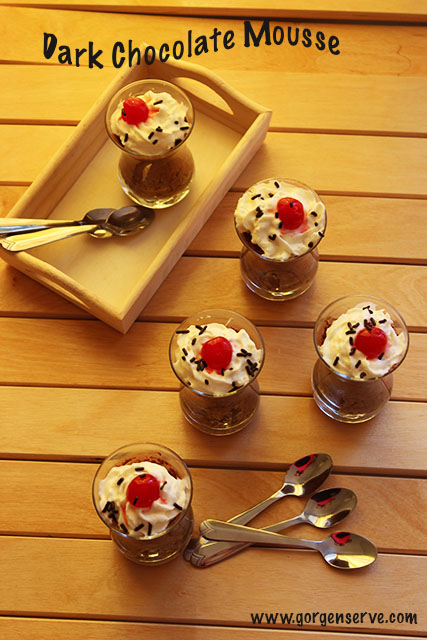 My dark chocolate mousse is the easiest dessert you can think of , it not only easy to make but is amazingly delicious . Your kids will love it for sure. You can make it in a blink of time. It can be a great party option or some time just to satisfy your craving for sweet.This light and fluffy mousse recipe is a party for your mouth.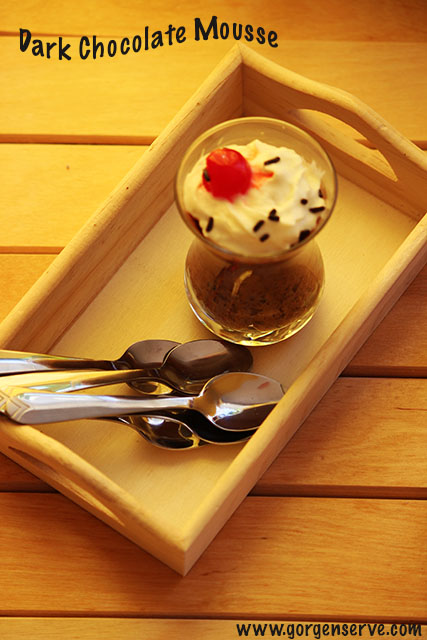 This easy creamy dessert is a decadent ending for any occasion.So lets learn this easy dessert 🙂
Ingredients 
100 gms, dark chocolate (broken) I used Lindt sea salt dark chocolate
2 cup heavy whipping cream (chilled)
1/4 cup powdered sugar ( as per taste)
 ¼ cup hot milk
1½ tsp,  gelatin unflavoured
For garnish:
Chocolate vermicelli
whipped cream
Cherries
Process
Melt the chocolate in a double boiler ( Its preferable as it will avoid from burning )
Whip cream along with sugar with hand blender till it forms a stiff peak.  Preserve little whipped cream for garnish or you can use spray whip cream.
Dissolve gelatin in milk and keep aside.
Gently fold the melted chocolate in the whip cream and add the milk with gelatin. Fold nicely.
Pour the prepared mixture in short glasses .
Refrigerate till it is set.  I kept it overnight .
Garnish with whipped cream, vermicelli and cherry.
Serve chilled.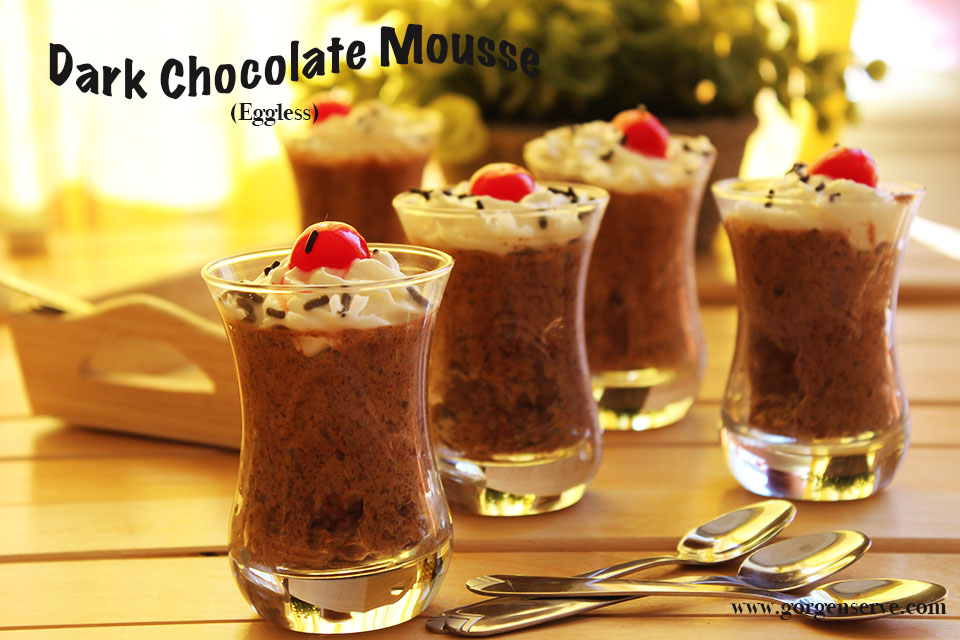 I am sure you will like this simple & easy recipe. Do try it out and share your experience with me .
Love
CK