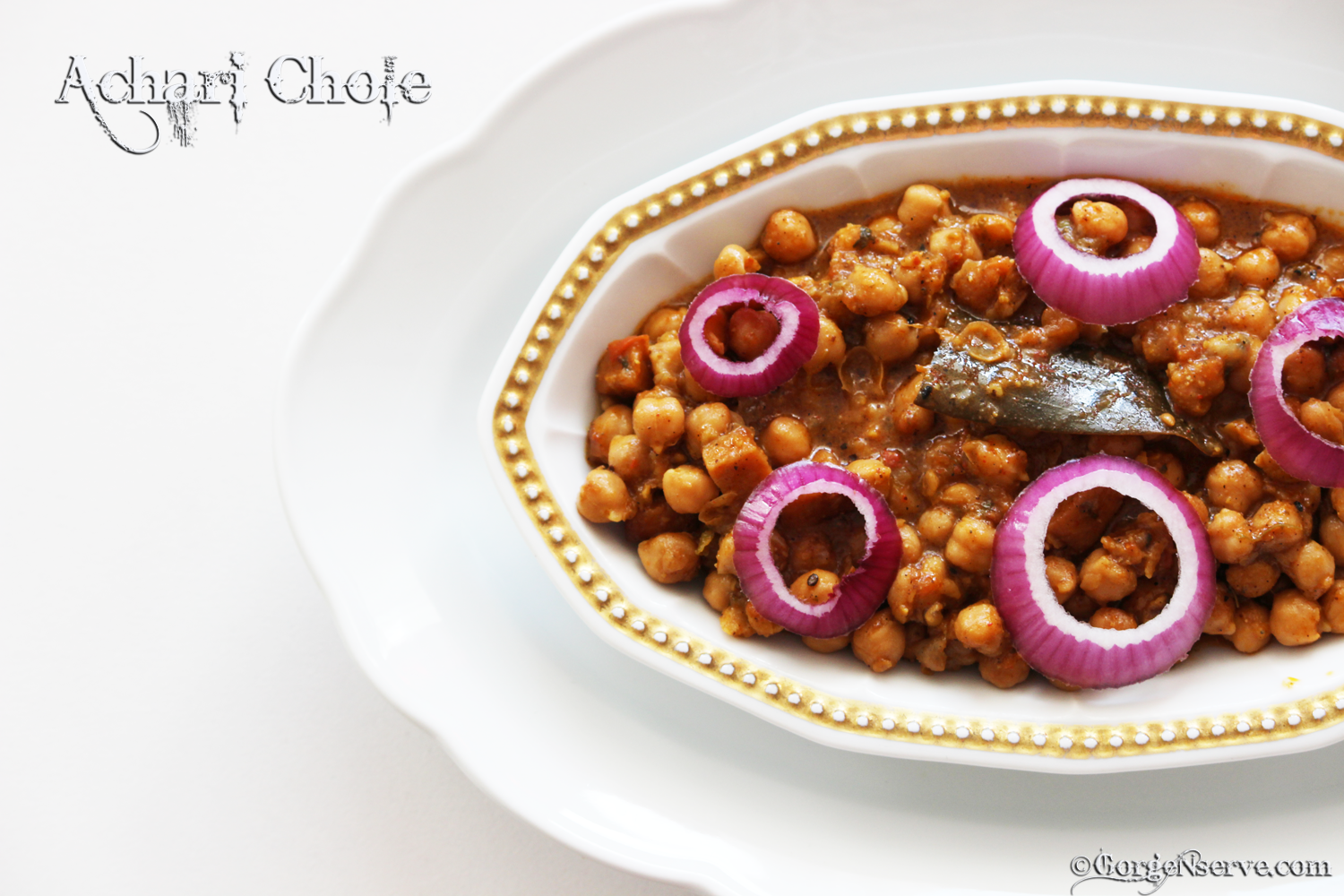 Achari Chole
I was bored of eating Chole the same way how I make , so while searching for something different I  got the recipe of Achari Chole Paneer by Farrukh , since I had very less paneer I decided to make only Achari Chole , and I must say that it was a different, unique & scrumptious recipe. Thanks Farrukh for such a wonderful recipe 🙂 . So if you are looking for a different way of eating Chole , I must say this is an ideal choice. I wanted to have Chole so I used only Chole , but you can go ahead and add lots of paneer to it.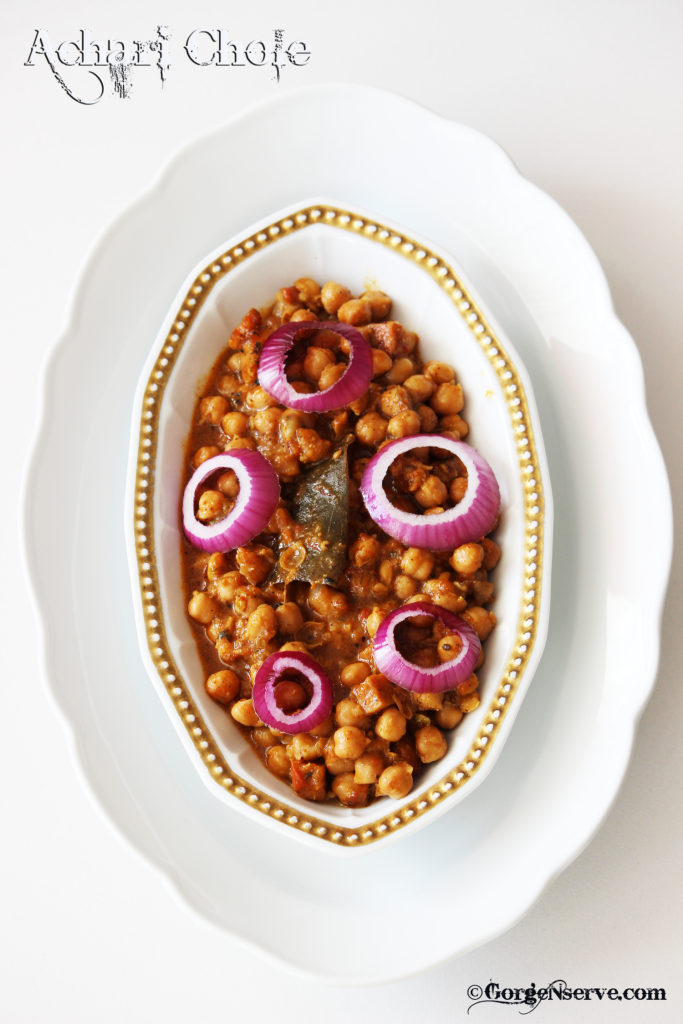 Secret is I did added little paneer but since the quantity was very less I did not mention it 😛 . So no more talking and lets begin 🙂
Ingredients
2 cups garbanzo beans(choley) soaked overnight & boiled till soft
200 gms paneer/cottage cheese ( If you are using it ) cut into small cubes
¼ cup yoghurt
2tbsp, achaari masala ( Click here for the link of Achari Masala by Farrukh )
1 large onion, finely chopped
2 tomatoes finely chopped
1 tbsp ginger, grated
1 ½ tsp coriander powder
½ tsp turmeric powder
1 tsp Kashimiri red chilly powder
2 bay leaves
½ tsp fenugreek ( methi ) seeds
½ tsp nigella seeds(kalaunji)
3 green chili slit
1 tsp kasuri methi(dried fenugreek leaves)
4 tbsp Vegetable/mustard oil
Salt as per taste
1/2 cups water
Juice of one lemon
Process
In a heavy bottom pan  heat oil .
Add methi seeds and nigella seeds. Let it splutter.
Add bay leaf and onion. Fry onions till translucent.
Now add chopped tomatoes and grated ginger.
Cook till tomatoes are soft and mushy.
Add spices now turmeric powder, coriander powder and Kashimiri red chilly powder. Fry till the tomatoes starts oozing oil.
Now add boiled choley and whisked yoghurt, mix well. Add achaari masala and mix. let it cook for 5 min covering the lid.
Add ½ cup of water, cover and cook for 4-5 minutes
Add lemon juice & green chili slit, cook for 2-3 minutes ( Add paneer cubes here in this stage )
Finally add kasuri methi and mix.
Garnish with coriander leaves and onion rings .
Serve hot with paratha, nan, phulka or pulao of your choice.
Note : You can add Paneer pieces to make " Achari Paneer Chole " the way farrukh made.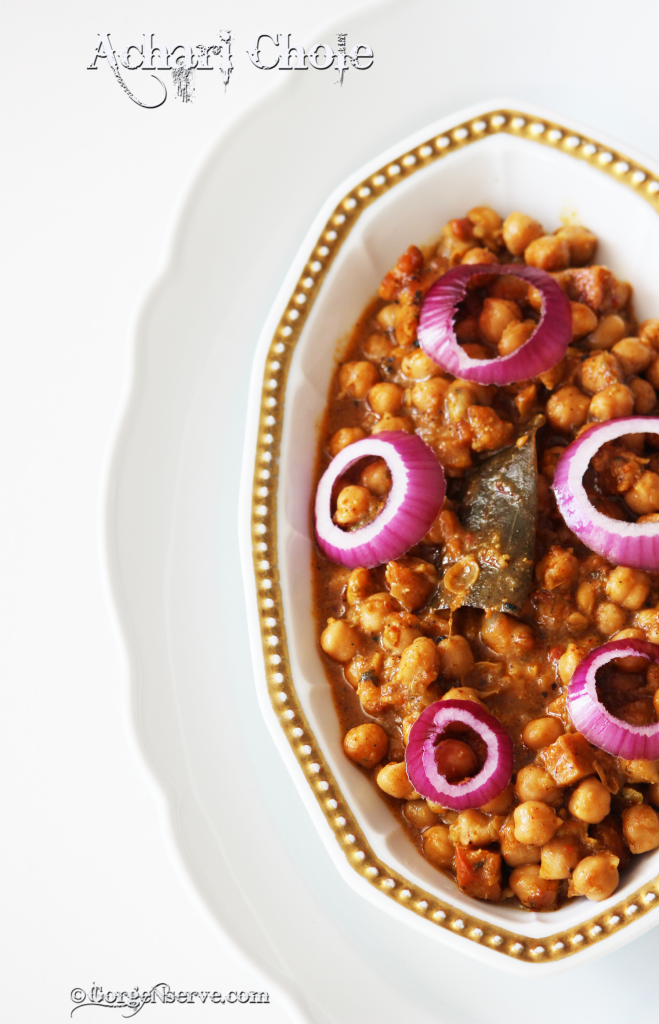 I hope you will try at home & enjoy this , Try your variations & do let me know how it was .
Love
CK