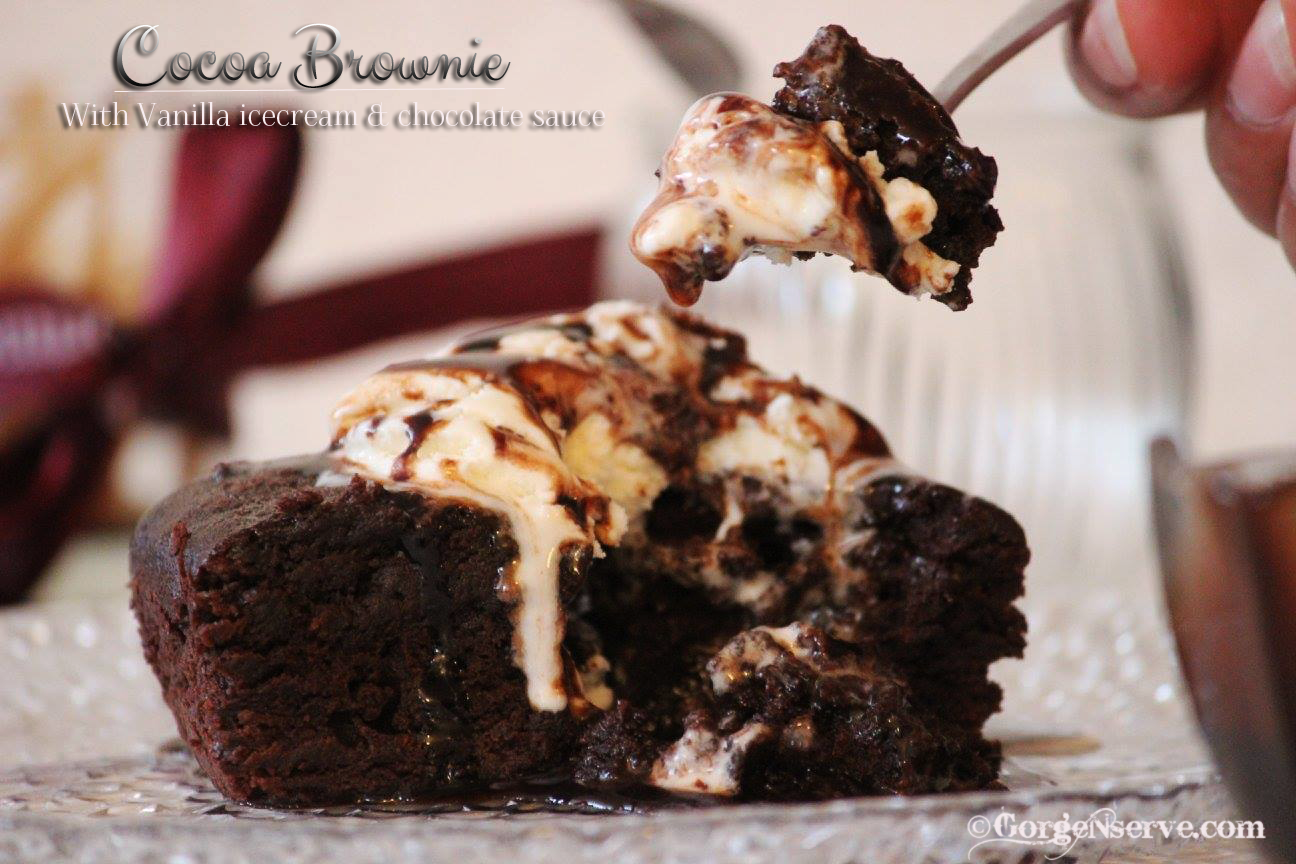 Cocoa Brownie
Who doesn't love eating brownies , I am no exception 🙂 Back in India in CCD we get these sizzling brownies and we use to find reasons to eat them. Fighting over who will lick the chocolate sauce , I guess people go childish when it comes to chocolate or anything related to chocolate. I am not a great fan of chocolates but once in a blue moon I crave for it so badly & I have no idea "WHY ??? "  Yesterday was such a day , I was not keeping well still wanted to make them & eat . I do not have sizzler plates and after I baked the brownies I placed order for a pair from Amazon 😛 . Today we will eat the Brownie the same way but without the sizzling 🙂
Brownies are generally made using either semi sweet chocolate or unsweetened chocolate. I decided to replace the chocolate with unsweetened cocoa powder. The result is a really fine tasting Brownie. One that is cake-like with a deep chocolate flavor yet is wonderfully moist and chewy.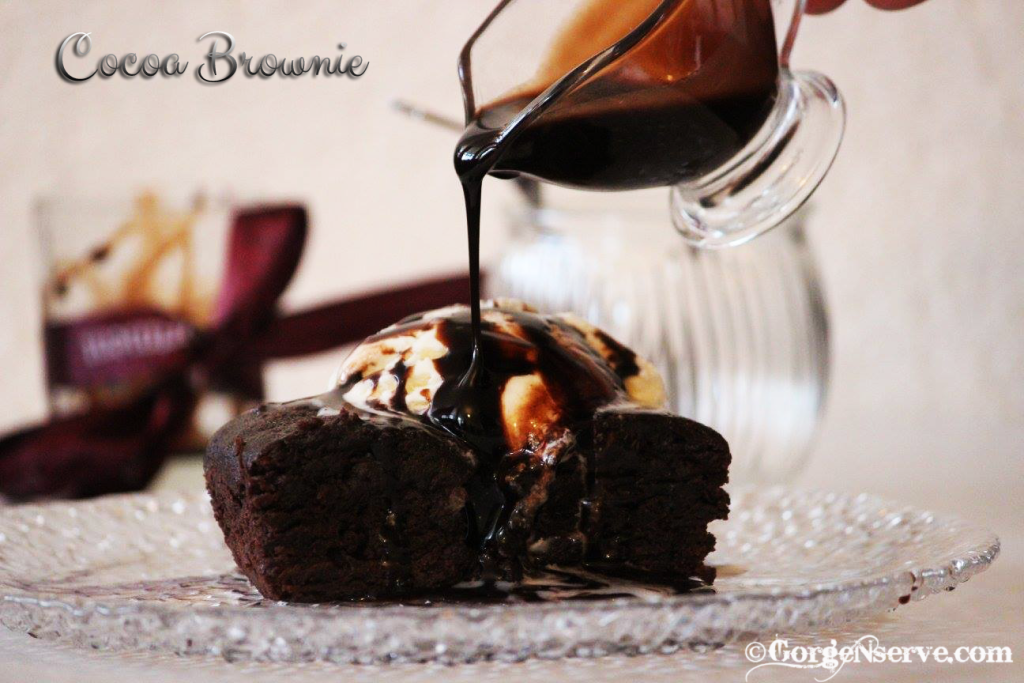 Cocoa Brownies can be made in one bowl. All you need to do is stir all the ingredients together and you're done. It's really important not to over bake the Brownies. Since everyone's oven is a little different, always check the brownies a few minutes before the end of the stated baking time. Brownies are done when a toothpick inserted into the center of the brownies comes out with some moist crumbs still clinging to it.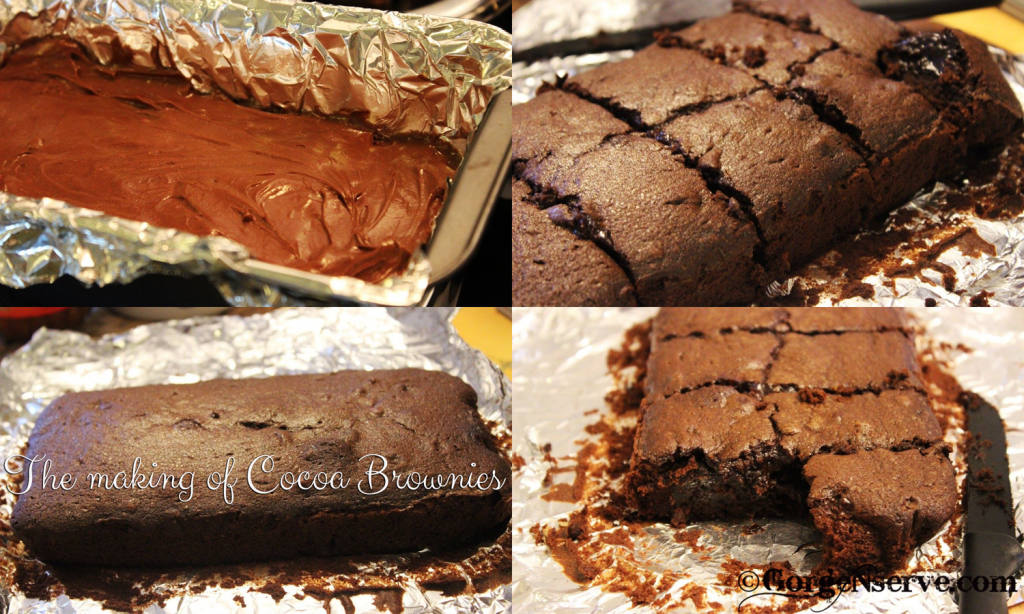 Ingredients
10 tbsp Unsalted butter ( Melted)
1 & 1/4 cup Powder sugar
3/4 cup  (1/2 + 1/4 ) Cocoa Powder
1/2 cup All purpose flour or Maida
1/4 tsp salt ( if using unsalted butter )
1/4 tsp Baking powder
2 eggs in room temp
1/2 tsp Vanilla extract
1/4 sour cream ( You can use curd as an alternative)
Process
Preheat the oven to 325 degrees F (165 degrees C).
Line the bottom and sides of an 8 inch square pan with aluminum foil. (The aluminum foil should hang over the sides of the pan to make it easy to lift the brownies from the pan.)
Apply some butter to the bottom of the silver foil & keep aside.
In a bowl mix sugar and cocoa powder.
In a small saucepan melt the butter.
Remove from heat and pour into the sugar & cocoa powder mixture. Whisk nicely to mix it well.
Now add vanilla extract and eggs, one at a time, mixing until the batter is nice and shiny. ( 3-5 min )
In a small bowl, mix together the All purpose flour, baking powder, and salt. Sieve it once so that all the dry ingredients mix well.
Fold the dry flour mixture into the wet batter. Mix well.
Now add the sour cream and walnut pieces . Mix well again.
Pour into the prepared pan and smooth the top with a butter knife or spoon.
Bake for about 30-33  minutes, or until a toothpick inserted into the center has moist crumbs clinging to it. ( Remember we want the inside little wet & gooey for me it was 33 min Exact )
Remove from oven and place on a wire rack to cool to room temperature.
Then, to make the brownies easier to cut, cover and place in the refrigerator for two hours or until firm. You can cut it then and there , since the brownies will be wet & gooey from inside you might not get nice pieces. I was so impatient that I did not waited, I cut & ate it to make sure everything was perfect 🙂 It was out of the world.
When ready to cut the brownies, lift the aluminum foil out of the pan and, with a sharp knife, cut the brownies.
How to serve : Now this is again your choice all together , I love to eat brownies with a scoop of vanilla ice cream drizzled with chocolate sauce , it tastes Divine 🙂 try it out foodies. You can serve them for dessert with fresh berries and maybe a dollop of whipped cream too.
Note : You can add chocolate chips or any dry fruits you like , or even pecans. Choice is your's 🙂
I hope you enjoyed the recipe & soon will try to make at home 🙂 Going to resturants and eating is always easy but when you make at home not only you know what is going into your food but its like a therapy. Surprise your family with such small , cute & little surprise. what say ??
Love 
CK