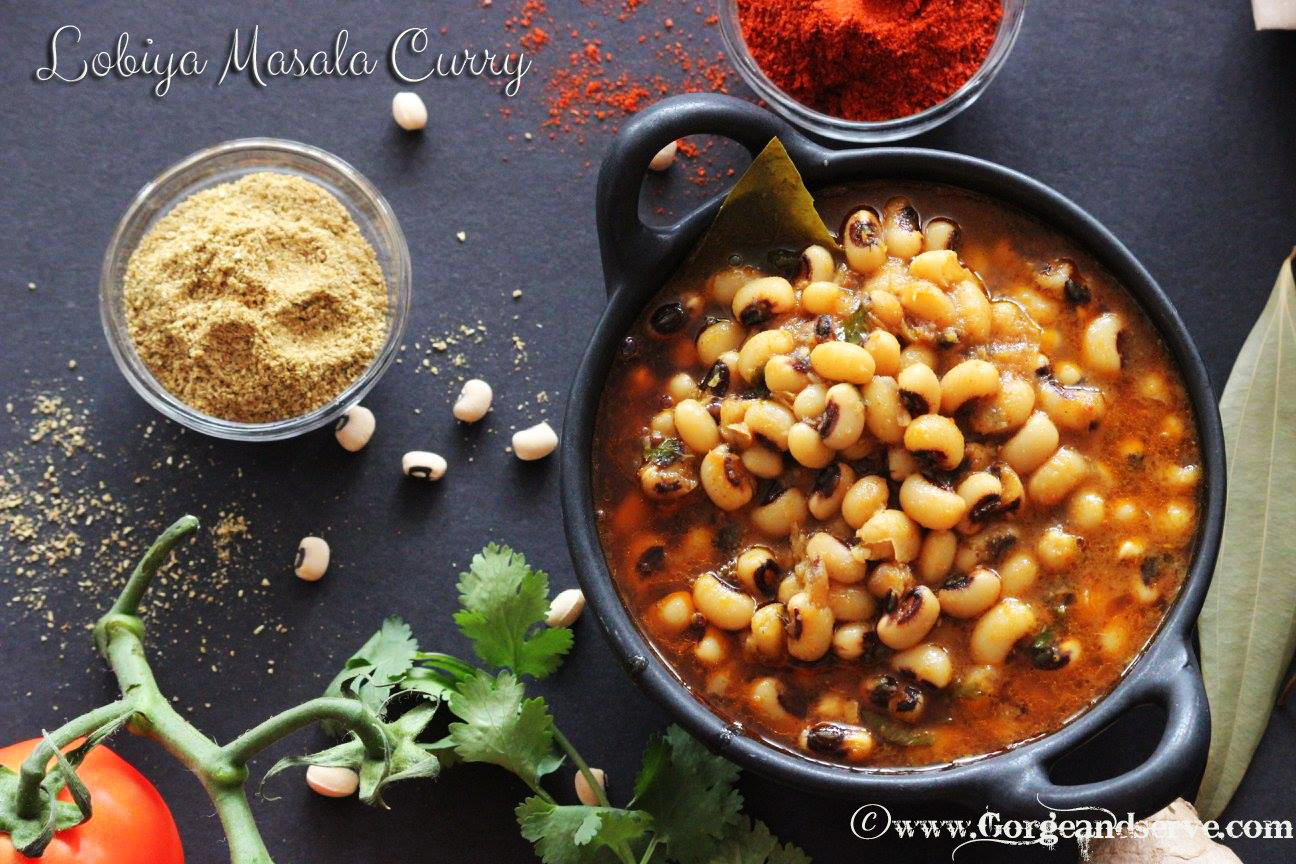 Lobiya Masala Curry ( No Onion garlic )
Whenever I cook something I always look back as to when and where did I actually start eating a particular veggie, legume or fruit. There is always a memory related to each and every food I tasted. Do you also do that ?? Honestly I was a fussy eater when I was little , for me only Potato was my love , my life & my savior 😛  After I was out for studies I had no 'other choice',  then eating what is available when I was hungry. In college we use to order lunch boxes from outside and I remember that I tasted the " Lobiya Masala Curry " in my lunch box for the first time . I still remember the taste of it , it was just awesum . The person who used to cook and deliver ( = the caterer ) was a Maharashtrian guy & he use to cook just amazing lobia curry. Honestly  I don't know what was in his recipe but I am sure that you can cook a Indian curry in plenty of ways .Every household  has a distinct way of cooking curries. Today I am sharing my way of making this super delicious & healthy legume which can go well with hot Roti/ Chapati or even with some hot rice.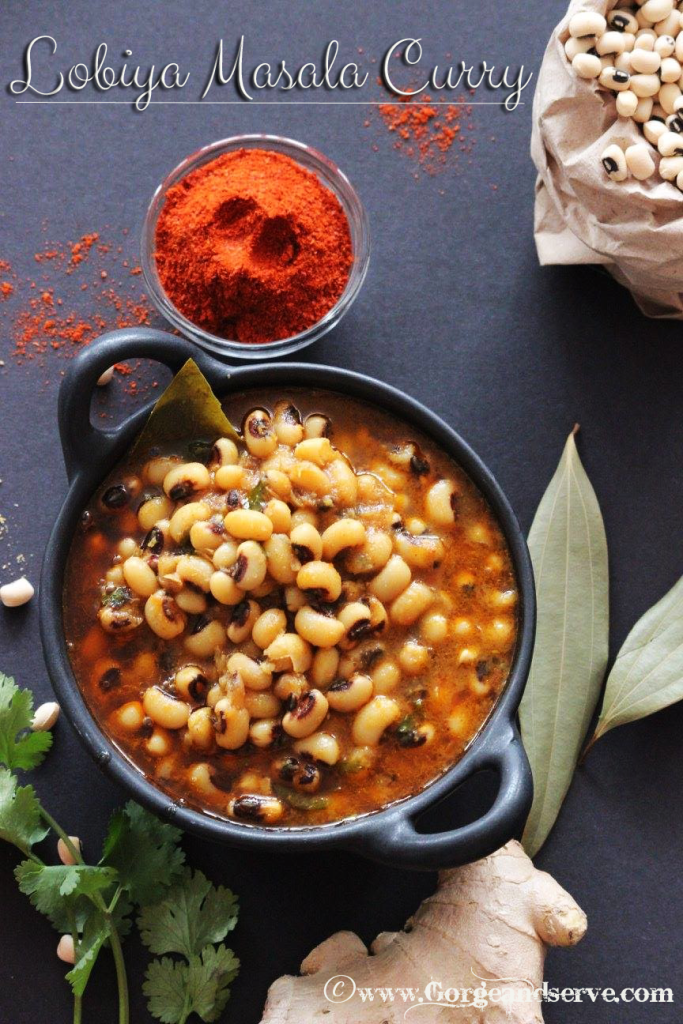 The black-eyed pea or black-eyed bean, a legume, is a subspecies of the cowpea, grown around the world for its medium-sized, edible bean. They are available dried, frozen and canned and offer several health benefits when included in a well-balanced diet. They make a good addition to soups, stews and salads and are also a healthy side dish. It has high fiber content so people looking for some fibre in their diet should start eating Lobia 🙂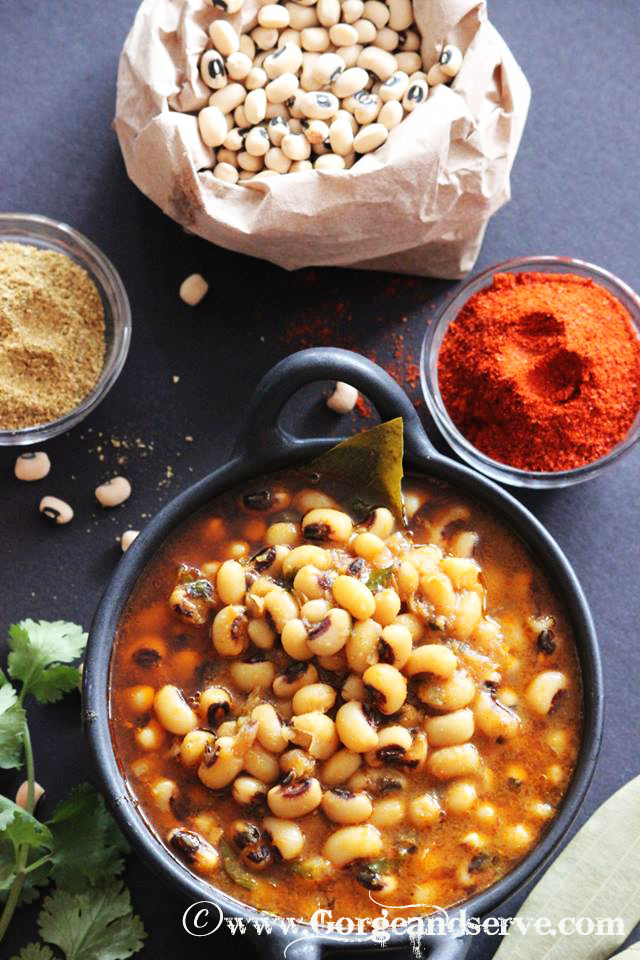 My recipe is quite simple & it doesn't require onion or garlic , we just need few basic spices along with Tomato & ginger , and we can have a delicious curry ready in just few min. So lets begin 🙂
Ingredients
1 cup lobia/black eyed beans/cow peas
2 medium size tomatoes
½ inch piece ginger , roughly chopped
2-3 green chilly
2 small bay leaves
½ tsp cumin seeds/jeera
2 tsp turmeric powder/haldi
1/2 tbsp red chilli powder
1/2 tsp dry Mango powder
½ tsp garam masala powder
1 tsp coriander powder
2 cups of water
2 tbsp oil
Chopped coriander leaves for garnishing
Salt to taste
Process
Soak lobia overnight or 1 hr before you cook in warm water.
Mix chopped tomatoes, ginger & green chilly & make a smooth paste.
Heat oil in a pressure cooker ,add the cumin seeds and let it splutter.
Then add the bay leaves & saute for 30 sec.
Add the tomatoe+ginger+ green chilly paste & saute till the raw aroma of the paste goes away. ( 5-7 min )
Add the dry spices – turmeric powder, red chili powder, coriander powder and garam masala.
Saute the masala on a low flame, till the mixture starts leaving oil  from the sides.
Now add the lobia or black eyed beans., salt to taste & dry mango powder & Stir well. Cook the Lobia in the spices for 4-5 min in low flame.
Now add 2 cups water & mix well.
Pressure cook till the lobia is cooked completely. For me its 4-5 whistle ( depending on your pressure cook give 5 or 6 or 7 whistle )
After the pressure is released from the pressure cooker , add chopped coriander & let it simmer without the lid for 3-4 min so that gravy gets thickened. (You can also mash a few cooked beans to thicken the gravy.)
Your tasty & delicious Chikoo style Lobiya Masala Curry is ready to be served with rotis or steamed rice. ( BTW Chikoo is my nick name 🙂 Ting !!!!!!!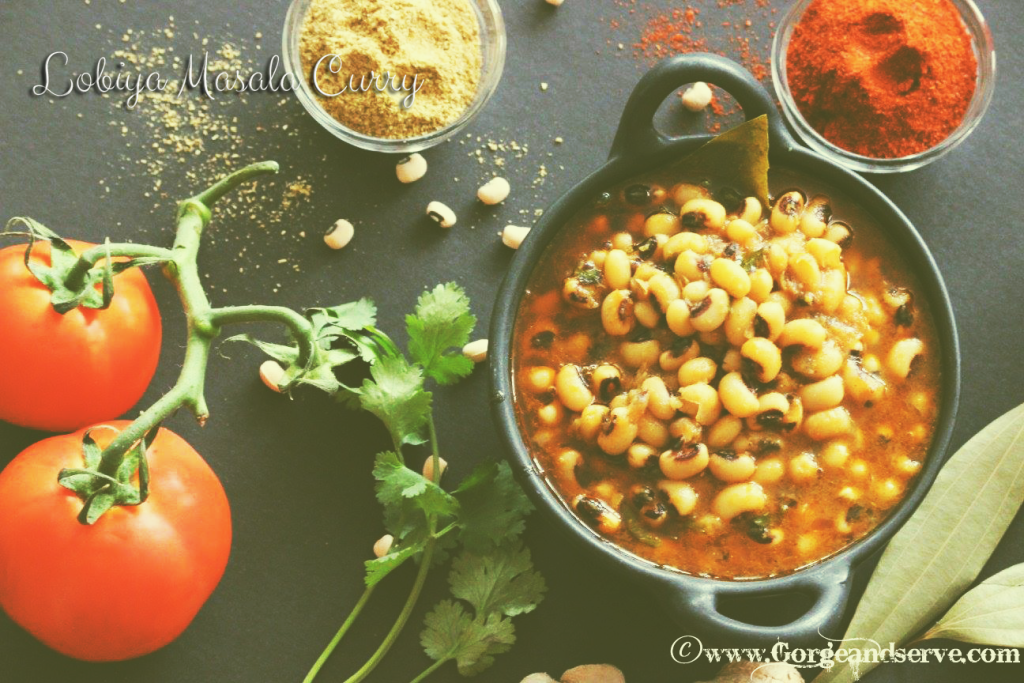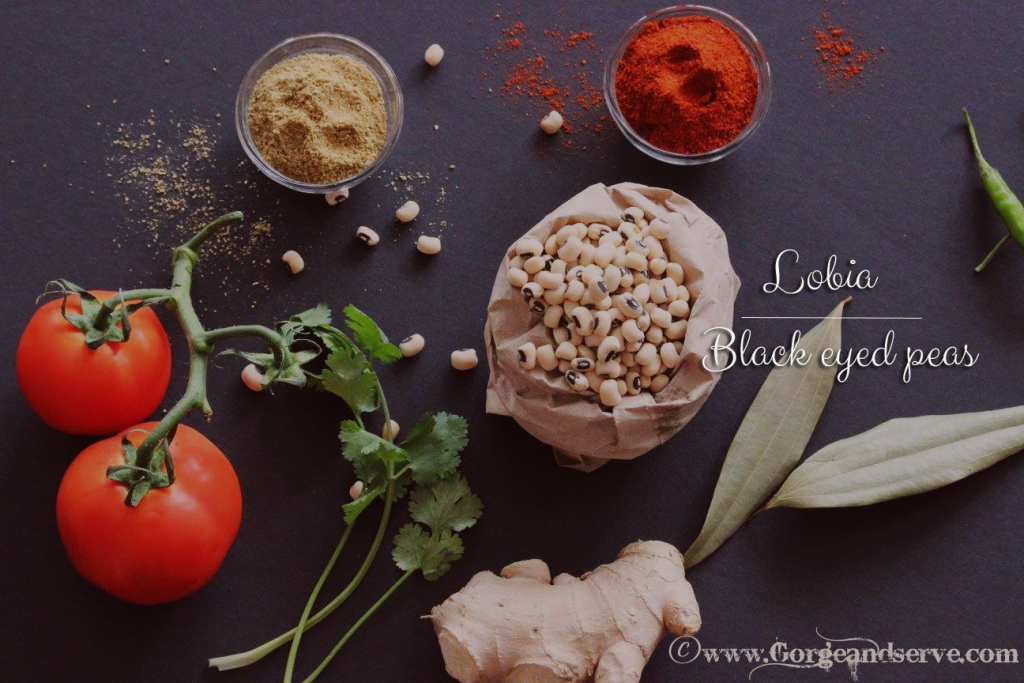 Love
CK