Hello people 🙂
After I moved to Torornto the first Restaurant I went for a proper North Indian food was " Khazana by Sanjeev Kapoor " , while scrutinizing the menu I came across a very Interesting dish called " Puran Singh da Tariwala Murgh "  the description says " Chicken cooked in a light onion gravy, a dish inspired by a famous dhaba on Ambala-Delhi highway "  I was like WOW I need to taste this 🙂  So I ordered it , with the very first bite with tandoori roti  I felt like I was eating in a dhaba and not in a  fine dine restaurant. It was like a home made chicken gravy with some unique flavors.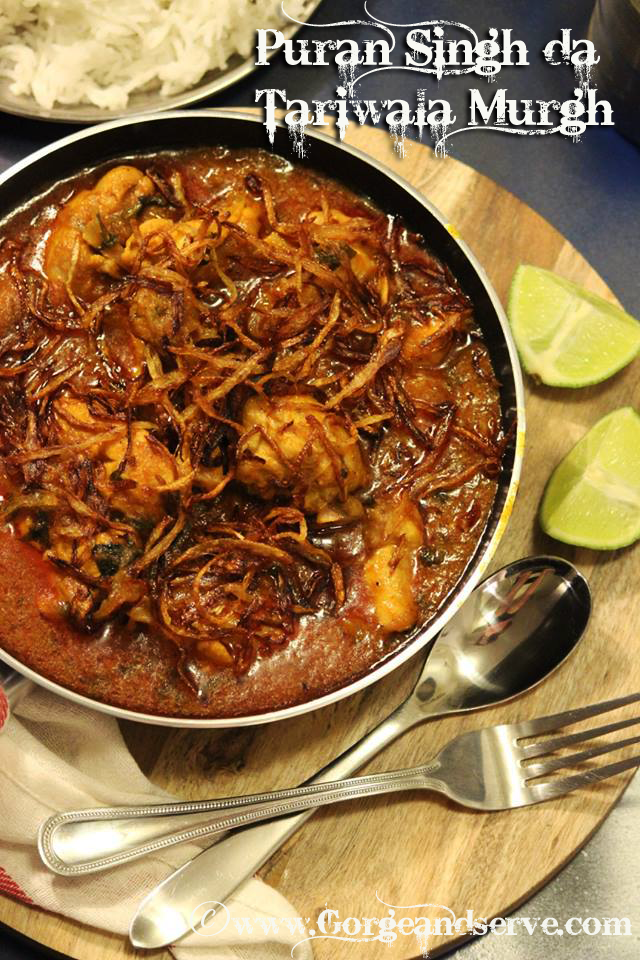 After coming back home I did an intense research on this dish and got lot of Information , so the story is " The Puran Singh da Dhaba on the Ambala-Delhi GT road is almost a pilgrimage spot for foodies, they say nine times out of ten people stop there to devour the delicious chicken curry. Puran Singh is long gone and his wife is managing the business now.  I decided to make it at home & while you tubing I got the perfect recipe from my Guru Mr. SK 🙂 I know for a fact that Puran Singh's wife wouldn't give out the recipe just like that. I guess, this recipe is just Sanjeev Sir's take on how it is actually made. This is their version and they have tried to capture that magic, but with their spell.
I am sure many of you while crossing Ambala , must have stopped at the dhaba and enjoyed this scrumptuous dish. I have personally never been their but some day I will surely would like to try this unique recipe. I hope the recipe doesn't have some kinda drug 😛 in it the way it was shown in movie luv shuv te chicken khurana 🙂 🙂 jokes apart while making this dish my whole house was smelling just awesome . while I was drafting this the chicken was getting ready & I was going crazy to taste it 🙂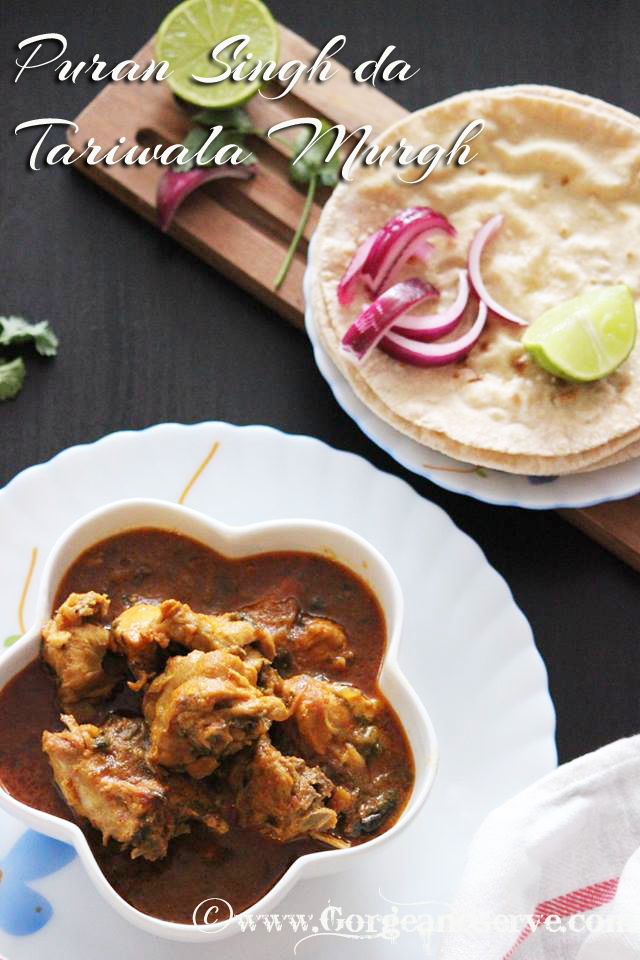 Anyway, this is a very nice and simple recipe & worth trying because with the smell & taste I got a feedback that it's like a highway dhaba chicken , so my mission was accomplished 🙂 So lets check the ingredients now.
Ingredients
1 kg chicken, cut into medium pieces on the bone
¼ cup vegetable oil
2 one-inch cinnamon sticks
3 green cardamoms
1 tsp cumin seeds
2 black cardamoms
4 medium onions, thinly sliced
1 cup fresh tomato puree
1 tbsp ginger paste
1 tbsp garlic paste
1 cup browned onions ( fried onions)
1 tsp turmeric powder
2 tsp Kashmiri red chilli powder ( even normal red chilly would work , I used Everest ka Tikha lal )
2 tbsp coriander powder
1 tsp garam masala powder
1 tsp green cardamom powder
8 green chillies, chopped
½ cup  chopped fresh coriander
1½ inch ginger pieces, chopped into small pieces
1 teaspoon red chilli powder
Salt to taste
Process
Heat the oil in a kadai/ pan, add the chopped green chilly , and chopped gineger , cinnamon, green cardamoms, cumin seeds and black cardamoms and sauté for 30 sec.

Add the onions and sauté till lightly browned.

Add the ginger paste and garlic paste and sauté for two to three minutes till the raw aroma goes.

Add the tomato puree  & cook the mixture till tomato starts oozing oil.( around 5 min covering the lid & stirring in between )

Now add turmeric powder, red chilli powder, coriander powder and sauté for two minutes.

Add the chicken pieces and sauté for four to five minutes in high heat. 

Now add the green cardamom powder, fried onions & coriander leaves , cover & cook the chicken till its properly cooked & you see oil in the corner. ( Reducing the flame to medium low, around 5-7 min )

After 5- 7 min add  two cups water and mix well. Cook for ten minutes on medium heat.

Add

 the garam masala powder and mix well. Cook for another 1 min .

Garnish with coriander or fried onions.
Your delicious dhaba style Puran Singh da Tariwala Murgh is ready to be devoured , enjoy with rice, tandoori roti, paratha or anything of your choice.
Note : To make browned onions ( or fried onions), thinly slice onions , either deep fry or shallow fry the onions till golden brown.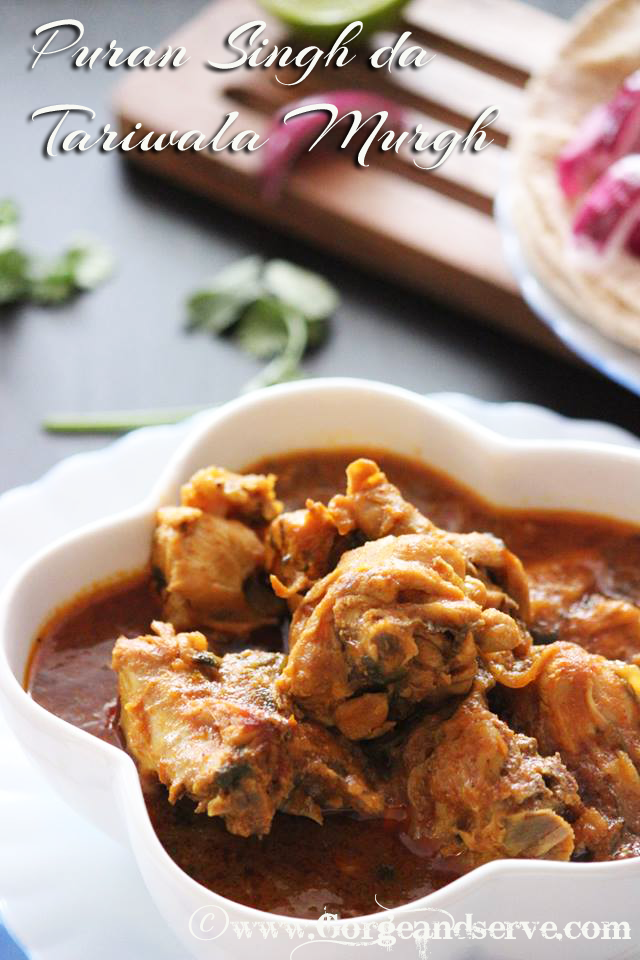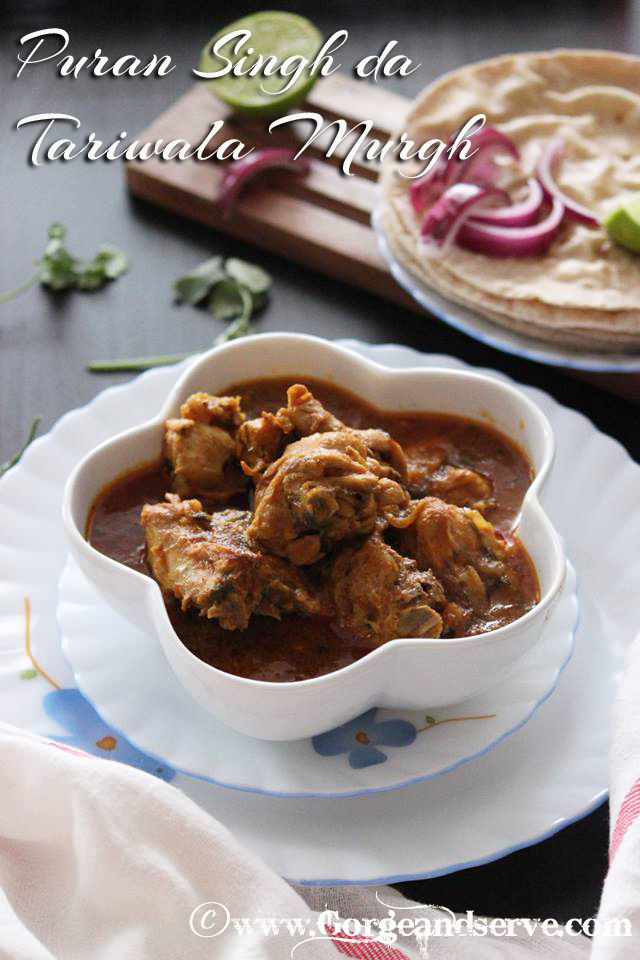 Do try out the recipe & I am sure that you guys will love if for sure 🙂 Have a wonderful Day 🙂
Love
CK