Malai Laddo ( Janmashtami Special )
Krishna Janmashtami is celebrated with great enthusiasm at my sister's place back home. She is married to a marwari boy 🙂 and I really adore her for the way she has blended with their culture & tradition  🙂 she is my darling & I love her to the moon & back. So this post of mine is dedicated to her. Every year at their home this day is celebrated with so much of joy along with family & friends. More than 150 guests come home &  she cooks so many delicacies with the help of family & friends. The pic below is the collection from past 3 years or so . This is their cute temple which they decorate with flowers . look at the cute little Kanha 🙂 simply awesome . I wish you guys all a very Happy Krishna Janmashtami.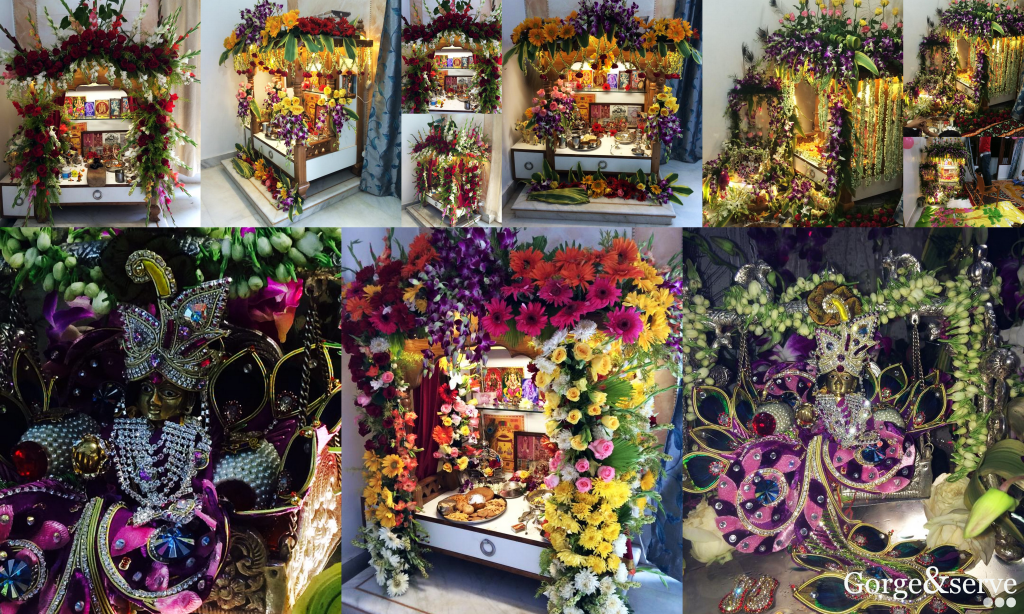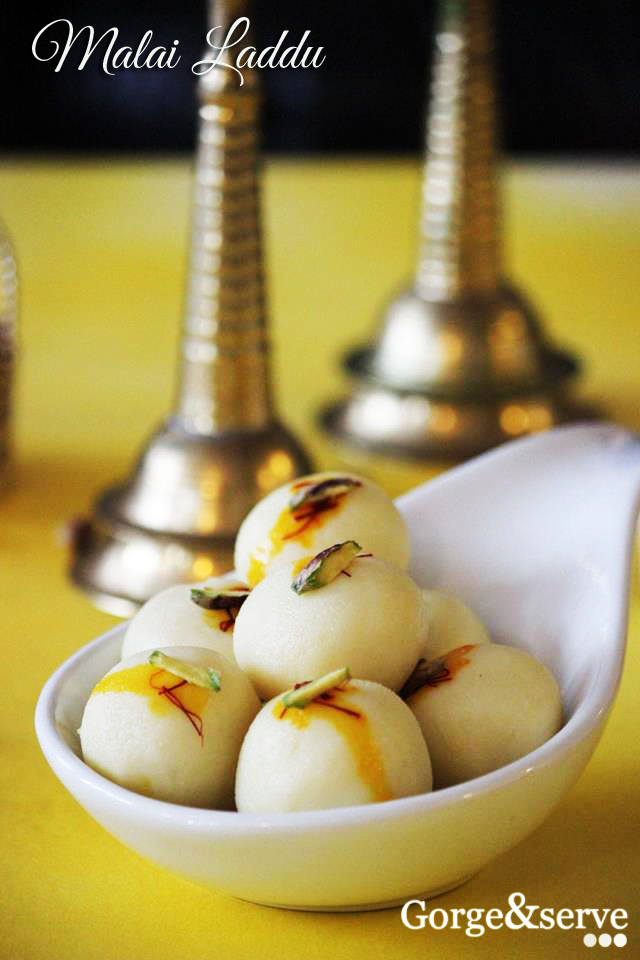 Krishna Janmashtami is the birthday of Hinduism's favorite God – Lord Krishna, and is a popular holiday in the Hindu Calendar. Krishna took birth at midnight on the ashtami or the 8th day of the Krishnapaksha or dark fortnight in the Hindu month of Shravan (August-September). This auspicious day is called Janmashtami. Now coming back to my Malai Ladoos , this recipe doesn't require any fancy ingredients , Paneer & condense milk & you are ready to experience the soft, delicate, ready to melt in mouth tasty ladoos in no time. Such an easy , peasy dessert.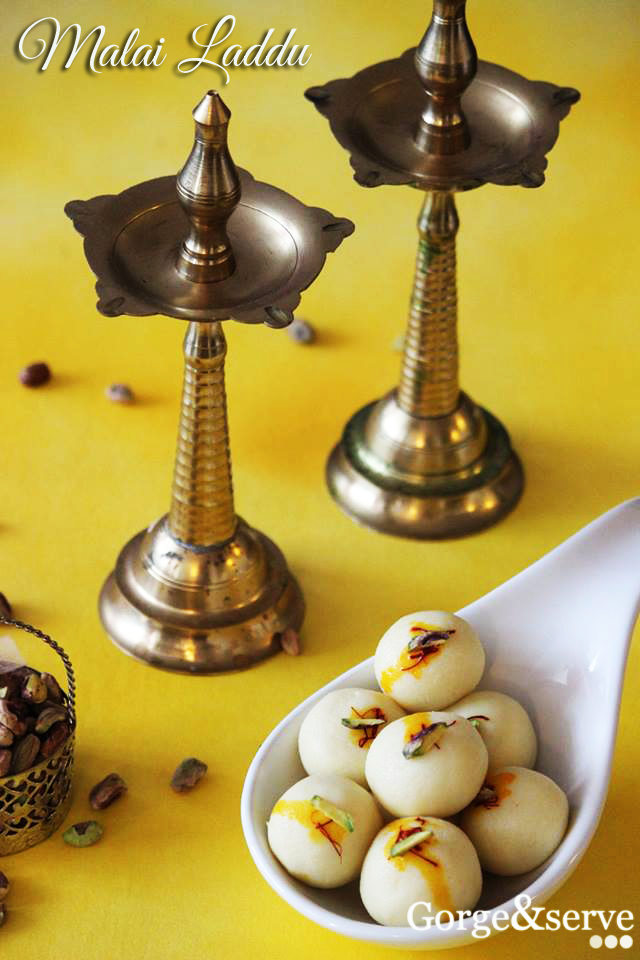 Ingredients
1 cup Grated Paneer
1/2 cup condense milk ( sweetened or unsweetened)
Sugar as per the taste
½ tsp cardamom powder
1 tbsp milk
10 saffron strands/kesar
Few Pistachio chopped for garnish
Process
Mash the Paneer with your palms nicely for 5 min to make it soft.
Now in a non stick pan pour condense milk & add mashed paneer. ( medium heat )
Stir the mixture continuosly till the mositure starts evaporating. We do not want the mixture to go brown.So don't move stay there and stir till you see that the mixture starts leaving the side of the pain. Now if you are adding sugar , add now . Mix well & let the mixture cool for 2-3 min. Just warm enough to handle.
Meanwhile heat 1 tbsp milk & add the saffron to release the yellow color.
Start making small laddos.
Place the saffrom stand in each ladoo, and few drops of the yellow milk .
Decorate with chopped pistachio.
You easy & tasty ladoos are ready .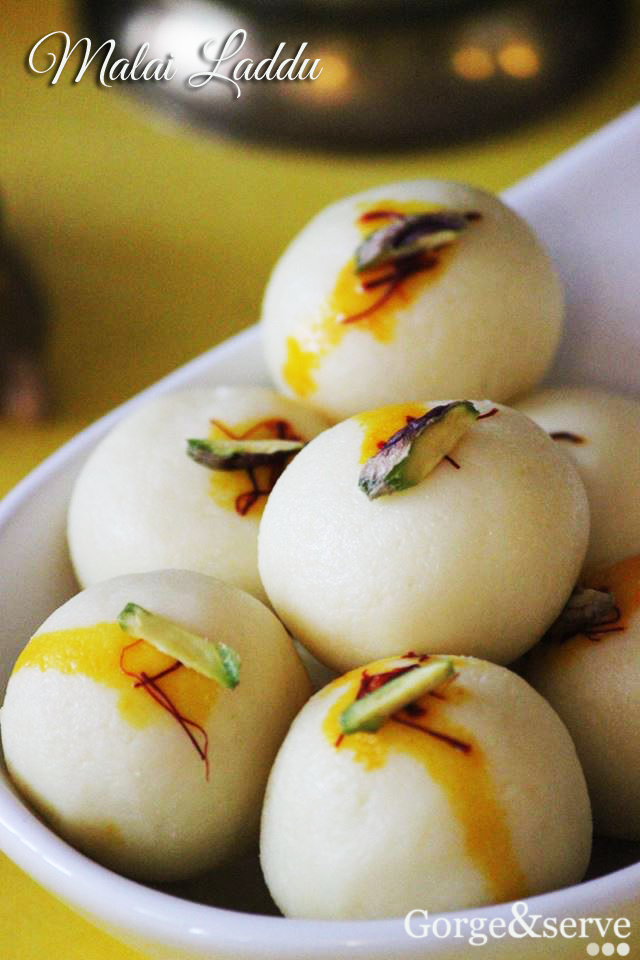 We always try to make something special during festivals. This is one easy, peasy recipe & you can make it any day irrespective of if you have a festival or not.