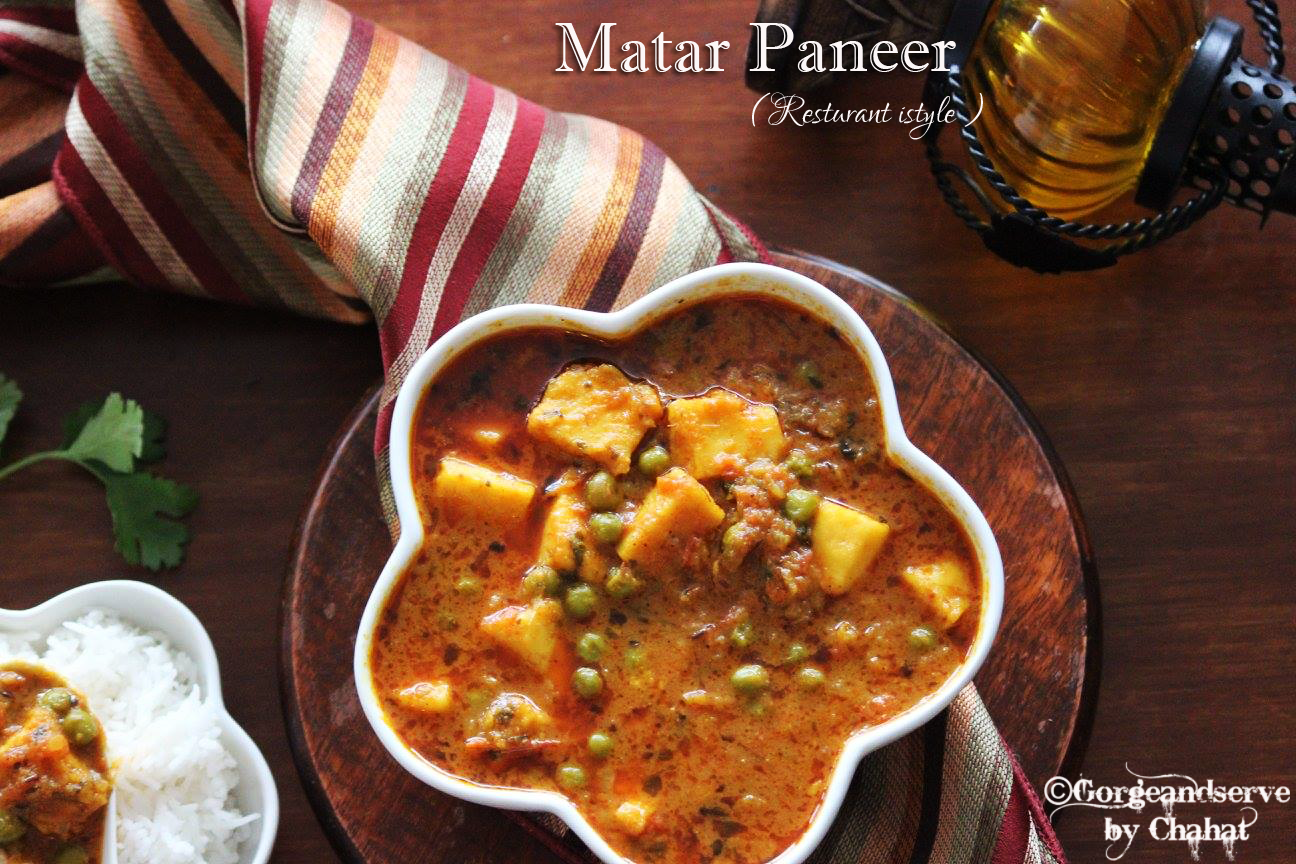 Resturant istyle Matar Paneer ( Peas & Cottage cheese gravy)
For me Peas and cottage cheese are  best friends 🙂 they go so very well with each other, whatever be the style of preparation. This recipe will surely make you drool as this is the way you get in some resturants. A masala paste sautéed in oil is further perked up with spice powders, tangy tomato other ingredients to form a rich gravy that holds our star ingredients – Matar and Paneer. The aroma and good looks of this dish make it truly irresistible. For me this is an everyday dish of cottage cheese and peas mingled in a tomato gravy because its so simple to make & with the ingredients so easily available at home.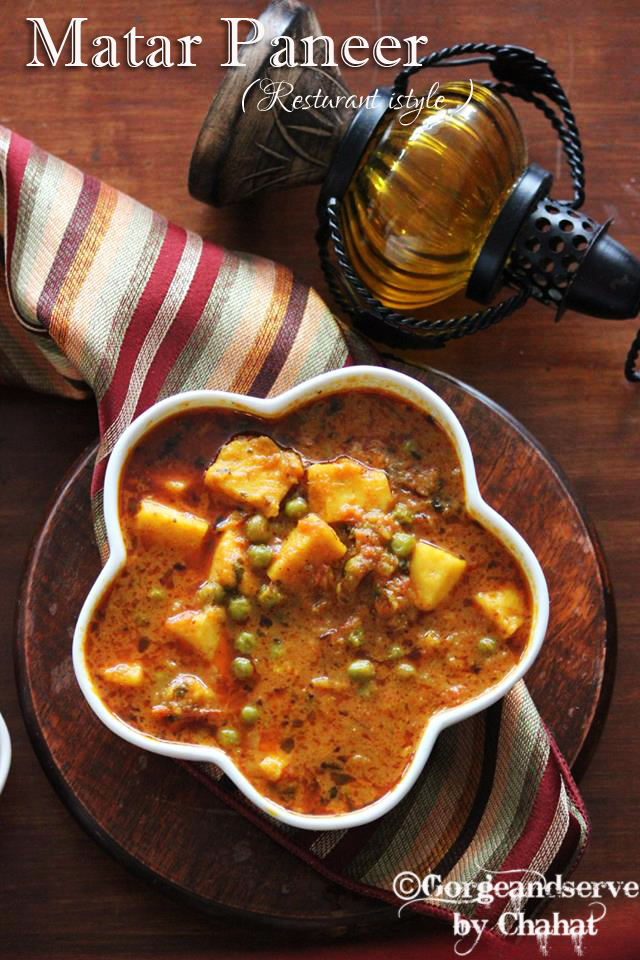 Mattar paneer is a vegetarian north Indian dish consisting of peas and farmer's cheese (paneer) in a tomato based sauce,spiced with garam masala. A seemingly elaborate but actually easy recipe,Mutter Paneer is an ideal accompaniment for rotis and rice too. Many times people ask me how my gravy looks so red & bright. For a good north Indian gravy it is very important to fry the masala nicely. If you dont fry the onions paste & other spices nicely you won't get that awesome colour. Don't rush , food needs lots of love when prepared 😉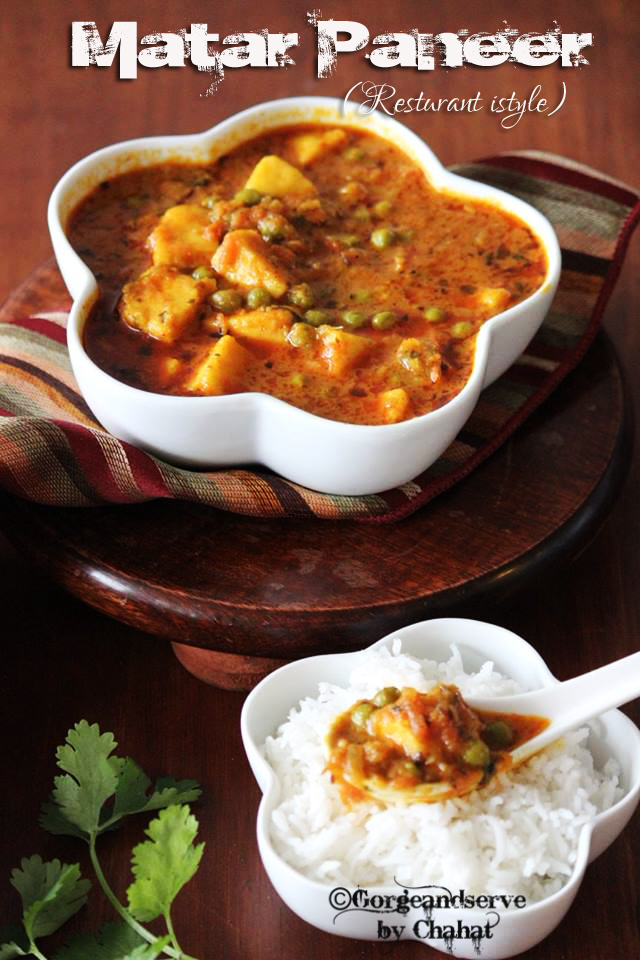 Ingredients
100 gm Paneer ( cut into small cubes)
1 cup frozen peas ( soak the peas in warm water to make it soft)
2 medium size Onion (chopped ginelt into small pieces)
1/2 medium size onion roughly chopped
1 tbsp garlic paste
1 tbsp ginger paste
2 medium tomatoes (finely chopped)
Spices
1/2 tspn turmeric powder
1 1/2 tbsp coriander power
1 tbsp red chilly powder
1 tspn garam masala
1 tspn cumin seeds
Salt to taste
1 tbsp Karoori methi
3 tbsp oil
Process
In a Pan heat oil , add cumin seeds ,saute for 30 sec .
Add the chopped onion & fry till the onions are translucent & nicely brown .( caramelized)
Add onion puree and cook for 5 min till it changes the colour.
Now add garlic & ginger paste & cook for another 3-4 min .
Now add chopped tomato & cook  till the tomatoes are mushy (5 min )
Now add the spices turmeric powder, Red chilly powder, Coriander powder and cook till you see that the masala starts oozing oil in the corner.
Add the paneer & peas & 1 cup water and cook for another 7-8 min in low flame . ( cook it for 8 min so that the peas & paneer adsorbs all the spices nicely)
Add garam masala again & cook for 2-3 min.
Garnish with Kasoori methi & mix well.
Enjoy the delicious matar paneer Ting !!!! 😉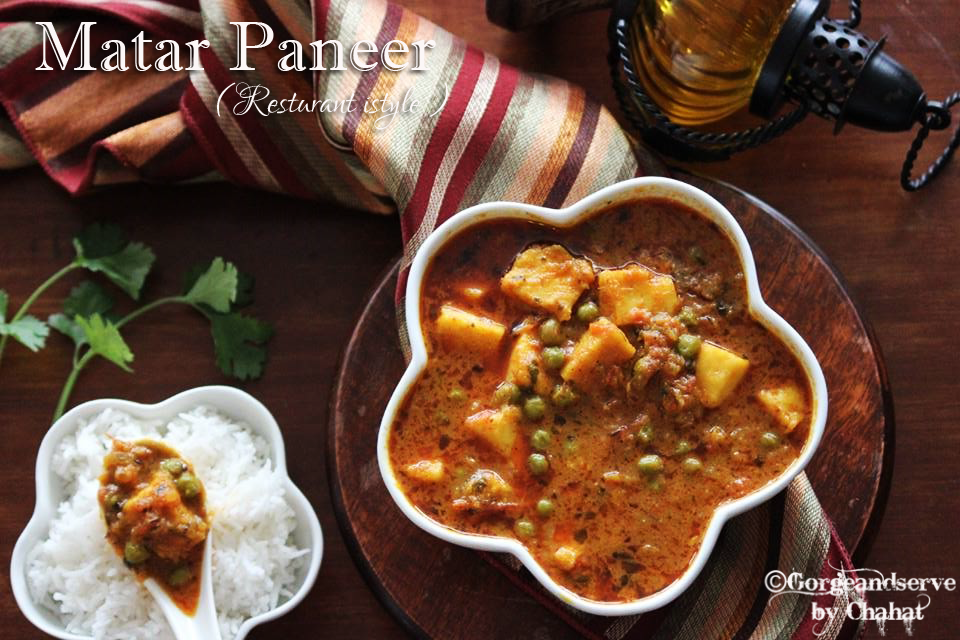 This is such an important dish when we have guests at home or even when we are throwing a party , guys do try out this recipe & share your experience.
Love
CK