During Raksha bandhan we prepare a number of delicacies mostly a variety of sweets at home . Along with the sweets comes the much awaited ghugni accessorized with an array of other namkeen snacks . But ghugni has an eminent position of its own at my home during Rakhi .This is a famous street food of Bengal. Ghugni is a also very famous in Bihar & Jharkand.
This recipe is part of recipes with a cause for Diabetes Friendly Thursday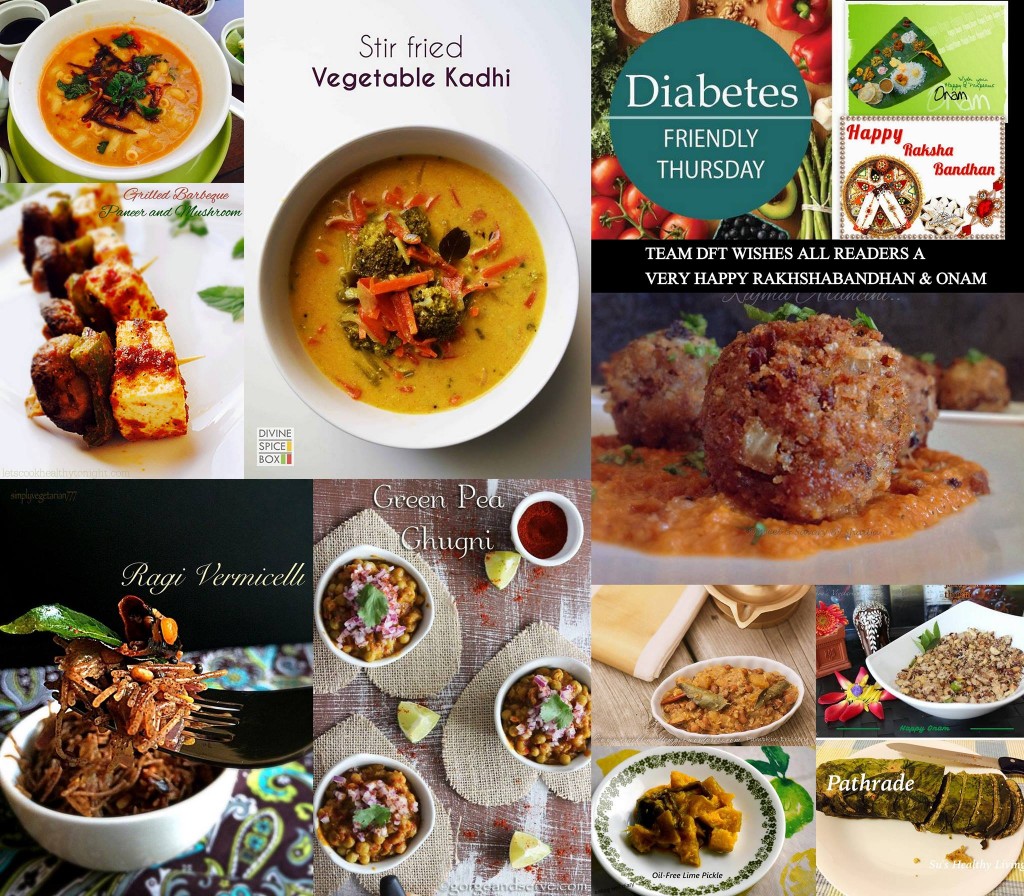 I am a proud DFT blogger. To learn about DFT, read this link. To view more DFT recipes, Click here!
Team DFT celebrates Raksha Bandhan which represents the love and respect between siblings along with Onam which is reminiscent of Kerala's agrarian past, as it is considered to be a harvest festival.
The proud DFT team brings recipes which are their siblings favorite 🙂 What fun !!!! Today I am bringing you "Green Peas Ghugni " ,  which is the most favorite dish of both my sisters & 2 brothers . The tradition continues & even my little nephews too love to devour them 🙂 This is my second post on Ghugni , I have another post on Ghugni made with white peas & the way its eaten , Click here to check the recipe . So why this second post 🙂 Firstly this is made with green peas & secondly this is a  No Onion Garlic recipe .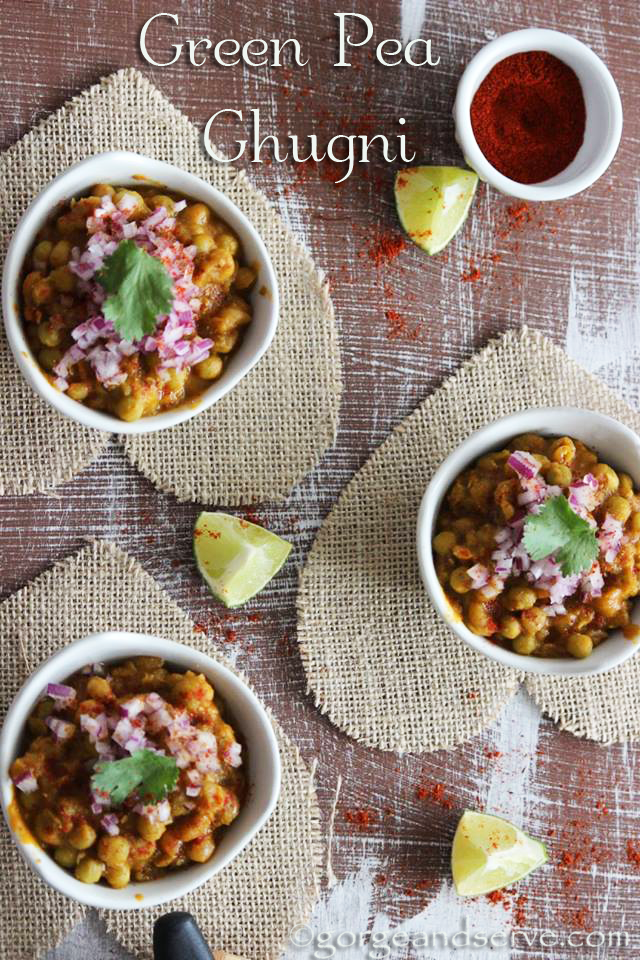 Back in my home town we get  Ghugni in road side restaurants,they serve this with sliced boiled potato ,some time with aloo- chop. Some time just with a sprinkle of red chilly powder , cumin powder & tamarind paste .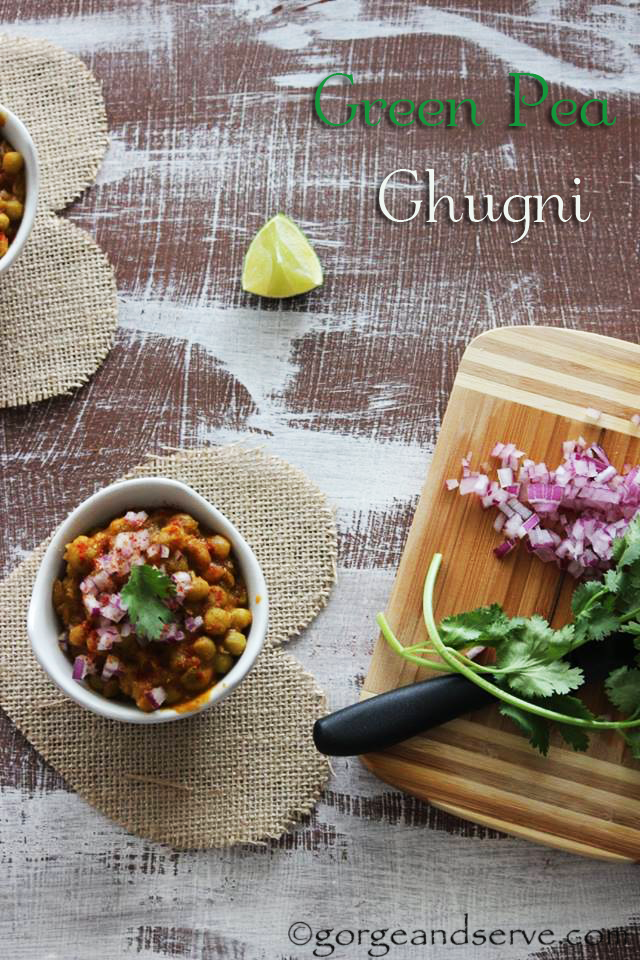 Servings: 4
Time: 30 minutes
Difficulty: easy
Ingredients 
Main 
I cup green peas (soaked overnight)
2 big tomato
1 inch ginger
2 green chilly
Chopped Cilantro for garnishing
Spices 
1 small bay leaves
1/2 tsp cumin seeds
1/2 tspn turmeric powder
1 tbsp Red chilly powder
1 tbsp Coriander powder
1 tspn Cumin powder
1/2 tspn Black pepper powder
1 tspn Garam masala Powder
1 tbpn Oil (vegetable)
Process 
Soak the peas overnight or 5-6 hours before cooking.
Pressure cook with little salt for just 2 whistle . ( they get mushy very fast so only 2 whistle )
Add tomato, ginger &green chilly & make a puree in blender.
In a Pan heat oil , add  bay leaves & cumin seeds , let it splutter .
Add the puree and cook nicely for 5 min in medium high heat.
Now add the spices turmeric powder, Red chilly powder, Coriander powder, Cumin powder, Black pepper powder and and cook till you see that the masala starts oozing oil in the corner.
Add the boiled peas now, add garam masala and cook for another 7-8 min in low flame so that all the peas can absorb the spices flavor. ( Please dont throw the water in which you boiled the peas,we will use that for gravy)
Add the left over water and boil it for 5 min in low flame. You can add/reduce water as per your desired consistency.
Garnish with chopped Coriander.
To serve : Serve this sprinkle some chopped onion, cumin powder, red chilly powder & thick Tamarind water.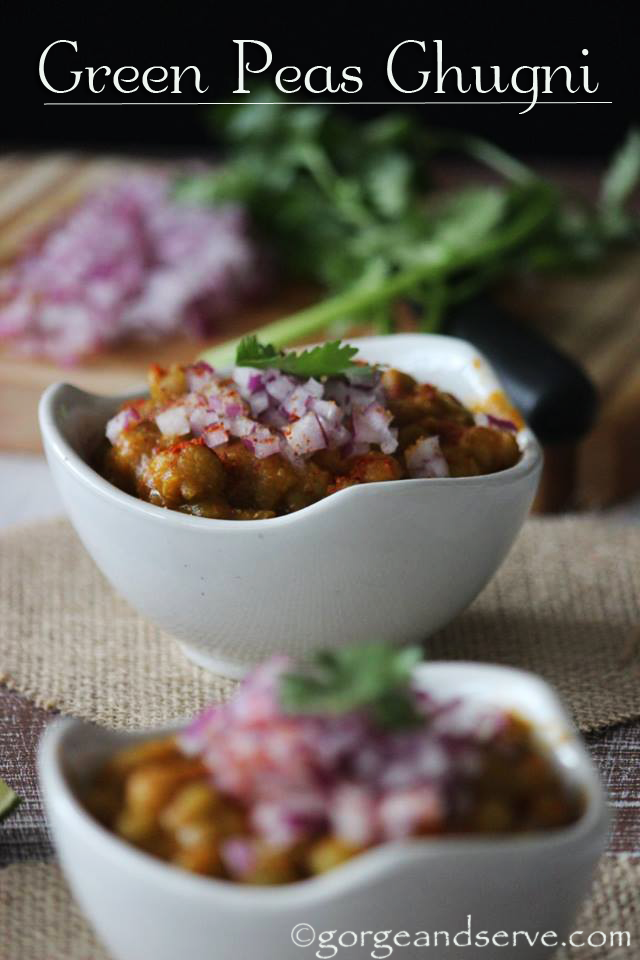 Now, lets look at some of the healthy facts of the key ingredients of this recipe :
Green Peas– Green peas are loaded with antioxidants, including catechin and epicatechin (also found in green tea), thought to protect against heart disease and skin cancer. Peas also contain omega-3 fatty acids in the form of alpha-linolenic acid, which can fight inflammation. Reducing inflammation is an important part of disease prevention, especially for chronic diseases such as heart disease and Type 2 diabetes.
Diabetes control. Yes, peas contain carbohydrate, but they can still be part of a diabetes eating plan. The fiber and protein content of peas is thought to help slow digestion, which, in turn, can help smooth out blood sugar levels after eating. Peas also rank low on the glycemic index scale, with a glycemic index of 22. (The glycemic index is a ranking of how carbohydrate foods affect blood sugar.). Peas are relatively low in calories and fat, and high in protein and fiber, making them a good choice for any weight-control plan.
Tomato : Whether you refer to a tomato as a fruit or a vegetable, there is no doubt that a tomato is a nutrient-dense, super-food that most people should be eating more of.The tomato has been referred to as a "functional food," a food that goes beyond providing just basic nutrition, additionally preventing chronic disease and delivering other health benefits, due to beneficial phytochemicals such as lycopene. Tomatoes are a rich source of vitamins A and C and folic acid. Tomatoes contain a wide array of beneficial nutrients and antioxidants, including alpha-lipoic acid, lycopene, choline, folic acid, beta-carotene and lutein.
Onions : The possible health benefits of consuming onions include lowering the risk of several types of cancer, improving mood and maintaining the health of skin and hair. Onions are a nutrient-dense food, meaning that while they are low in calories they are high in beneficial nutrients like vitamins, minerals and antioxidants. One cup of chopped onion contains approximately 64 calories, 15 grams of carbohydrate, 0 grams of fat, 0 grams of cholesterol, 3 grams of fiber, 7 grams of sugar, 2 grams of protein and 10% or more of the daily value for vitamin C, vitamin B-6 and manganese.
Serving Suggestions: You may add tamarind juice at the end and sprinkle some chaat masala to obtain a tangy taste.
Please hop in to DFT page for more diabetic friendly recipes.
Disclaimer : I am not a nutritionist or dietician. My knowledge and information is based on my research and reading from different resources. Please consult your doctor or dietician before making any changes to your diet.
Recipes from my lovely DFT bloggers:
Sonal: Ragi Vermicelli
Prachi: Stir fried vegetable Kadhi
Srividhya: JackFruit Seed Thoran
Shailaja: Rajma / Kidney beans Arancini.
Parvathy : Pumpkin Erissery
Suchitra: Pathrade/ Patra
Apsara : Lime Pickle
Swati : Grilled Barbeque Paneer and Mushroom
Sarika : Daal Macaroni