This is my second post on Egg curry recipe , my mum makes egg curry in so many ways, in this  recipe she use Panch phoron  in tempering & it gives a very unique flavour to the anda curry. I named it " Anda Aloo Jhol " jhol means " curry " in Bengali 🙂 ( language native to the region of Bengal state in India  ). This is my brother's favorite along with rice & some tomato-coriander chutney. Egg Curry is such a basic curry made in Indian household. You can change the tempering as per you choice & taste. If you dont have the Panch phoron, temper with only chopped onions & green chilly , or use Khada garam masala like cardamon, bay leaves etc like I used in my other Egg curry recipe .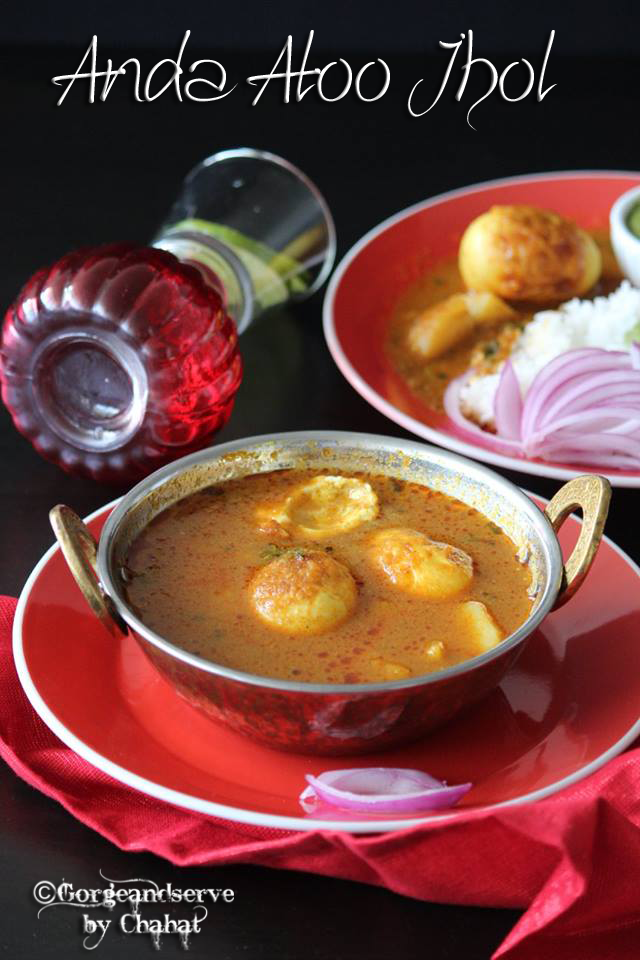 In Indian curry recipe you can control the amount of spices goes into it, depending on your taste. If you like more hot curry add more chilly 🙂 I love that about Indian cooking. everything is under your control .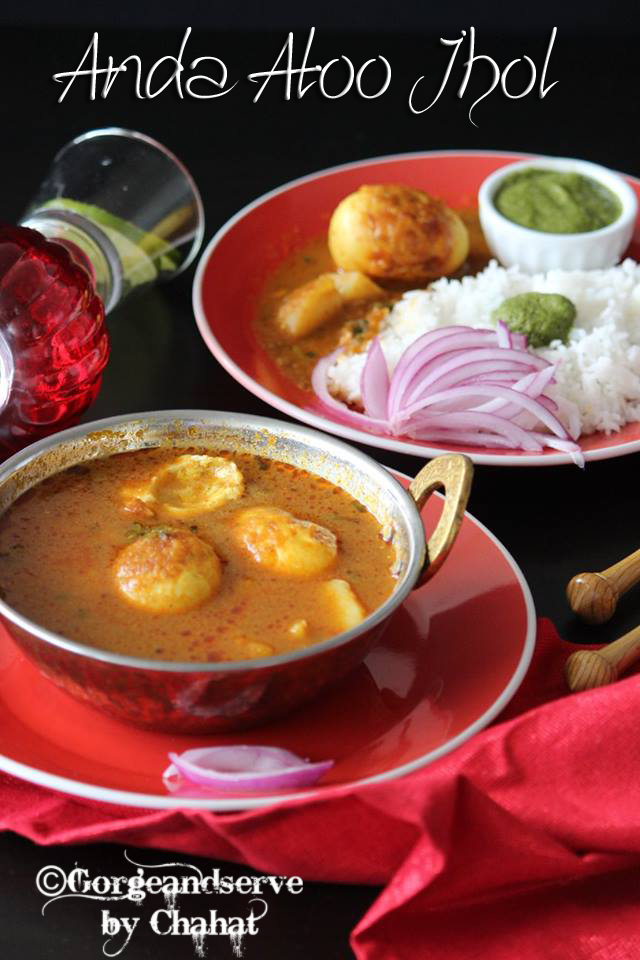 Ingredients
5 eggs boiled & skin peeled
1 boiled potato,peeled and chopped into small pieces
1 medium onion Chopped
1 inch ginger
6-7 pod of garlic
1 big tomato (purée)
1 cup water
Chopped Cilantro for garnishing
Spices
1 tsp Paanch Phoran
1/2 tspn turmeric powder
1 tspn Red chilly powder
1 tspn Coriander powder
1 tspn Cumin powder
1/2 tspn Black pepper powder
1 tspn Garam masala Powder
3 tbpn Oil (vegetable)
Coriander for garnishing
Process
Add onion,garlic & ginger & make a puree in blender.
In a Pan heat oil , add the paanch phoran & saute for 10 sec .
Add the onion ,garlic & ginger puree & cook for 5 min or more till the onion puree changes the color.
Now add the spices turmeric powder, Red chilly powder, Coriander powder, Cumin powder, Black pepper powder and fry the masala for 3-4 min till it start releasing oil.
Now add the tomato puree and Garam masala Powder & salt , cook till you see that the masala starts oozing oil in again .
Add the boiled potatoes & cook for another 2-3 min.
Now in a separate pan heat 1/2 tspn oil, put a pinch of turmeric & salt and fry the boiled eggs till it turns brown from all the sides.
Now to the fried masala add 1 cup water ( or more depending on how much gravy consistency you want and mix well ,let the curry comes to boil.
Add fried eggs & cover it ,cook for 5 min.
Garnish with chopped cilantro/coriander & serve with your favourite rice or naan or chapati.
Enjoy Ting 🙂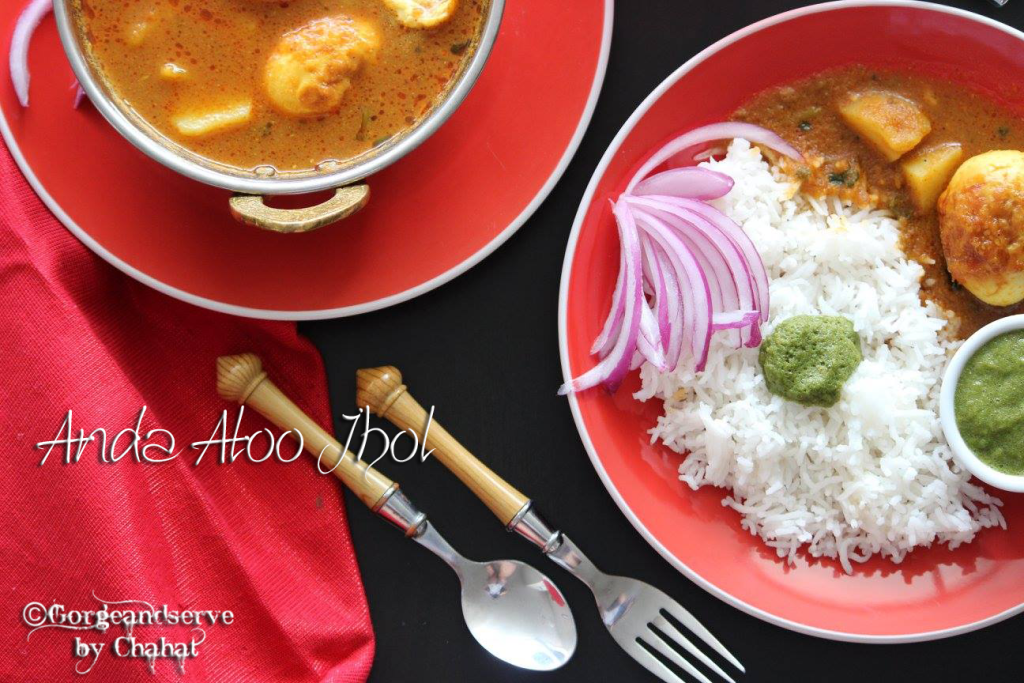 Panch Phoron (also called panch phoran or paanch phoron) literally means "five spices."  It is a spice blend commonly used in Eastern India and Bangladesh and consists of the following seeds:  Cumin, Brown Mustard, Fenugreek, Nigella and Fennel.  The spices are left whole and, depending on how they're being used, are either dry roasted or fried in oil in order to coax out their pungent flavors. Do you wanna know how to make it at home 🙂 Here is the recipe .
Ingredients
1 tablespoon cumin seeds
1 tablespoon brown mustard seeds
1 tablespoon fennel seeds
1 tablespoon nigella seeds (also called black cumin or kalonji)
1 tbsp fenugreek seeds
 Process
Combine the seeds in a small bowl. Store in an airtight container. How simple is that 🙂 Hope you enjoyed this simple recipe. Try it out & reach out to me if you have any query.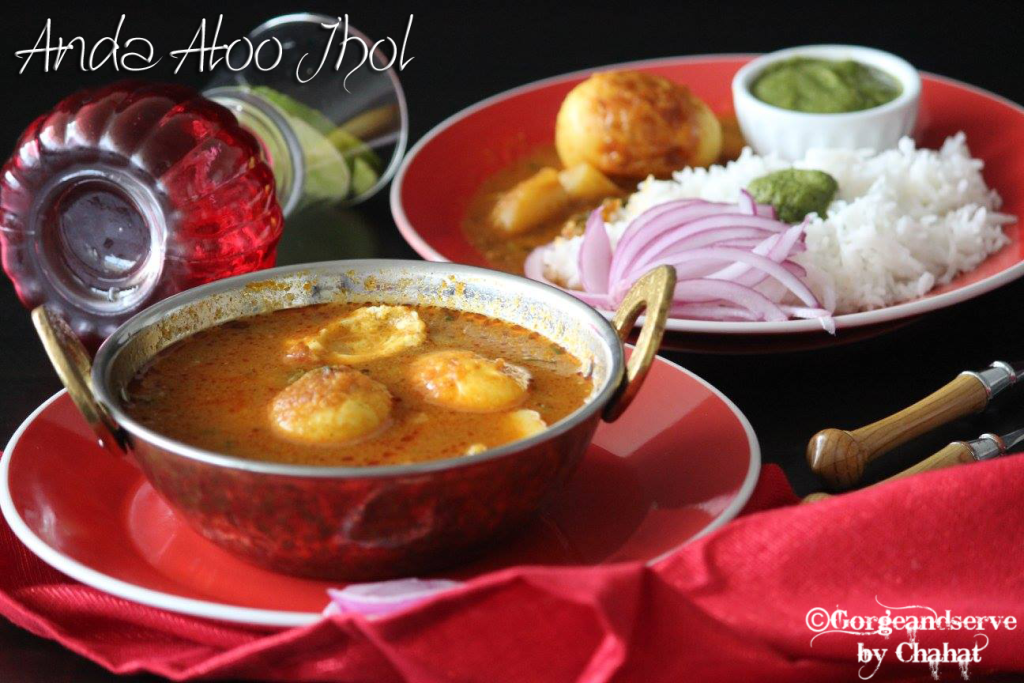 Love
CK