So finally we moved to Toronto 🙂 After moving here the first thing we decided to do is , going for Indian grocery. The reason being we stay in a neighborhood full of Russians, Chinese & Jews and I didnt find any Indian food store here. So we went to Brampton & bought grocery for a month & guess what I found there 🙂 Raw papaya ,yeahhhhhhhhhhhhhh. I was so damn happy. Its been ages I had Papita paratha.Back home it was so regular in my mum's kitchen. Being a punjabi I was born eating parathas for breakfast. Every single day we ate parathas for breakfast ( different kinds though ). My father is still so old school & eats paratha & yogurt for morning breakfast.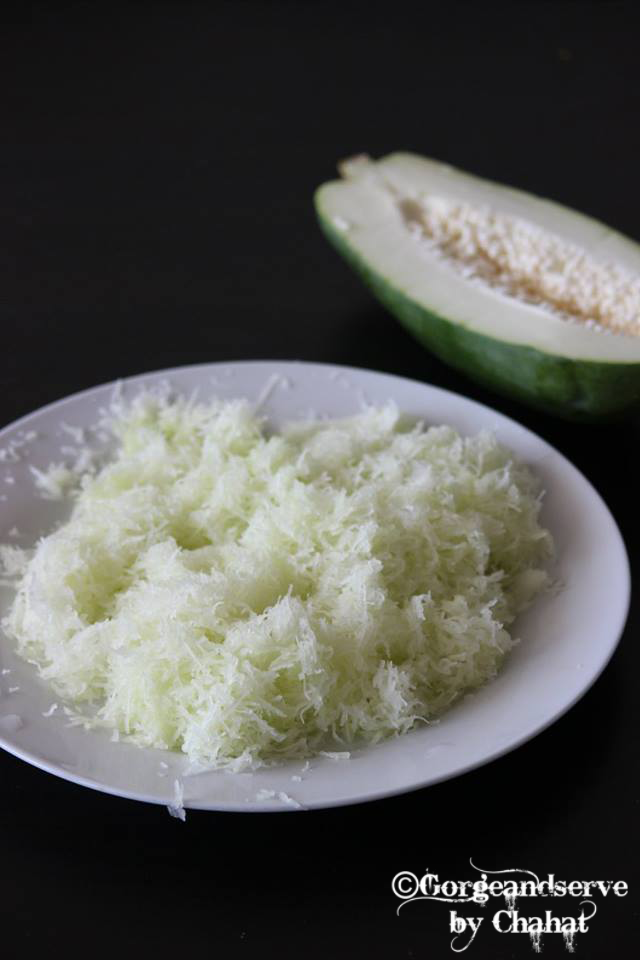 Coming to Papita Paratha, its been long time that I ate this , while I was cooking the smell of frying papaya was making me crazy & was feeling damn nostalgic, I felt I was in my mum's kitchen back home.Papaya be it raw or riped is very low in calories (just 39 calories/100 g) and contains no cholesterol; however, it is a rich source of phyto-nutrients, minerals, and vitamins. I can eat this every single day . I dont use much oil to make this paratha so its preety healthy 🙂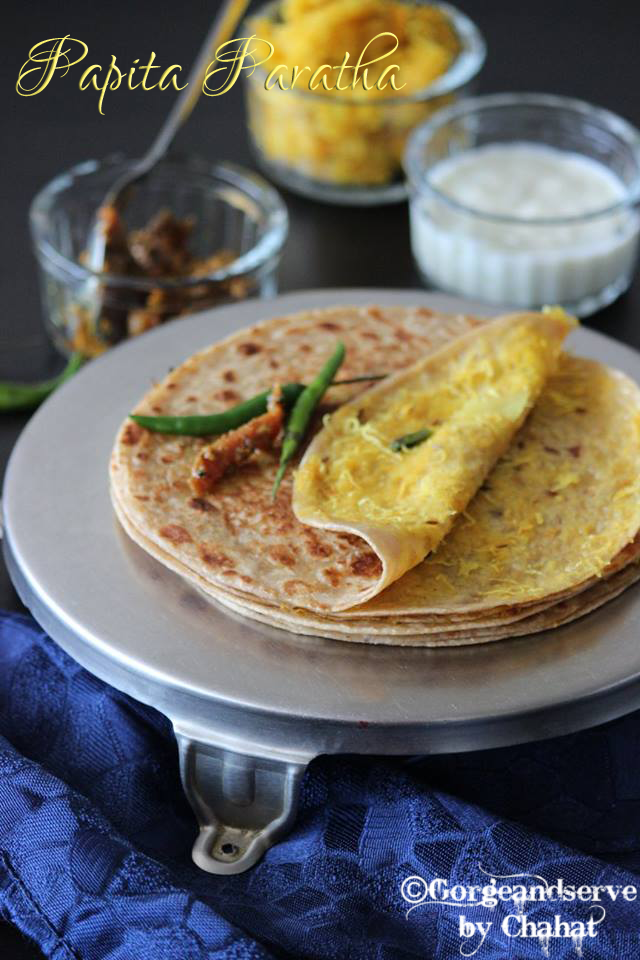 Its simple & easy to make , you grate it, temper it & cook it 🙂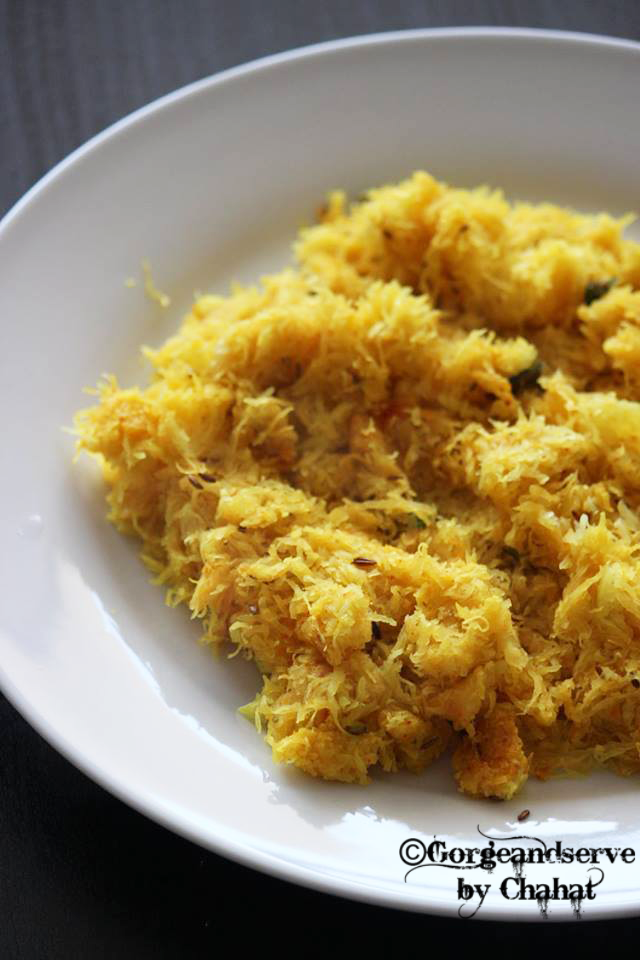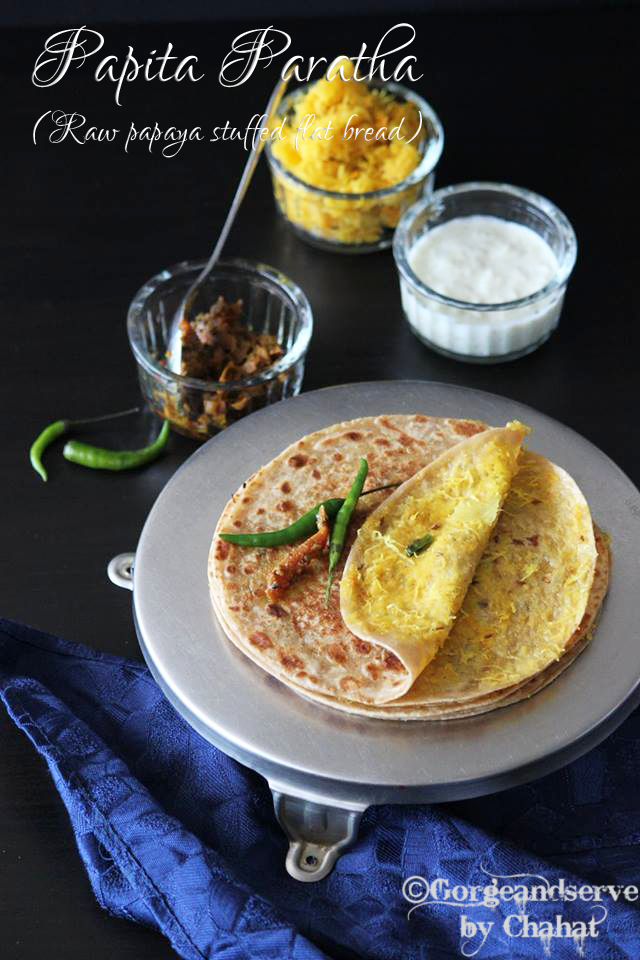 Ingredients:
1 small Papaya
For Tempering
2 tbsp. oil
1 tspn cumin seeds
2-3 green chillies chopped
1  tsp. red chilli powder
1 tsp coriander powder
1/4 tspn turmeric powder
Coriander leaves chopped ( optional)
Salt to taste
For dough
2 cup whole wheat flour
Water to make dough
Process
To make dough
Make a soft dough mixing flour & water. ( that's so simple, we do almost every day ,what say guys ?  )
To make filling
Peel the papaya & wash it.Grate it. Squeeze between palms to remove extra water. ( I usually dont throw the juice , I drink it )
Heat oil in a pan ,add cumin seeds & chilies,let it splutter.
Add grated papaya,mix well.
Add turmeric powder, chilly powder,coriander powder & salt to taste and mix well.
Garnish with chopped coriander leaves.( optional)
Now make two small size balls from dough. ( I make small balls like rasgulla , as I like thin parathas )
Roll both the balls into 2 cm circle.
Now put the filling in one of the rolled out dough.
Using the other rolled dough cover the filling and press the edges together so that it should get stick nicely.
Gently roll the stuffed dough with a rolling pin.
Make sure that the parathas do not break,Applying some wheat flour while rolling to make the process smooth.
Put the rolled papaya paratha on a hot griddle.
Fry the paratha with oil/ghee as you would usually fry them.
Fry the parathas till you see some brown spots.
You can also press the paratha edges so that they are fried well. as some time, the paratha edges are not cooked well.
Serve hot with pickle, yogurt or chutney 🙂
Personally If I am eating paratha I want my ginger tea. I feel so incomplete eating parathas without tea 🙂 thats Punjabi way lol 🙂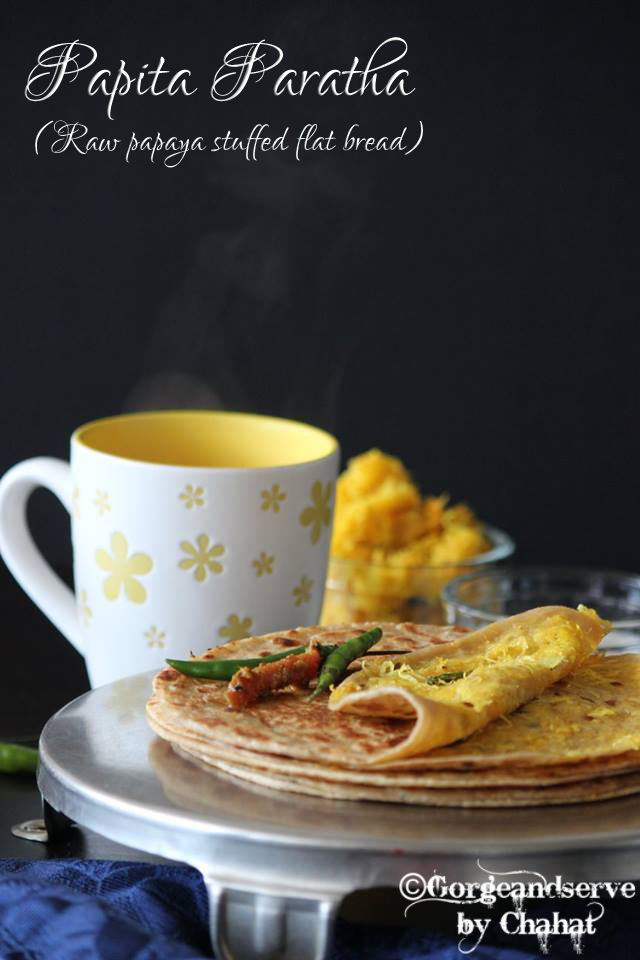 This fruit is a gift of Mexicans to this world. This exotic fruit, also popular as pawpaw, is packed with numerous health benefiting nutrients. It is one of the favorites of fruit lovers for its nutritional, digestive, and medicinal properties. My mum says that if you gastric issue you should eat papaya 🙂
I was talking to my sister today & she said that tempering with curry leaves,mustard seeds & little dry mango powder to this mixture and its ready to eat as a side dish along with rice & dal. Will try and post the recipe too soon. Also my mum makes Papaya bhujia ,which is equally healthy & delicious . So Stay tuned for 2 more scrumptious recipes.
I hope you will enjoy this recipe , do try this out & let me know your take on it.
Love
CK