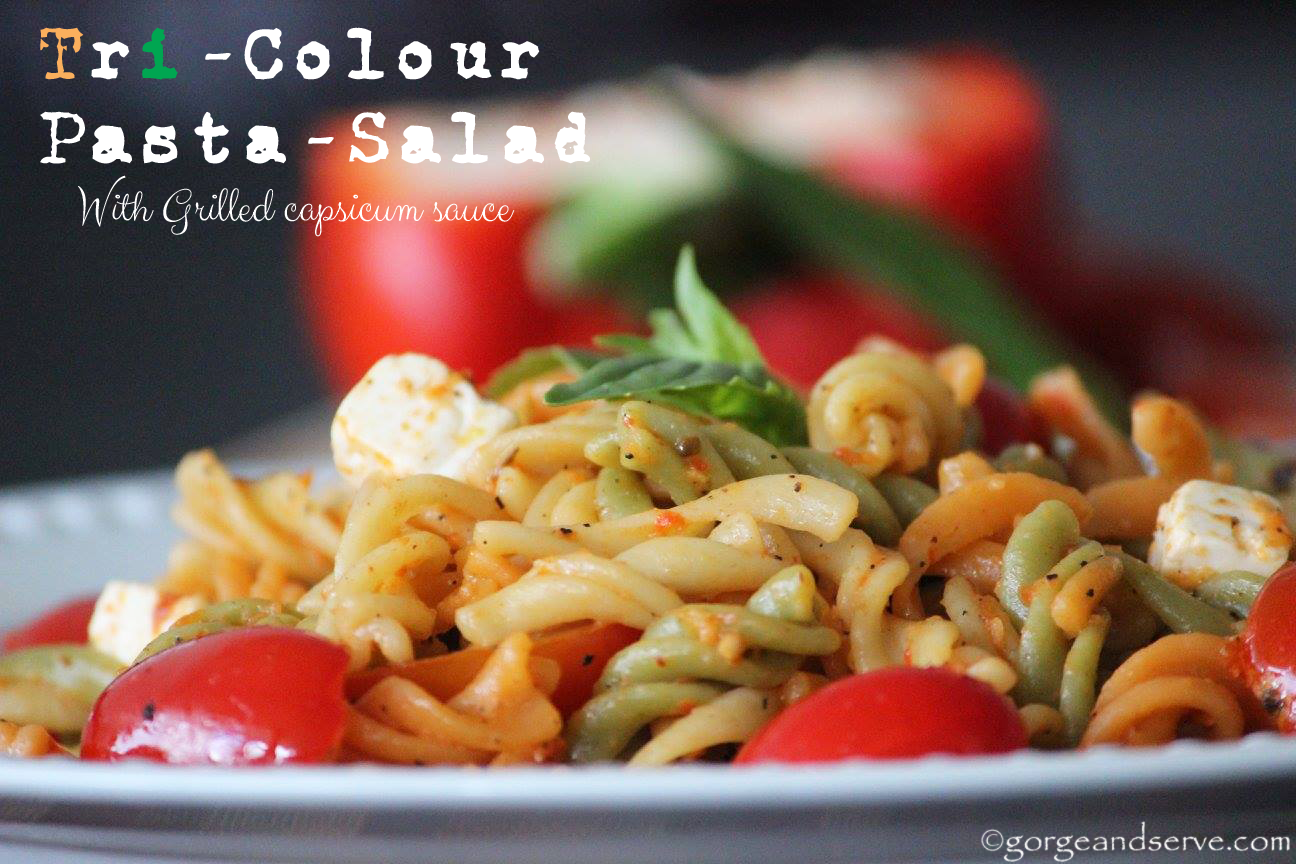 Tri Colour Pasta Salad
As 15th August draws near, India begins to gear for the annual celebrations of freedom won at the stroke of midnight on 14-15 August 1947.
Yes  🙂 India is celebrating it's 69th birthday on 15th August 2015 , and being an Indian this date has a special place in my heart. As a kid this day was special too , going to school, watching our national flag being hosted ,eating sweets , aha…what a feeling ,feeling of being an Indian . Listening to patriotic songs & watching patriotic movies & remembering our leaders & realizing the hardship our leaders and ancestors went through to get this freedom that we are all enjoying today. This day was never a holiday from school, college or work for me , I still feel a strong sense of connect and belonging to the struggle that our leaders had to go through to achieve freedom from British rule.So I wish all my foodies a very HAPPY INDEPENDENCE DAY
This recipe is part of recipes with a cause for Diabetes Friendly Thursday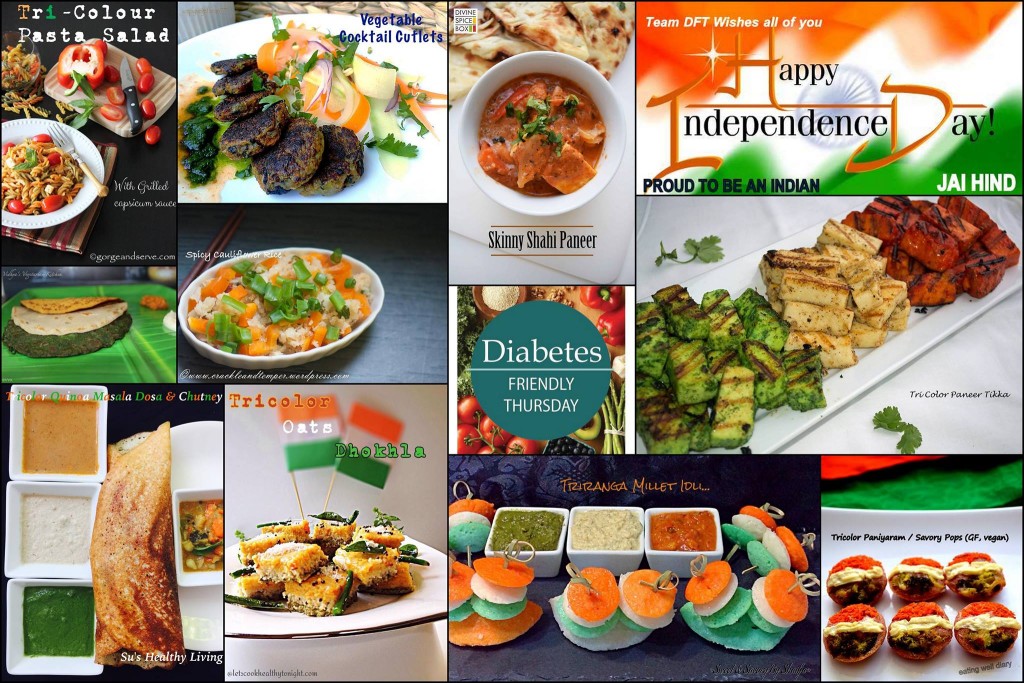 I am a proud DFT blogger. To learn about DFT, read this link. To view more DFT recipes, Click here!
Let us celebrate the Independence of India, with some DFT recipes, cheering for the colors of the flag!
The proud DFT team brings scrumptious & healthy Tri colour recipes this week .Today I am bringing you " Tri Colour Pasta Salad with grilled red pepper sauce " , Pasta is always considered unhealthy & full of cheese but Pasta salads are not only healthy but great to make ahead, and are absolute tops for large groups. They also take the cake for being an extremely versatile dish – with a host of added ingredients, toppings and dressings, simple pasta salads can go from humble side to star entrée in no time. Its a perfect party food.It is typically served as an appetizer or a main.Lets Celebrate Independence Day, digging into this delightful Tri Colour Pasta Salad recipe.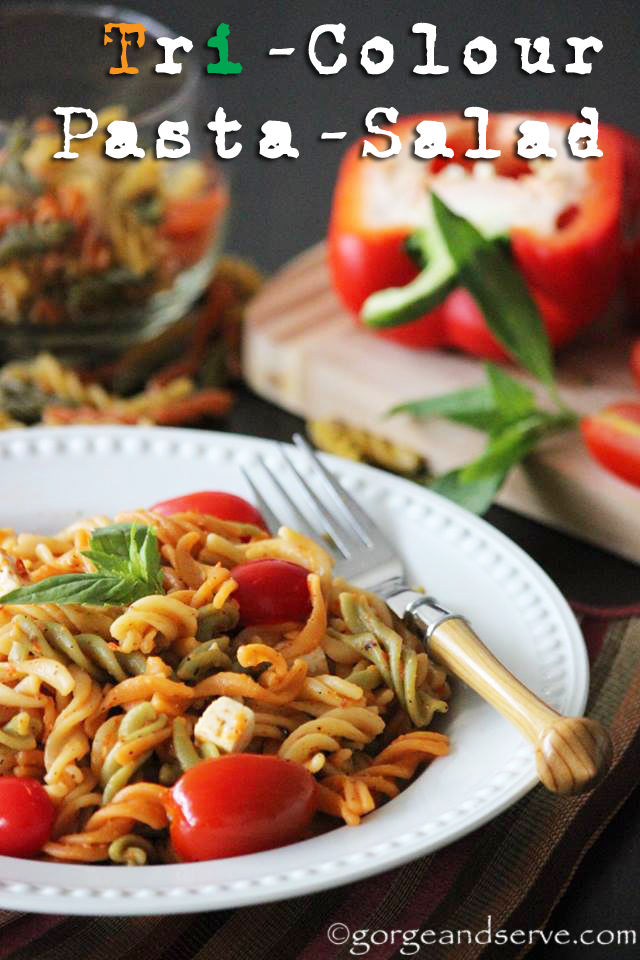 This fragrant pasta salad is the best in summer – just the thing for a light lunch or barbecue. It can easily be prepped in advance and can feed a crowd with little effort.It's healthy & delicious at the same time. The sauce in the salad is simple but the roasted pepper & garlic give a nice zing to the salad.Addition of lemon juice add extra flavors to this super delicious & healthy Pasta salad.
Tips for making pasta salad : If making a pasta salad in advance, rinse with cold water to stop the cooking process and drain well.Add dressing just prior to serving. Pasta quickly absorbs liquids; if the dressing is added too soon, the pasta will absorb it.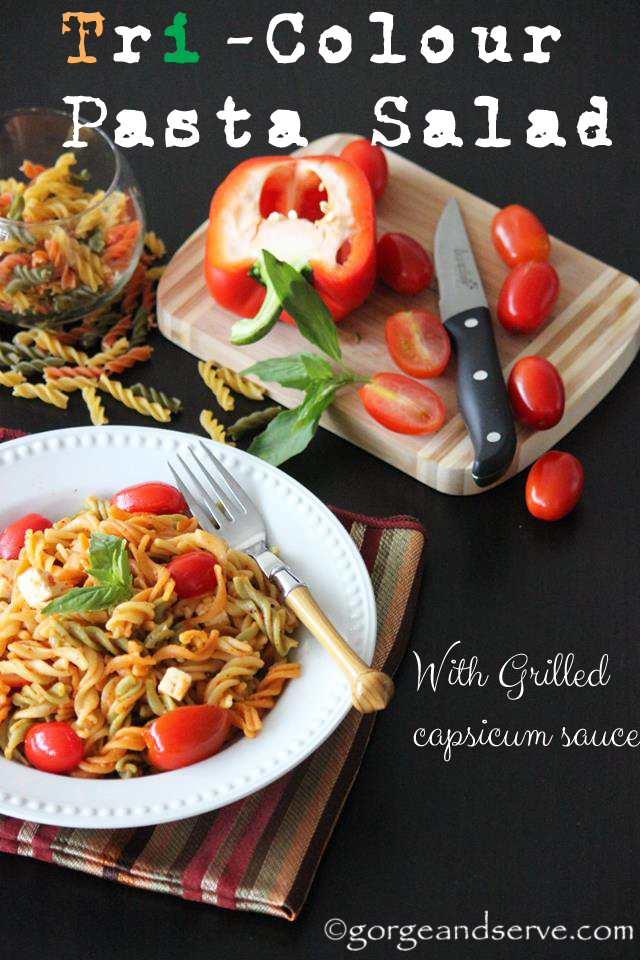 Serves : 4 person
Ingredients 
2 cups Tri-colour Fusilli pasta ( I used Catelli Bistro/ Whole wheat pasta is best for Diabetic people)
1 Red bell pepper
8-10 Cherry Tomatoes
1 clove of garlic
1/2 tsp EVOO
Salt to Taste & pepper
1 tbsp lemon juice
1/4 cup crumbled feta cheese ( optional for diabetic person )
Few basil Leaves
1 small Red Onions chopped( optional)
Process
Start off by boiling water in a big saucepan. Add a bit of salt ann olive oil, Once it comes to a rolling boil, add the pasta to it and let it cook till al dente ( boil pasta al dante to make it Diabetic Friendly ) You can check it by pinching the corners of the pasta which should have turned white or simply take a bite of it!! Follow package instructions for the amount of time it takes as it varies from brand to brand.For me it took 8 min . Once cooked, drain immediately under cold water and keep aside.
Next prepare the sauce…obviously!! 🙂 Preheat the oven at 450 C & roast the half bell pepper for 10 min coated with little EVOO .
Now place the roasted bell pepper, garlic, olive oil,salt & pepper in a blender & puree until smooth.
Toss hot pasta with roasted bell pepper sauce & chopped cherry tomatoes. Add feta cheese & basil leaves. Add lemon juice & mix well.
Arrange in a shallow dish and garnish with basil leaves.
You Can also refrigerate & serve later 🙂
Note : You can also add spinach, red onions & additional pepper to taste.
Now, lets look at some of the healthy facts of the key ingredients of this recipe :
A healthy diet containing foods high in Potassium & low in sodium may reduce the risk of high blood pressure, a risk factor for stroke & heart disease. This Tri-colour Fusili pasta is low in sodium.
Bell Peppers – Most peppers contain about 5 to 7 grams of carbohydrates per cup of raw vegetable, although some, such as hot chili peppers, can contain as much as 9 to 10 grams of carbohydrates per cup. Peppers are also packed with vitamins A and C — just 1 cup of chopped red, yellow or orange peppers provide more than 100 percent of the recommended daily value for both vitamins. All shades of peppers provide plenty of fiber, folate, vitamin K, beta carotene and an array of minerals.
Tomato : Whether you refer to a tomato as a fruit or a vegetable, there is no doubt that a tomato is a nutrient-dense, super-food that most people should be eating more of.The tomato has been referred to as a "functional food," a food that goes beyond providing just basic nutrition, additionally preventing chronic disease and delivering other health benefits, due to beneficial phytochemicals such as lycopene. Tomatoes are a rich source of vitamins A and C and folic acid. Tomatoes contain a wide array of beneficial nutrients and antioxidants, including alpha-lipoic acid, lycopene, choline, folic acid, beta-carotene and lutein.
Basil Leaves : The herb is very low in calories and contain no cholesterol. Nonetheless, its is one of the finest sources of many essential nutrients, minerals, and vitamins that are required for optimum health. Basil herb contains a good amount of minerals like potassium, manganese, copper, and magnesium. Potassium is an important component of cell and body fluids, which helps control heart rate and blood pressure. Manganese is used by the body as a co-factor for the antioxidant enzyme, superoxide dismutase.
Onions : The possible health benefits of consuming onions include lowering the risk of several types of cancer, improving mood and maintaining the health of skin and hair. Onions are a nutrient-dense food, meaning that while they are low in calories they are high in beneficial nutrients like vitamins, minerals and antioxidants. One cup of chopped onion contains approximately 64 calories, 15 grams of carbohydrate, 0 grams of fat, 0 grams of cholesterol, 3 grams of fiber, 7 grams of sugar, 2 grams of protein and 10% or more of the daily value for vitamin C, vitamin B-6 and manganese.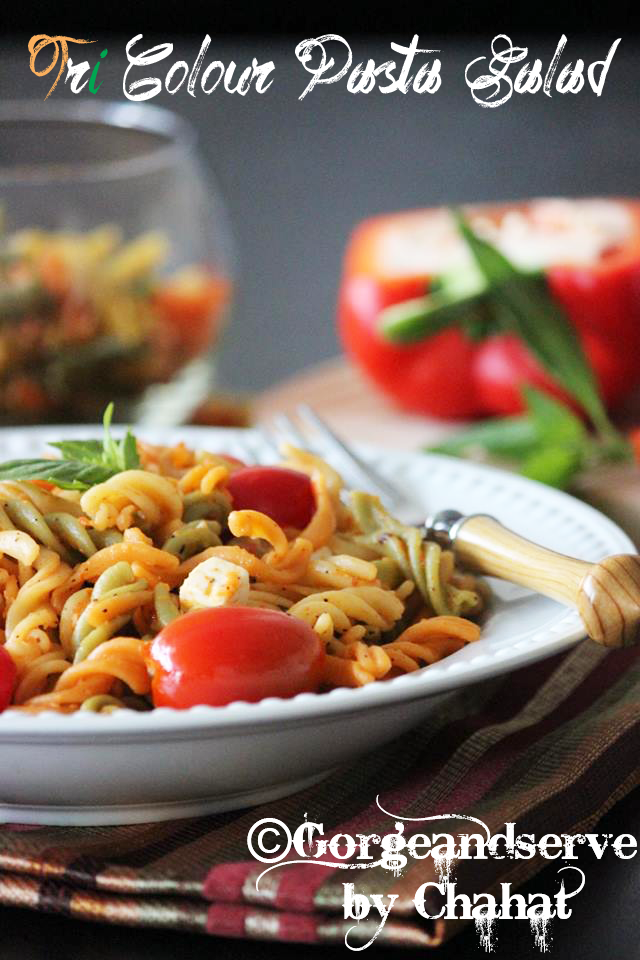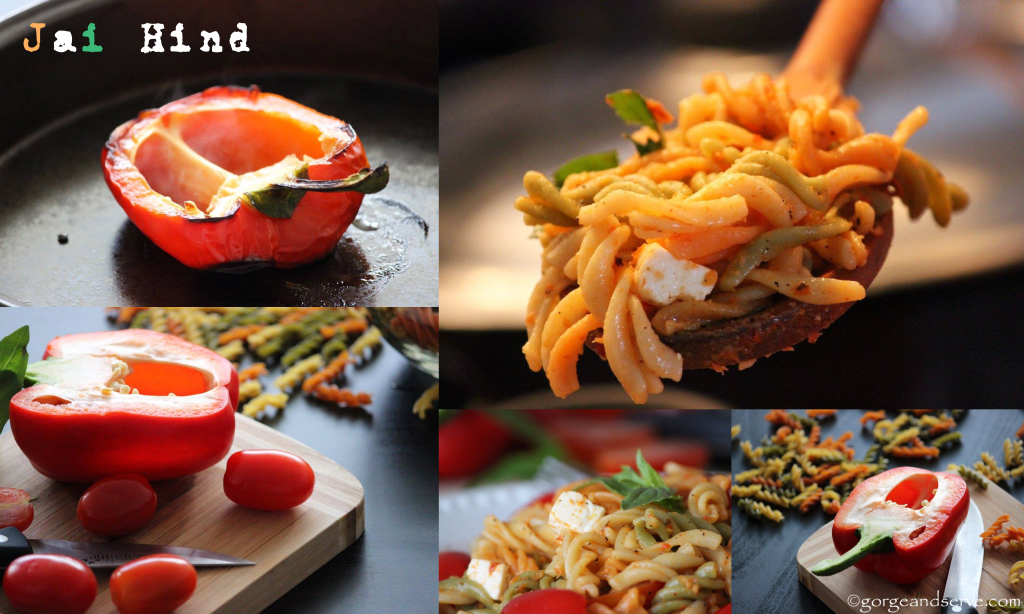 Please hop in to DFT page for more diabetic friendly recipes.
Disclaimer : I am not a nutritionist or dietician. My knowledge and information is based on my research and reading from different resources. Please consult your doctor or dietician before making any changes to your diet.
Recipes from my lovely DFT bloggers:
Sonal: Vegetable Cocktail Cutlets
Prachi: Skinny Shahi Paneer
Srividhya: Tri-color Wheat Dosa
Shailaja: Tri Colored Cocktail Millet Idlis
Parvathy : Spicy Cauliflower Rice
Suchitra: Tricolor Quinoa Masala Dosa
Apsara : Tricolor paniyaram
Swati : Tri Color Oats Dhokhla
Sarika : Paneer Tikka