Orange Rasmalai
Today was one such funny day which I am never gonna forget, My Milk refused to curdle, it was damn funny .I kept adding lemon juice, Vinegar, curd, green chilly but like a Nakhre wali chori , it simply refused 😛 It is still sitting and I am waiting that it might give up lol . The reason I wanted the milk to curdle is because I was planning to make Orange Rasmalai 🙂 aren't they cute looking. Rasmalai is my favorite dessert, its a dumplings made from cottage or riccotta cheese soaked in sweetened, thickened milk delicately flavored with cardamom. Served chilled and garnished with dry fruit.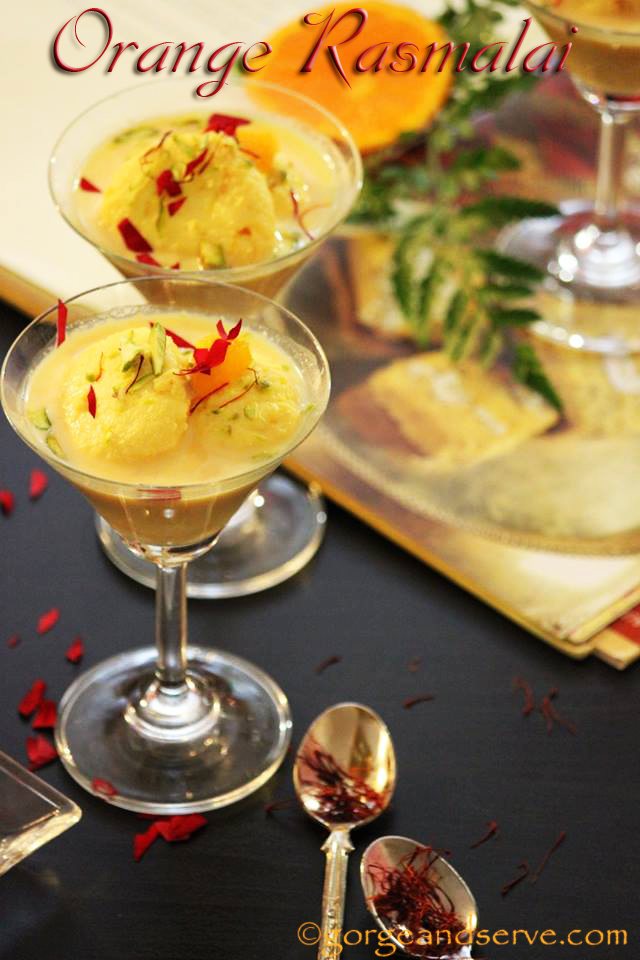 It's a citrusy twist to  the classic Indian dessert, Rasmalai. Me & my sister were discussing about it yesterday & I wanted to simply make it because I am a Orange lover & I loved the idea too 🙂 I was very skeptical about the result when I started to make this and as expected my milk refuse to curdle.May be because I added the orange juice along with lemon juice. So started again , this time I added Vinegar & when the milk started curdling then I added orange juice, zest & flesh & VOILA!!!!! I was able to get the desired Chena to make my Orange Rasmalai.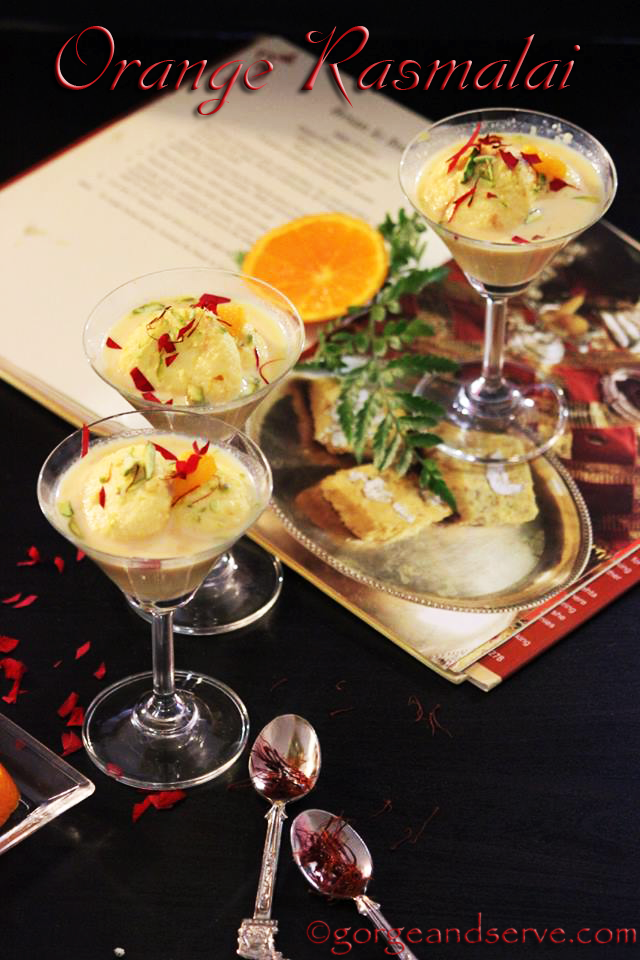 Citrus and dairy is a tricky combination and to be honest I not have never even tasted this combination before.But to my surprise this expermiment of making Orange rasmalai came out extraordinary delicious with a very refreshing burst of flavors. I am so very glad to have tried out this unusual combo & sharing with you all. lets check how to make this dessert.
Ingredients
1 liters Full cream milk or 3%  anything is fine
3 tbsp Lemon juice or 2 tbsp Vinegar
1/2 cup Orange juice
1/2 tsp Orange zest
1/8 cup Orange flesh
2 cardamoms
1 tbsp APF or Maida
1 pinch of baking soda( optional)
1 and ½ cups Sugar
6 cup Water
3-4 drops Orange essence ( optional)
2 drops of Orange food color
Dry fruits slivers and orange slices for garnishing
Process
In a heavy bottom pan heat 1 liter milk . Switch off the heat when it comes to a boil.
Add lemon juice or Vinegar & the milk will start curdling.
As soon as milk start curdling add 1/2 cup Orange juice , Orange zest & orange flesh.Let it rest for 5 minutes.
Drain the curdled milk using a cheese cloth.
Wash the cheese under running water to remove the traces of lemon juice.
Now hang the cheese cloth for an hour to drain all the whey from the cheese.
Mean while, heat the remaining 1 liter milk in a heavy bottom pan.Cook on low heat, till milk is reduced to half.
Add  ½ cup sugar to the boiling milk along with some saffron.
Add orange essence and a pinch of orange food color.
Keep the Ras / Rabdi  aside.
Remove the chenna from the cheese cloth.
Add APF & Baking soda &  knead the chenna with your palms for 6-8 minutes.
Make equal size balls & flatten the balls a little bit.
Heat 1 and ½ cup sugar, cardamoms and water in a pressure cooker.
When the water comes to a rolling boil, add the chenna balls.
Do not over crowd the cooker. You might wanna add in batches like I did 5 at a time.
Cook the balls for 10-15 min in medium heat. (Or you can also pressure cook in high heat for 2 whistles, then remove the cooker from heat and let it cool on it's own )
Now add the Malai gently to the reduced milk.
Refrigerate the rasmalai for at least 5-6 hours before serving.
Garnish with dry fruits slivers and orange slices before serving.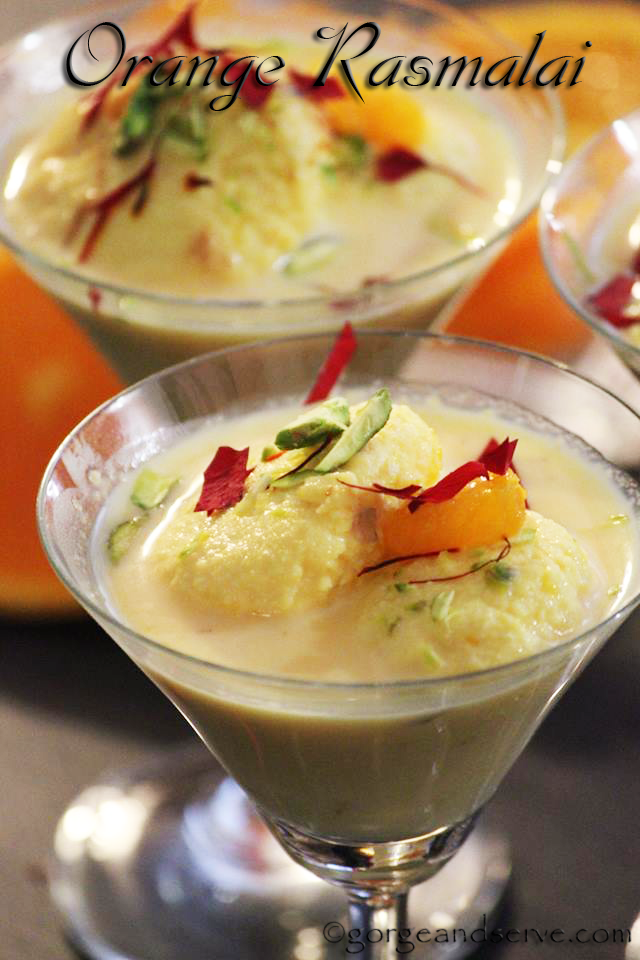 These Orange Rasmalai is damn spongy, flavorful & delicious .You really can eat them all. So if you are a orange lover just like me, you will love this sweet. You will be delighted to be sure. If you wanna have the simple Rasmalai click here for a full proof recipe .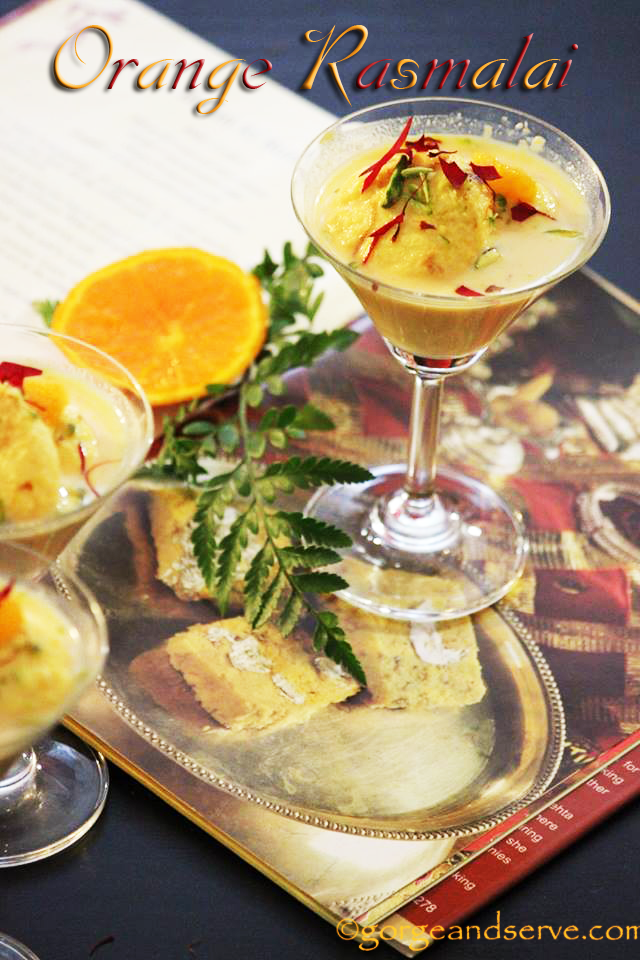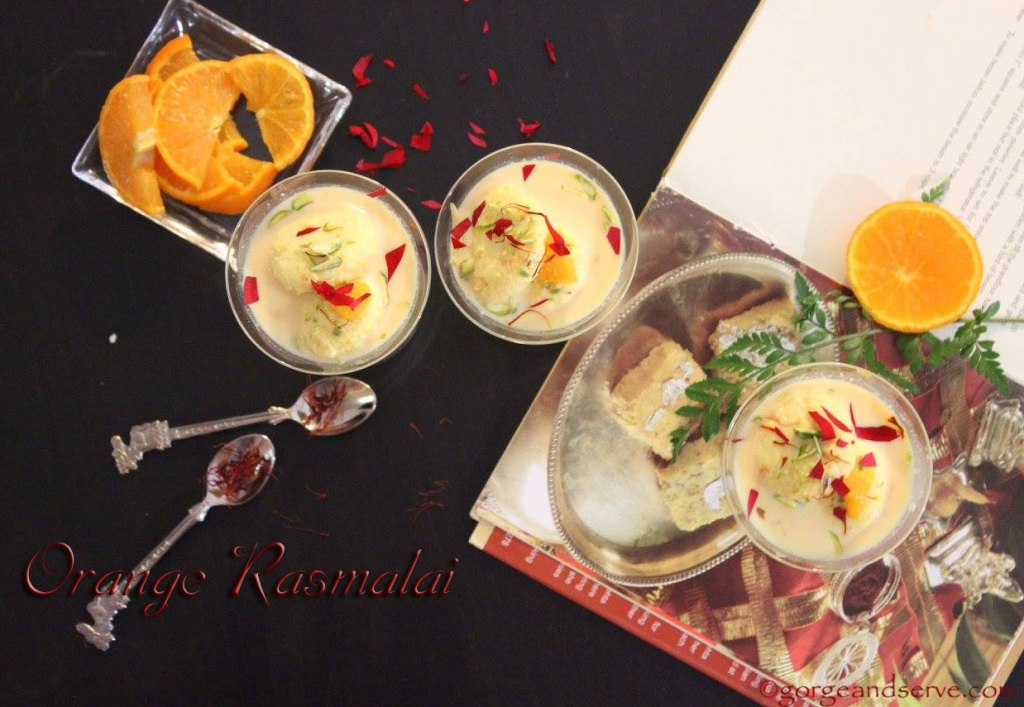 Love CK