This week DFT brings a sandwich/wraps/rolls variety for the kids. Isn't that an awesome news 🙂 so for all those little ones I bring a very healthy & delicious Hariyali Paneer Wrap
A wrap is a type of sandwich made with a soft flatbread rolled around a filling.The usual flatbreads are either wheat-flour tortillas,  pita or even chapati , the filling usually consists of grilled sliced meat, poultry, or fish ,veggies , Paneer accompanied by shredded lettuce, grilled veggies , cheese, and a sauce, such as ranch, honey mustard etc. Besides adventure and variety, there is also the convenience factor : wraps are a complete and flavorful meal that can be held in one hand or rolled up in foil and stuffed in a lunch bag.Perhaps the best news of all for busy home cooks,  wraps are a great way to use up leftovers. All those little containers of leftovers that aren't enough for another meal suddenly become a satisfying lunch when layered in flatbread and drizzled with a bit of sauce, such as salad dressing, barbeque sauce, salsa, peanut sauce, marinara, hoisin sauce, chutney, or teriyaki sauce.So you have endless options available.
This recipe is part of recipes with a cause for Diabetes Friendly Thursday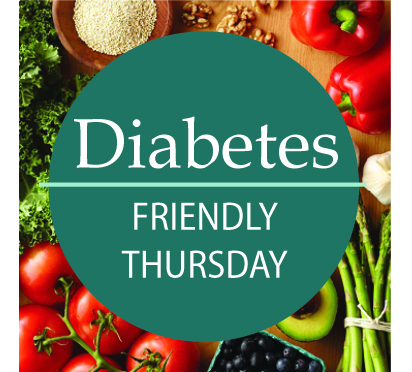 I am a proud DFT blogger. To learn about DFT, read this link. To view more DFT recipes, Click here!
Happy Kids! Happy Mamas! Team DFT is bringing kids' friendly sandwiches, subs, rolls and wraps this week
Hariyali Paneer Wrap , the sandwich has dominated the lunchbox scene for long enough. It's time to make some room in your weekly lunch routine for one of these riveting wraps.The most common and widely available flatbread to use for the wrapper is a tortilla. Try pita and naan breads, spring roll wrappers, or crêpes or even parathas & home made chapati. Today I am using home made whole wheat hot phullkas or chapati for this delicious wrap recipe.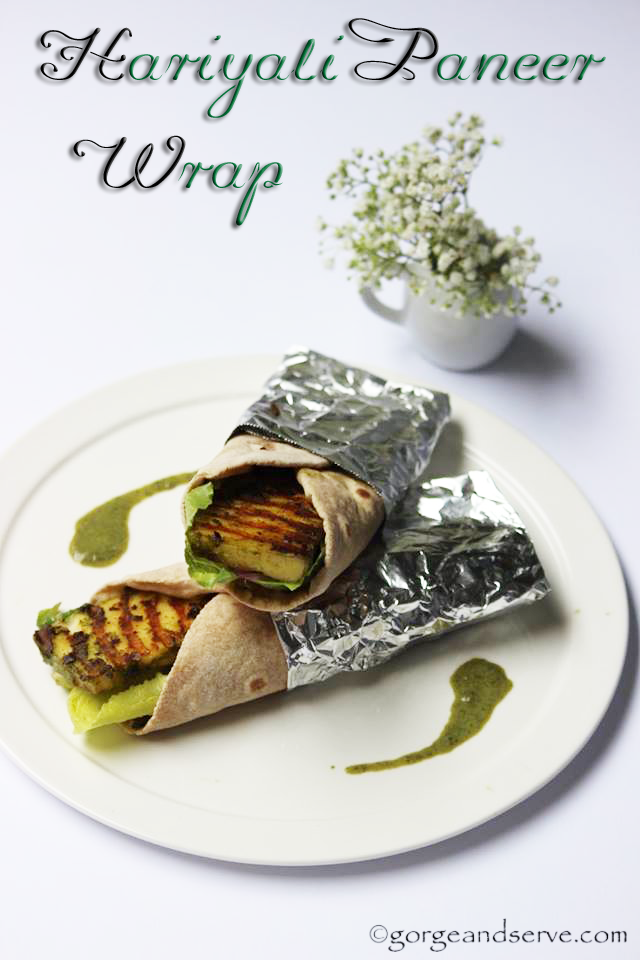 Serves: 2 servings
Ingredients
2 whole wheat Chapati ( Non Diabetic ppl can use naan/whole wheat Tortillas/Pita breads or evbn bread)
100 gm Paneer ( low fat Cottage cheese)
Marinade
1 stalks green onions
2 garlic pods
1 cup cilantro
2 green chilly
5 black peppercorns
1/4 tsp Oregano
1/4 tsp red chilli flakes
Salt to taste
1/2 tbsp lemon juice
1/2 tsp Veg oil
Dressing
1 small bunch Cilantro
1 green chilly
1/2 lime
1/2 tsp salt
1/4 cup low fat Sour cream or you can also use yogurt
Vegetables 
1/2 green pepper ( thinly sliced)
1/2 red onion  ( thinly sliced)
1 jalapeno ( optional)
1/2 + 1/2  tbsp Veg oil
Shredded lettuce
Process
In a blender mix everything mentioned in the Marinade section & using little water make a smooth paste.
Cut 1 inch length wise pieces of paneer.
Mix the Paneer along with green marinade & keep aside for 30 min.
Now Mix everything under Dressing section except Sour cream or yogurt & make a smooth paste . Add the Sour cream or yogurt & mix well. ( If you have green chutney handy , simply add Sour cream or yogurt and your dressing is ready)
Now In a pan add 1/2 tbsp of oil & saute the vegetables for 2-3 min in high heat adding pepper & salt to taste.
In the same pan fry the paneer pieces till golden brown from both the end. You can also grill the paneer in oven .
To serve : Take one Chapati, apply 1 tbsp chutney dressing , add the sauted veggies , the some chopped lettuce , keep 2 fry paneer pieces & roll up, or 'wrap'.
Tip : Aluminum foil can be used to keep food moist.
Your Yummy, handy ,kid friendly Hariyali Paneer Wrap is ready to be devoured 🙂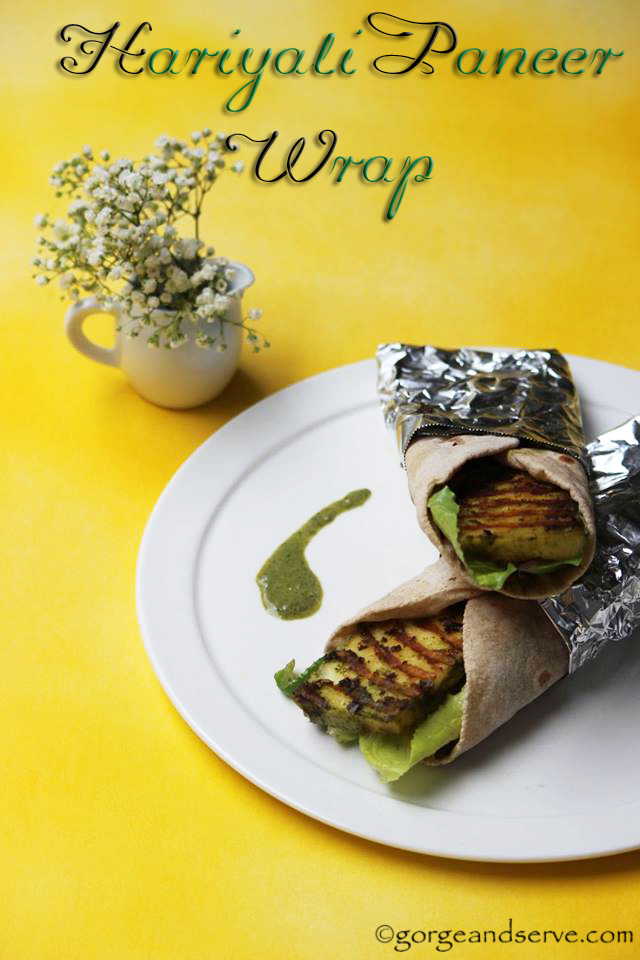 Now, lets look at some of the healthy facts of the key ingredients of this recipe :
Capsicum : Most peppers contain about 5 to 7 grams of carbohydrates per cup of raw vegetable, although some, such as hot chili peppers, can contain as much as 9 to 10 grams of carbohydrates per cup. Peppers are also packed with vitamins A and C — just 1 cup of chopped red, yellow or orange peppers provide more than 100 percent of the recommended daily value for both vitamins. All shades of peppers provide plenty of fiber, folate, vitamin K, beta carotene and an array of minerals.
Onions : The possible health benefits of consuming onions include lowering the risk of several types of cancer, improving mood and maintaining the health of skin and hair. Onions are a nutrient-dense food, meaning that while they are low in calories they are high in beneficial nutrients like vitamins, minerals and antioxidants. One cup of chopped onion contains approximately 64 calories, 15 grams of carbohydrate, 0 grams of fat, 0 grams of cholesterol, 3 grams of fiber, 7 grams of sugar, 2 grams of protein and 10% or more of the daily value for vitamin C, vitamin B-6 and manganese.
Low fat Cottage cheese/Paneer: The health benefits of cottage cheese include weight loss, a good supply of protein, B complex vitamins and healthy fats, and a reduced risk of breast cancer. Cottage cheese is also a good source of various minerals such as calcium, magnesium, potassium, phosphorous, zinc, and selenium which all play vital roles in many of the body functions. Just use low fat milk to prepare Paneer for maximizing the benefits from diabetes point of view.
Coriander : The health benefits of coriander include its use in the treatment of skin inflammation , high cholesterol levels, diarrhea, mouth ulcers, anemia, indigestion, menstrual disorders, smallpox, conjunctivitis, skin disorders, and blood sugar disorders, while also benefiting eye care.As a rich source of calcium, coriander is of great value for people who want to protect the integrity of their bones.Due the stimulating effect of coriander on the endocrine glands, the secretion of insulin is increased from pancreas which subsequently increases the insulin level in the blood. This regulates the proper assimilation and absorption of sugar and the resulting drops in the sugar level in the blood. This property is extremely beneficial for patients who suffer from diabetes and other related conditions, in order to lower their chances of dangerous spikes and drops in their blood sugar levels, and to ensure other normal metabolic functions as well.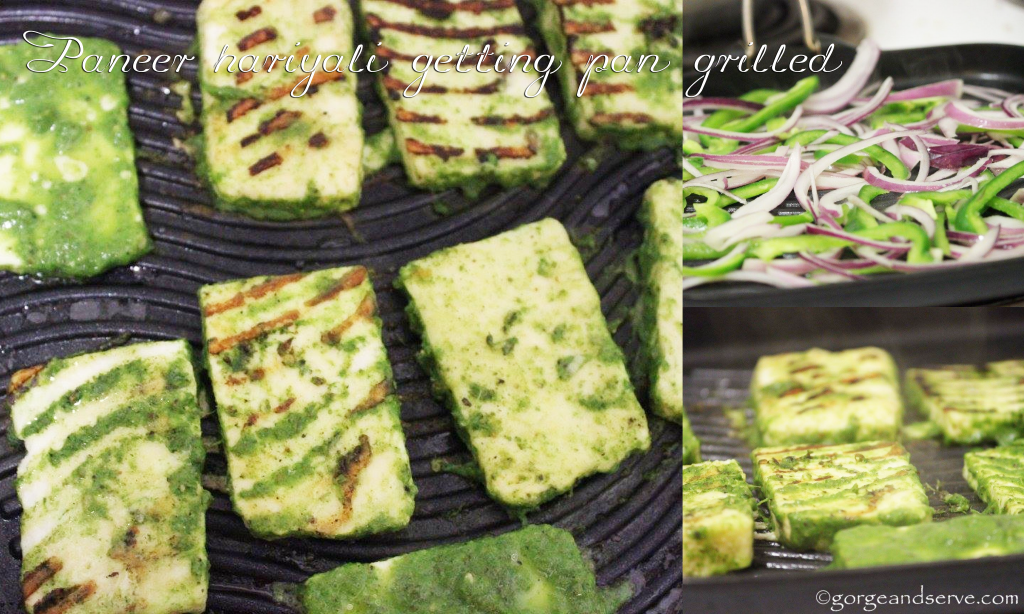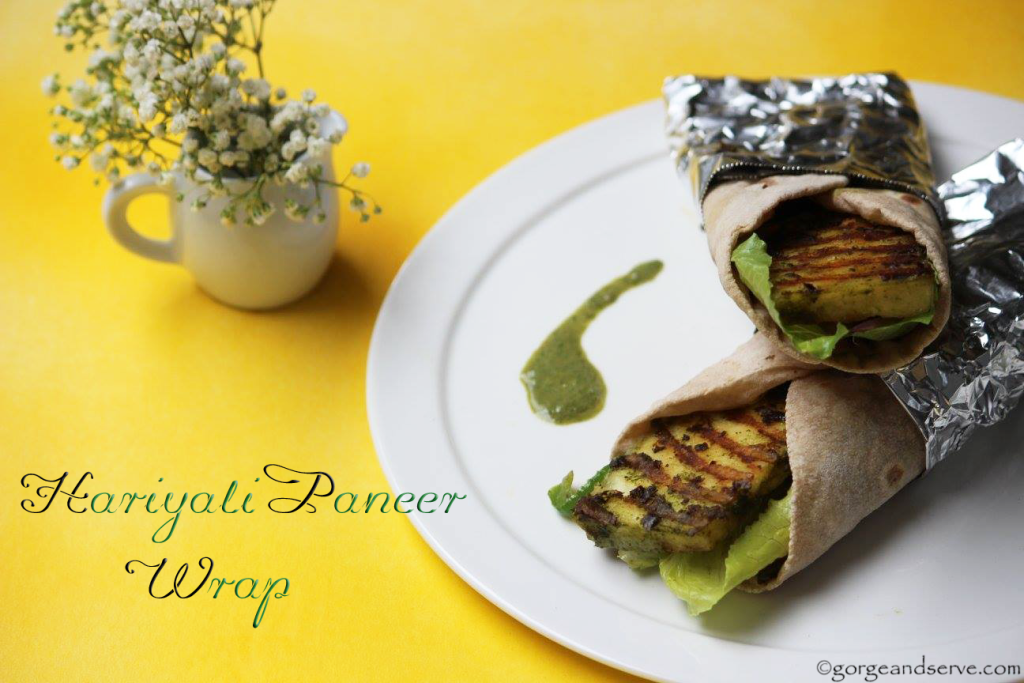 Please hop in to DFT page for more diabetic friendly recipes.
Disclaimer : I am not a nutritionist or dietician. My knowledge and information is based on my research and reading from different resources. Please consult your doctor or dietician before making any changes to your diet.
Recipes from my lovely DFT bloggers:
Sonal: Vegetable Pizza Sandwich
Prachi: Vietnamese Savory Wrap – Banh Xeo
Shailaja: Rainbow Summer Rolls with Peanut Sauce
Parvathy : Egg burrito with a twist
Suchitra: Avocado Cheese Burger & Wrap
Swati : Oven Roasted Falafel wraps