Weekends mean cooking something non vegetarian at home , I think this is kinda tradition across many households. I have no idea what's the reason though. Back home every Sunday my mum cooks mutton curry or chicken curry. I have so many beautiful memories of our leisurely & laid back Sunday afternoons. Also when my aunt or my cousins come home , gathering in the kitchen and cooking a meal together is what I miss here so much .Watching TV & eating along with everyone , fighting, cracking silly jokes …. FAMILY is life 🙂 Keeping the tradition intact I always cook something non veg during weekends in Montreal if not eating out 🙂 Come Friday and we are already in that weekend mood, cooking, drinking, gossiping & eating.That's what we do here on a typical Friday nights most of the times & then a late night movie.This Friday was same except I didn't cook 🙂 so on Sunday I made this delicious & lip smacking Methi Murg. The subtle flavor of fresh Fenugreek leaves that comes in every bite along with a spicy gravy makes this dish very special & unique.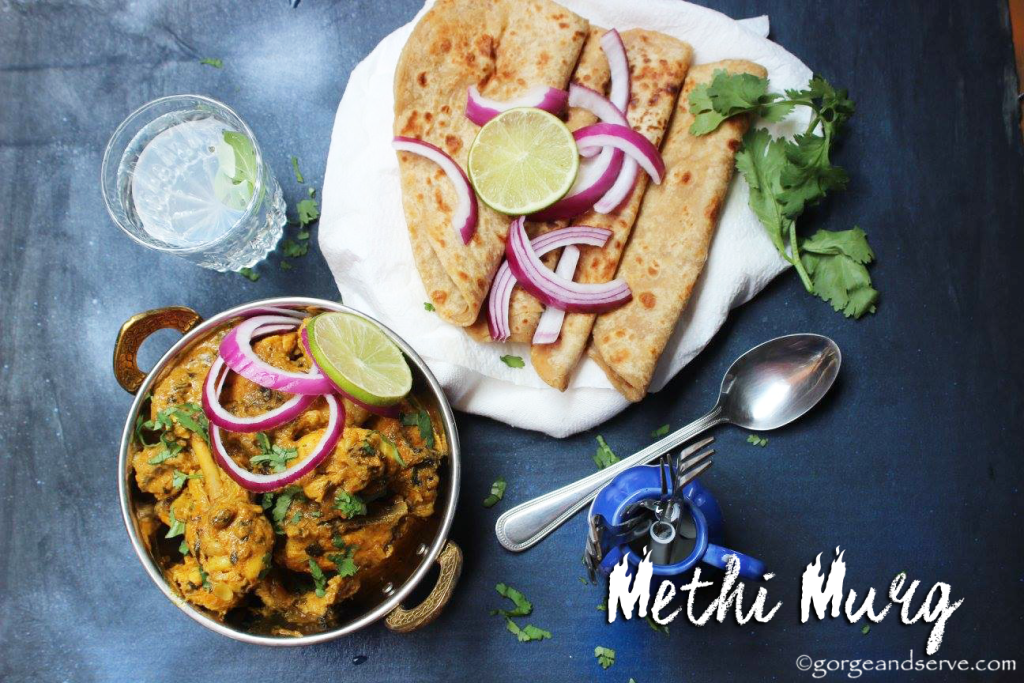 This ONE for you if you like Methi 🙂 . If you like yogurt based gravy. And last but nor the least if you are a die hard Chicken lover like me. This recipe is so gosh-darn delicious that you will lick your plate. While it's cooking, the fragrance of yogurt, methi, and spices will whirl through your home, teasing your senses .The chicken was soft and succulent . Serve it with steamed rice or hot chapati/phulka or even Paratha/naan. A zesty green salad won't be out of place either.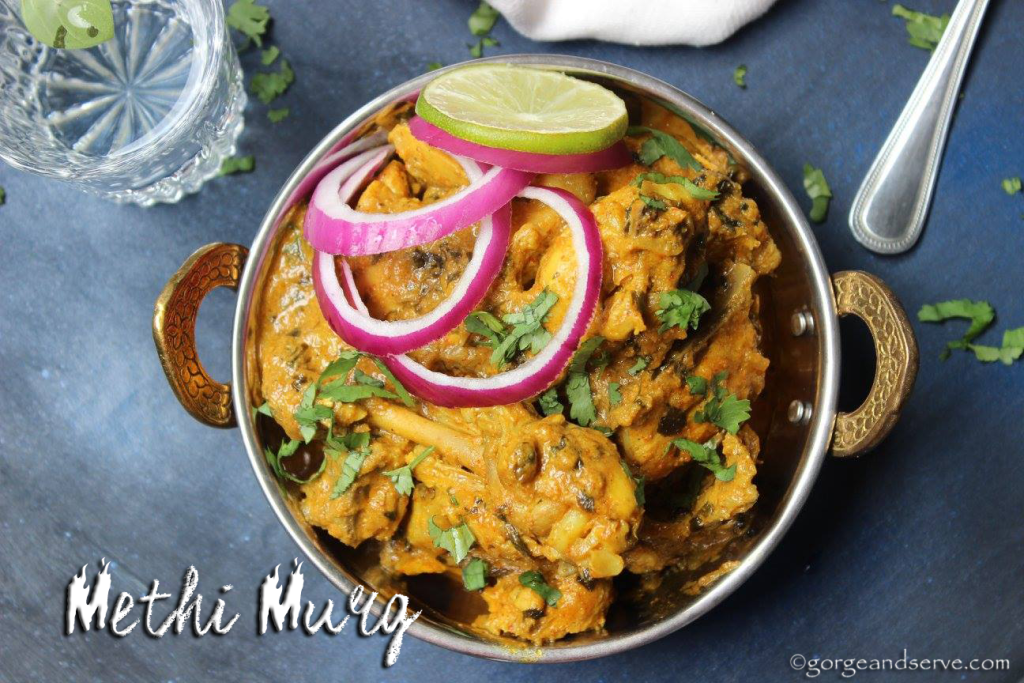 Ingredient
1 kg Chicken with bones
5 tbsp Mustard oil
3 Cloves
2 Black Cardamom
5 Black Pepper Corn
2 cups Onion ( Thinly sliced )
2 tsp Ginger garlic paste
2 Green chili ( Slit into halves )
1 cup yogurt
3 tsp Coriander Powder
1 tsp Turmeric Powder
2 tsp Kashmiri Red Chilli Powder
1/2 tsp Roasted Cumin Powder
1/2 tsp Garam Masala Powder
Salt to taste
2 tsp Lemon Juice
 2 cups Fresh Fenugreek / Methi leaves ( If not available use 1 cup dry fenugreek /Kasoori methi )
Process
Heat oil in a pan,add cloves, cardamom and peppercorns. Saute for a few seconds.
Add onion and fry till translucent.
Add ginger garlic paste and green chilies and fry till onion turns golden brown.
Add chicken and fry on high heat for 4-5 minutes.
Add the dry spices coriander powder, turmeric powder, red chili powder, cumin powder, garam masala powder & salt , mix well .
Whisk curd & add to the chicken , mix well .
Cover and cook the chicken on low heat for 25-30 minutes.
Add little water if required & fenugreek leaves and cook uncovered for another 10 minutes.
Add lemon juice and mix well.Serve hot with chapati or naan.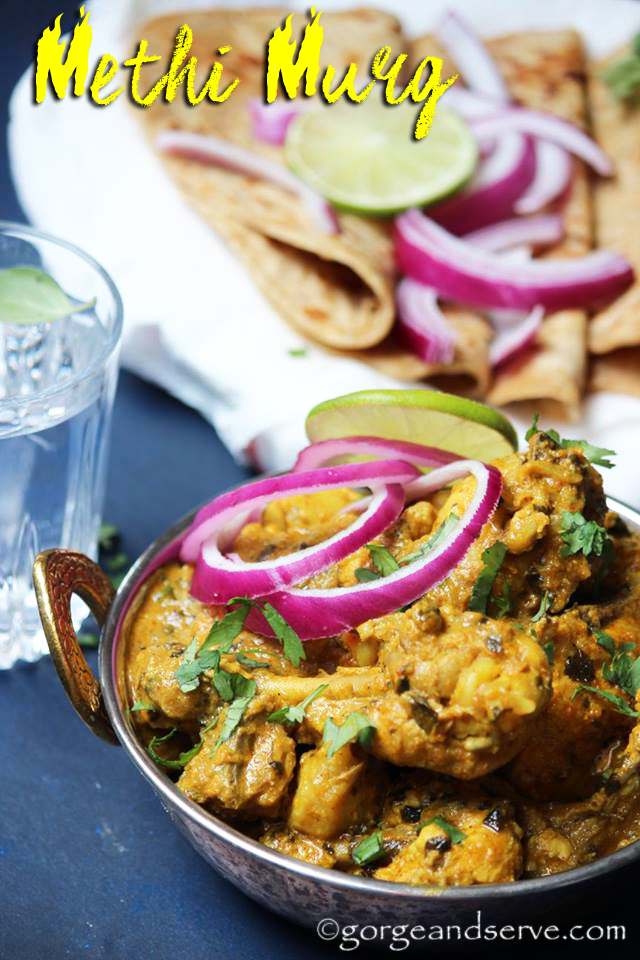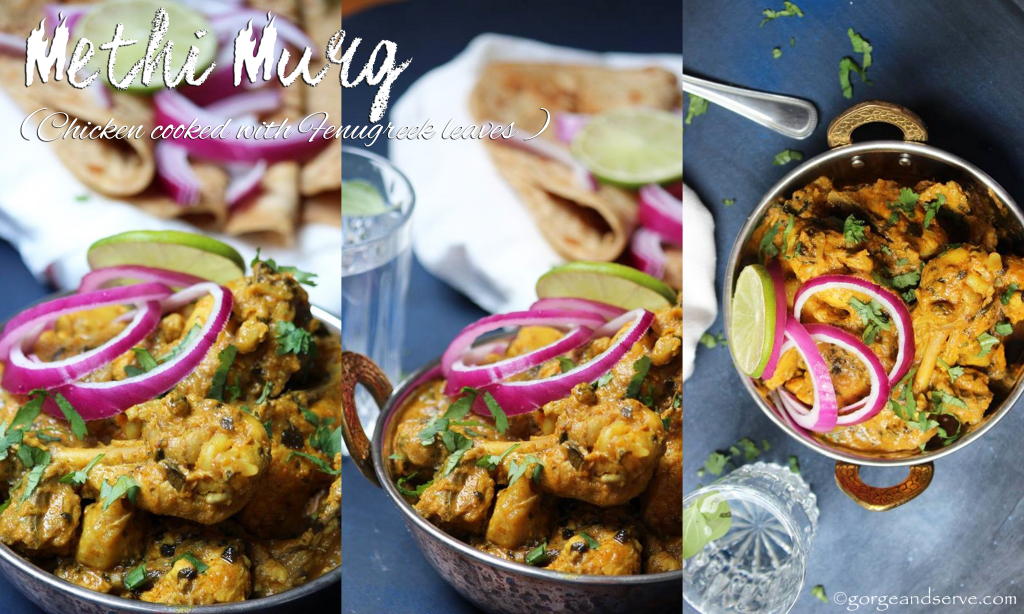 Love CK