Summers are meant for trying different kinds of refreshing drinks, Mocktails to beat the heat.If you miss the chance you may regrets later because once winter arrived you are gonna stick to tea & coffee , I mean you still can drink what you like but you won't get that satisfaction . Drinking something kewl in winter is a complete NO NO for me. I had 2 boxes of kiwi at home , i finished eating one of the boxes & was thinking how to utilise the other box so here I go, I decided to make my fav lemonade using this wonder Fruits. Let me introduce to to my gorgeous "Homemade Kiwi Lemonade "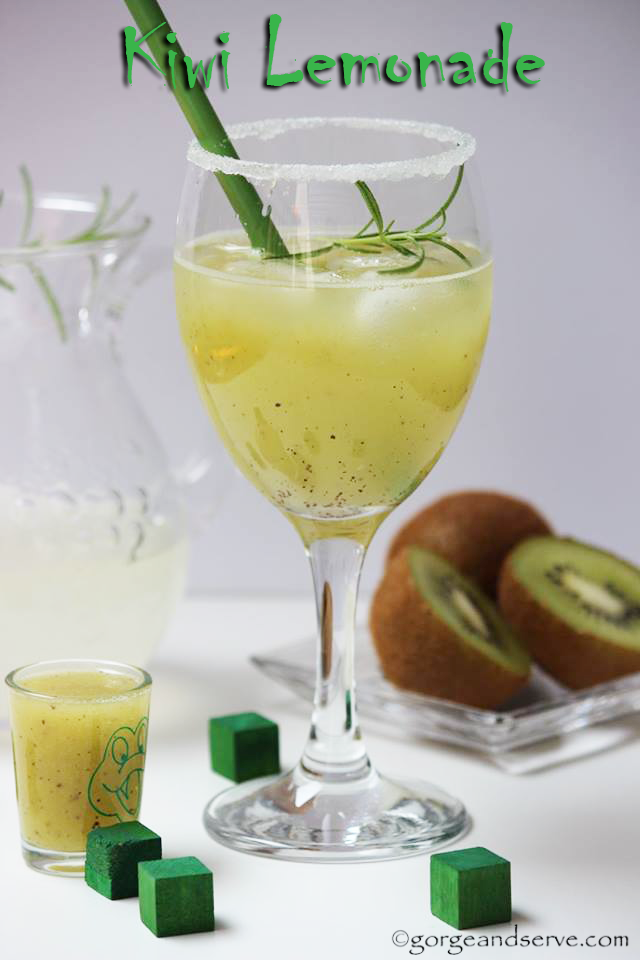 The kiwifruit, native to northern China, was first brought to and cultivated in New Zealand at the turn of the 20th century and was then known as the Chinese Gooseberry. When the time came to export the fruit, to avoid the high duties charged on berries, the name was changed to the kiwifruit, or kiwi because of the fruits shared characteristics with New Zealand's national symbol, the kiwi bird, which is also small, brown and fuzzy 🙂 🙂 Kiwis are a nutrient dense food, meaning they are high in nutrients and low in calories. The possible health benefits of consuming kiwis include maintaining healthy skin tone and texture, reducing blood pressure and preventing heart disease and stroke.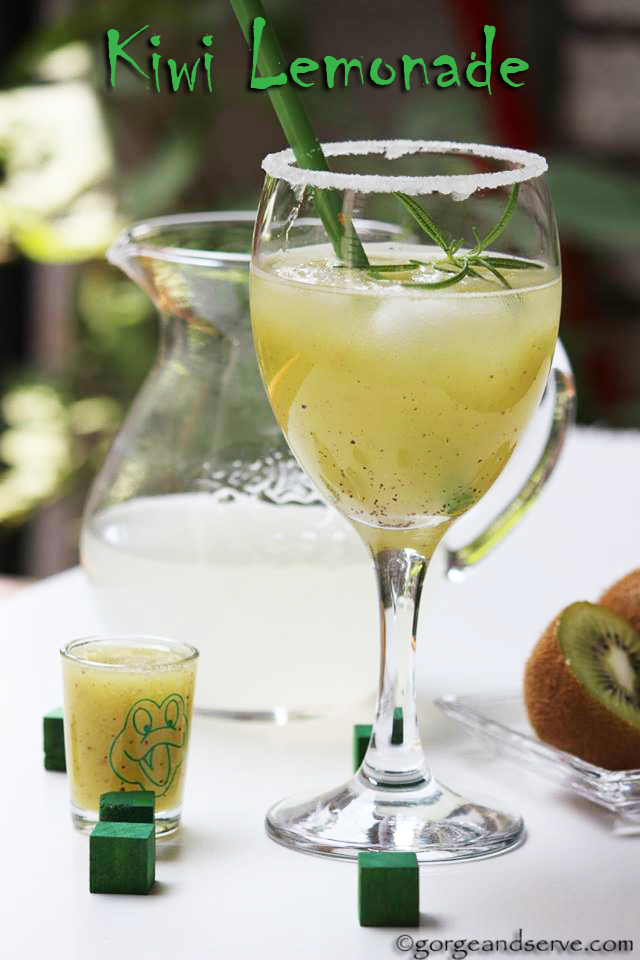 Lemonades are so very loved by all age groups 🙂 its simple & most humble drink . The best way to make lemonade is to make a simple syrup first, by heating water and sugar together until the sugar is completely dissolved, and then mix that with the lemon juice.Now to give it a little twist I added Kiwi puree & Voila I have my refreshing Homemade Kiwi Lemonade ready 🙂 So lets check the recipe .
Ingredients:
1/2 cup white sugar
1/2 cup water
1 cup kiwi (peeled)
3 cups cold water
1/2 cup fresh lemon juice
Lots of ice cubes
Instructions for the Homemade Kiwi Lemonade Recipe:
Start by squeezing out the juice of your fresh lemons using a lemon squeezer or using your hand.
Next, Puree peeled Kiwi adding little water and pour the contents into a strainer.
Now lets make our simple syrup , In a sauce pan, add the sugar and a 1/2 cup of water heating in on medium heat until the sugar dissolves (about 5 minutes or so). This will be the base of your lemonade. Remove it from the heat. Stir in the other 3 cups of cold water and the freshly squeezed lemon juice.
To serve : sugar coated the rim of each glass, put ice cubes in the glass ,add a few spoonfuls of puree first, then top with the lemonade. Gently stir it before serving.
Voila! That's it!
Now to make it more interesting you can add chilled carbonated water , Soda or even ginger ale.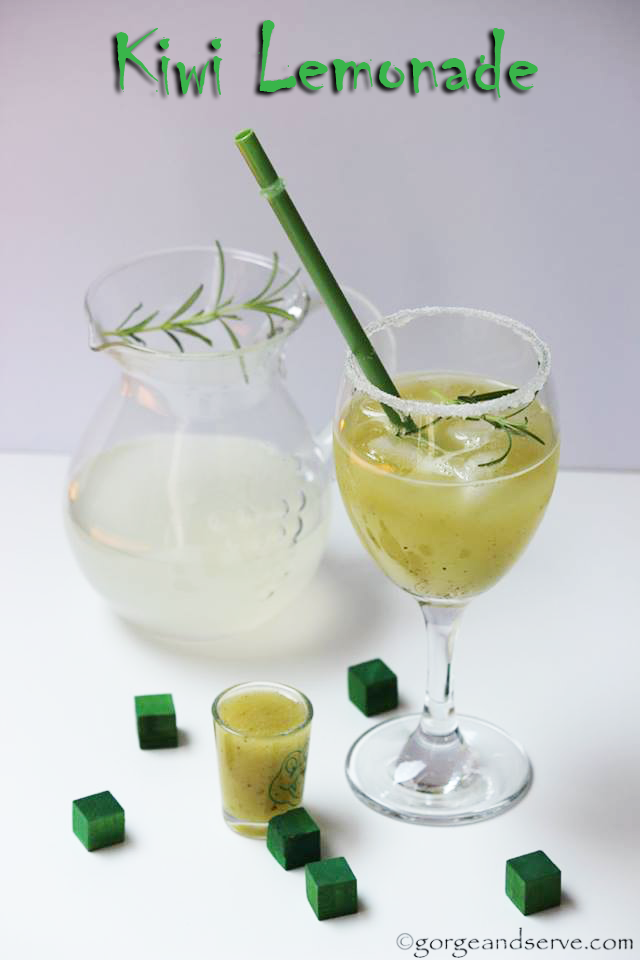 Enjoy Summer , try as much as refreshing drinks you can , because …………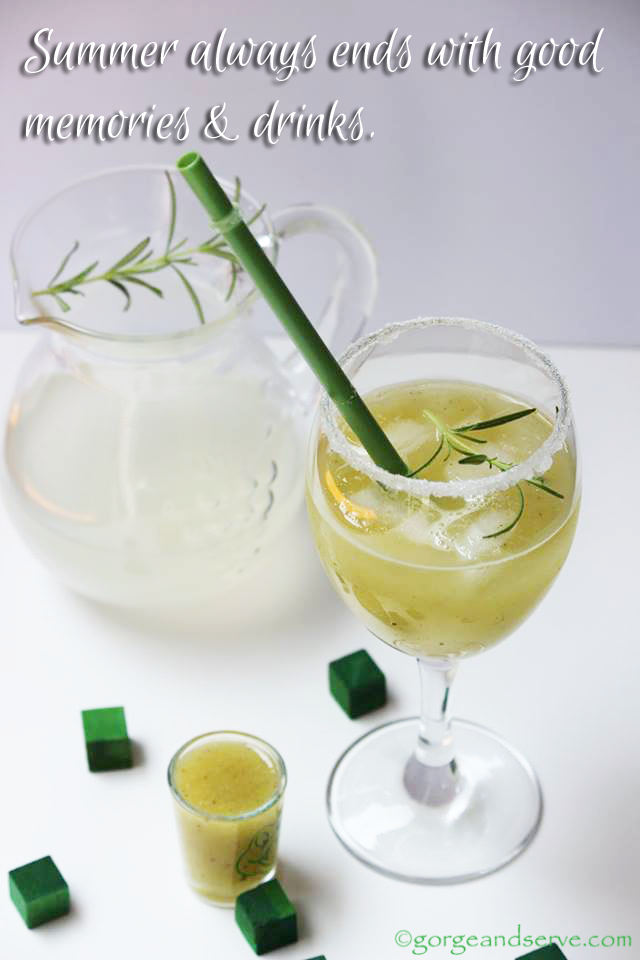 Love
CK