Bread Rolls are probably the easiest and quickest snack you can make with some bread slices and "some" filling. I make this often with different filling recipes & it does make a nice & ideal snack for tea time or even breakfast. Let me present you a version of bread rolls …. " Veggie Bread Rolls " these Funky recipe is so damn easy  that even your kids can make it ,which means it's kid friendly too. With no fancy ingredients, you don't even have to think twice to make these  🙂  you can also make your own version by simply tweaking it by adding, subtracting and testing out your own variations to the veggie mix used in this recipe.
These Veggie Bread Rolls can be lightly roasted in a pan until all sides are browned or even baked or even deep fried. But since It's a DFT post I am baking them & making it more healthy 🙂 This is so fun to put together in a minutes. Imagine a fun evening cooking this with your kids or even better, wow-ing your guests with an appetizer that hardly took more than 30 mins to make. Its easy to do a bulk batch of this too. You can also cut up the rolls into smaller discs, stick a toothpick in, and serve it as a fancier appetizer. Choice is your's 🙂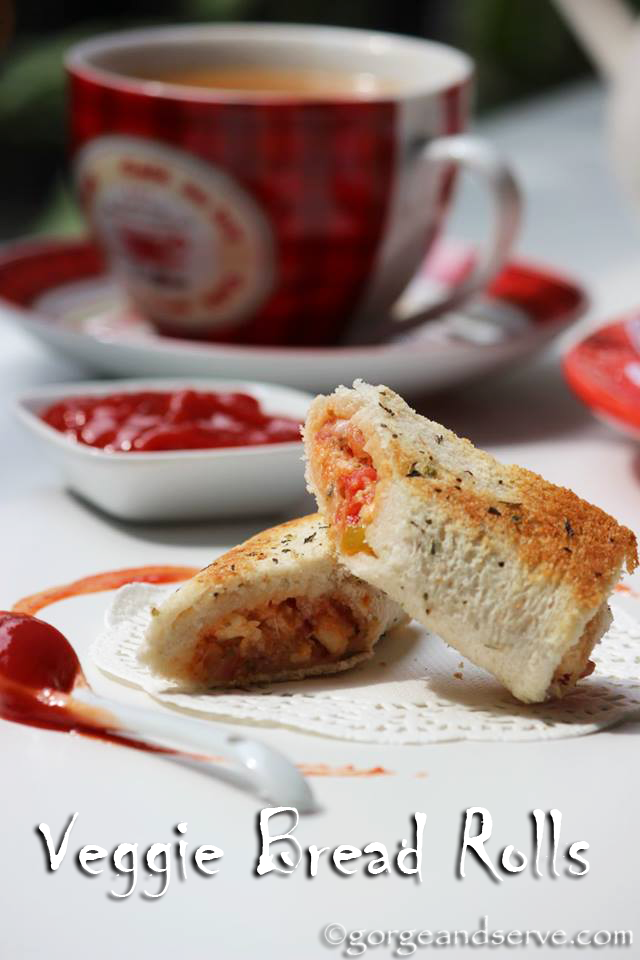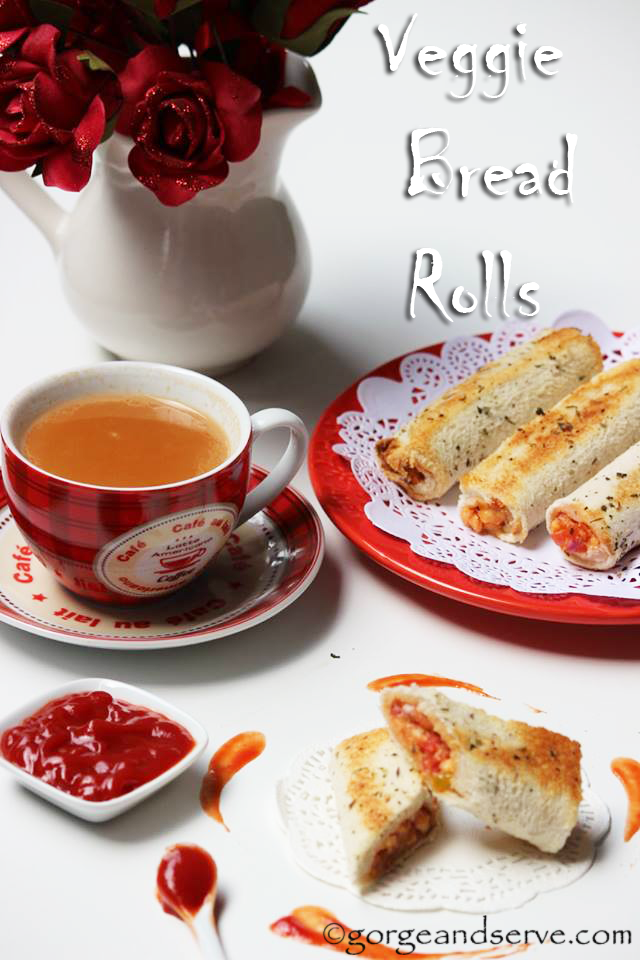 Serves: 2 servings
Ingredients
4 pieces of whole wheat/brown bread ,sides removed
1/2 small onion, chopped into small pieces , used red onions they tastes better
1/2 capsicum chopped into small pieces
1 small tomato desseded & chopped into small pieces

1/8 cup crumbled paneer ( handful of actually )

Salt & pepper

1 tsp Tomato Ketchup

1 tsp Oregano ( crushed )
1 tsp Mozzarella cheese
1 tbsp chopped coriander
Some Italian seasoning ( you can use the left over sachet you get from ordering pizza 🙂 how clever we are
Mix chopped capsicum, finely chopped tomato after removing its seeds and squeezing out some water from it, finely chopped onions, crumble cottage cheese, cheese, coriander leaves, pepper powder,oregano and salt to taste and mix all the ingredients .
Then add 1 tbsp. tomato ketchup to the mixture and mix it well.
Remove the crusts from your breads.
Sprinkle the itlalian seasoning on the rolling board.
Roll out each slice as thin as you can.
Place 1 or 2 tbsp filling on the bread & gently roll in from one end, making sure that the filling stays well within the first turn of the roll.
Once you reach the end apply some water on the bread corner & seal it by pressing gently. make all your rolls.
Bake them in a pre heated oven at 180 degrees for about 5-7 minutes each side, until golden-brown in colour.
Enjoy your snack with Tea ,coffee & tomato ketchup.Ting 😉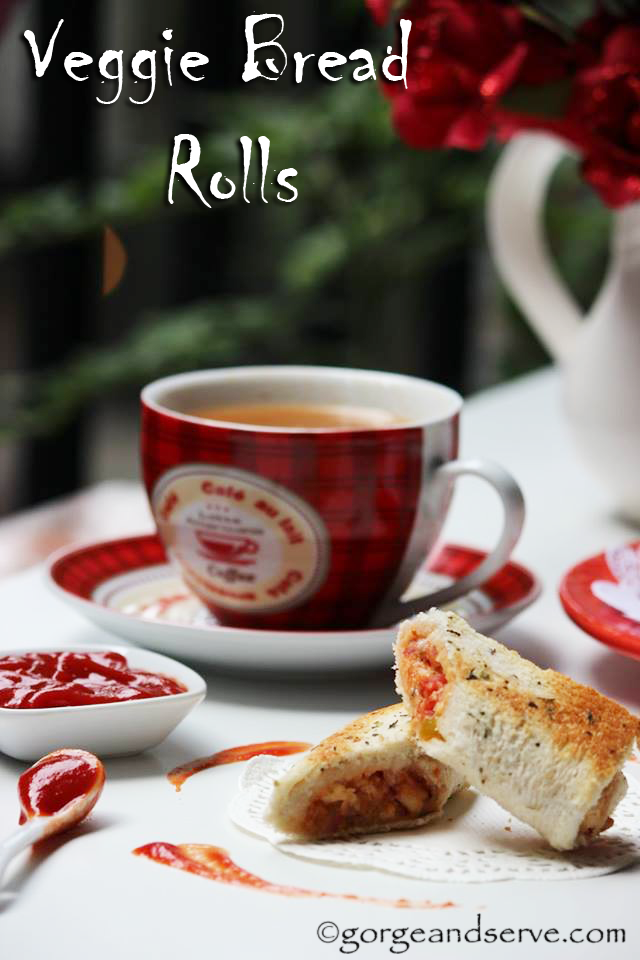 Now, lets look at some of the healthy facts of the key ingredients of this recipe :
Capsicum : Most peppers contain about 5 to 7 grams of carbohydrates per cup of raw vegetable, although some, such as hot chili peppers, can contain as much as 9 to 10 grams of carbohydrates per cup. Peppers are also packed with vitamins A and C — just 1 cup of chopped red, yellow or orange peppers provide more than 100 percent of the recommended daily value for both vitamins. All shades of peppers provide plenty of fiber, folate, vitamin K, beta carotene and an array of minerals.
Tomato : Whether you refer to a tomato as a fruit or a vegetable, there is no doubt that a tomato is a nutrient-dense, super-food that most people should be eating more of.The tomato has been referred to as a "functional food," a food that goes beyond providing just basic nutrition, additionally preventing chronic disease and delivering other health benefits, due to beneficial phytochemicals such as lycopene. Tomatoes are a rich source of vitamins A and C and folic acid. Tomatoes contain a wide array of beneficial nutrients and antioxidants, including alpha-lipoic acid, lycopene, choline, folic acid, beta-carotene and lutein.
Onions : The possible health benefits of consuming onions include lowering the risk of several types of cancer, improving mood and maintaining the health of skin and hair. Onions are a nutrient-dense food, meaning that while they are low in calories they are high in beneficial nutrients like vitamins, minerals and antioxidants. One cup of chopped onion contains approximately 64 calories, 15 grams of carbohydrate, 0 grams of fat, 0 grams of cholesterol, 3 grams of fiber, 7 grams of sugar, 2 grams of protein and 10% or more of the daily value for vitamin C, vitamin B-6 and manganese.
Cottage cheese/Paneer: The health benefits of cottage cheese include weight loss, a good supply of protein, B complex vitamins and healthy fats, and a reduced risk of breast cancer. Cottage cheese is also a good source of various minerals such as calcium, magnesium, potassium, phosphorous, zinc, and selenium which all play vital roles in many of the body functions. Just use low fat milk to prepare Paneer for maximizing the benefits from diabetes point of view.
 Love CK