These cute little fungus, I love them, find them so adorable , I would love to devour them every single day. Do you know how healthy & full of nutrients they are. Like humans, mushrooms produce vitamin D when in sunlight, how cool is that 🙂 They boost your immune system too. So today I am gonna transform these healthy munchkins by rubbing some achaari spice & few other simple ingredients & make a delicious , heart stealing appetizer which you would love to devour everytime you get a chance 🙂 My Achari Grilled Mushroom is aromatic and flavorful .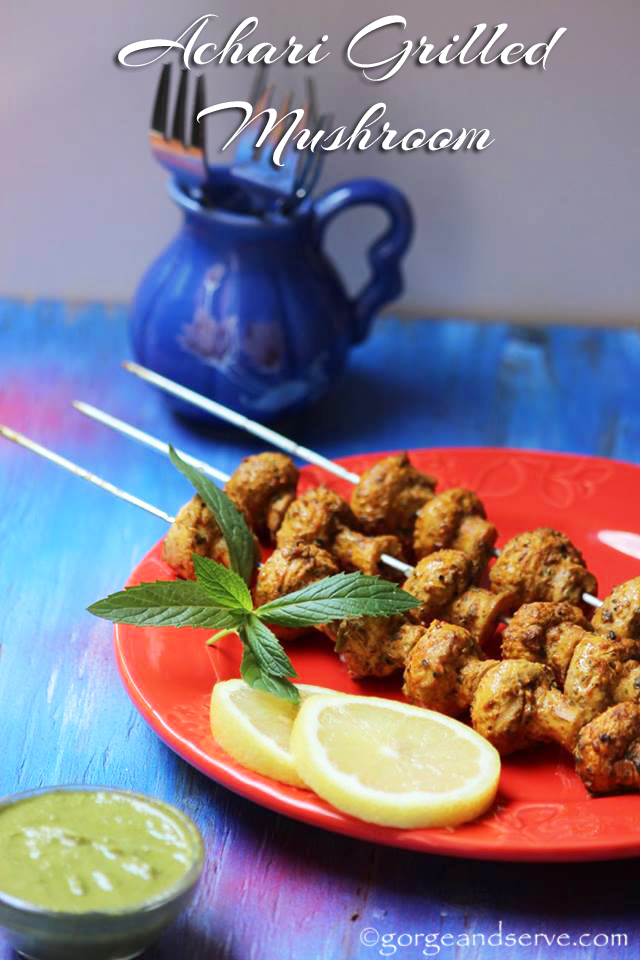 The mushrooms remain plump even after the marination , it soaks in the varied flavors of the spices and completely transforms itself from a mere fungus to the kind of fungus you will fall in love with 🙂 the spicy juicy mushrooms and the mint peanut chutney , pair made in heaven .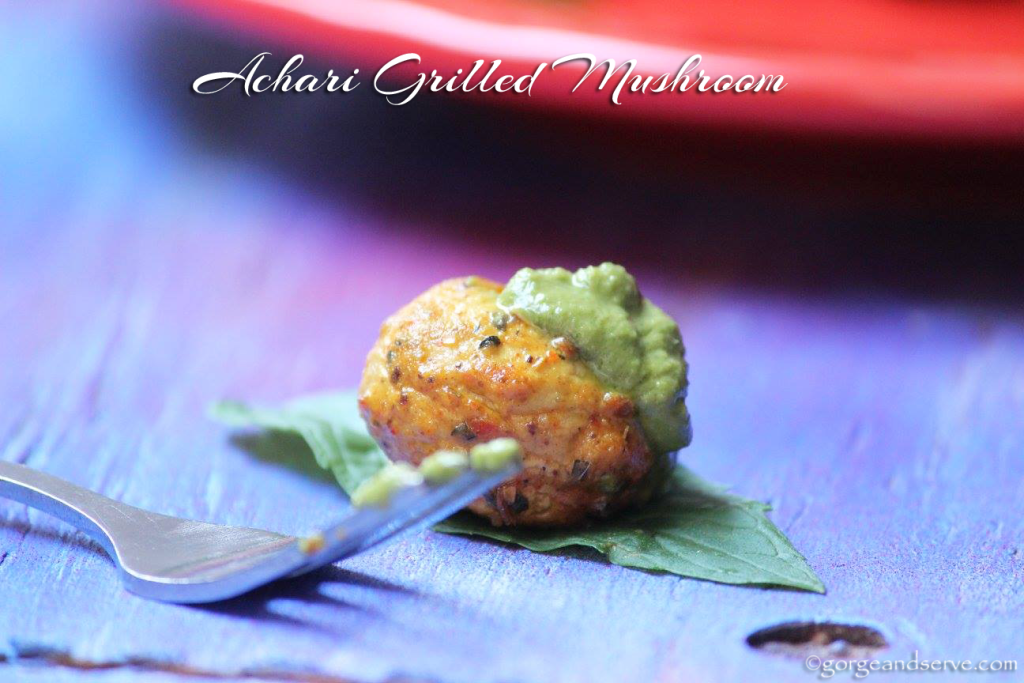 Ingredients
I pack of button musrooms, cleaned
2 tbsp of Hung Curd
1 tbsp Ginger & Garlic paste
21tbsp Kasturi methi / dried fenugreek
Salt to taste
1 tbsp Besan ( Chickpea flour )
1 tsp Lemon juice
1 tsp Kashmiri red chilly powder
1 tbsp Mustard Oil ( you can use oil of your choice)
For Achari Masala ( This will yield lots of masala , just use 1 tbsp for thr marination & keep rest for future use )
1 tsp Mustard seeds
1 tsp Coriander seeds
1 tsp Cumin seeds
 1 tsp Fennel seeds
1/4 tsp Fenugreek seeds
1/2 tsp Nigella seeds
1/4 tsp Carom seeds
3 Whole red chilies
2 tsp Dry mango powder
 Process
Wash the mushrooms nicely pat dry. Keep aside.
To make Achari Masala : Dry roast mustard seeds, coriander seeds, cumin seeds, fennel seeds, fenugreek seeds, nigella seeds, carom seeds and dry red chilies till slightly browned and fragrant.
Blend & make a coarse powder of it along with the amchoor powder.
Lets start Marination : Add the Achaari Masala, hung curd, ginger garlic paste, lemon juice, dried fenugreek, besan, 1 tbsp mustard oil and Kashmiri red chili powder to the mushrooms and mix well. Keep it for 20-25 min.
Preheat the oven to 350 F. ( 175 c)
Thread the marinated mushrooms in skewers & Grill  from both the sides spraying little oil till nicely browned for about 15-20 minutes.
Serve hot with Peanut chutney .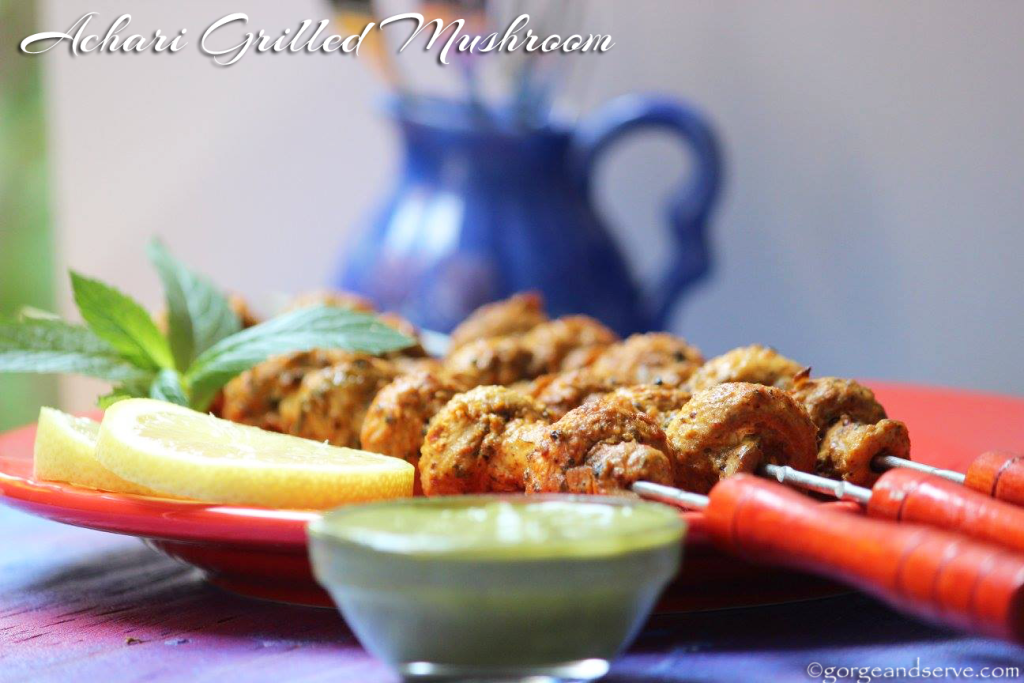 This post is after a long time as I was busy with so many other things but end of the day I can't stay away from Kitchen for a long time or I would say from you guys 🙂 do try out this yummy appetizer & share your experiences my foodies.
 Love
CK