I am back from a wonderful & a memorable vacation from the east coast of Canada ,I still have the hangover of that beautiful Village "Perce"  I visited.It's been a wonderful week as I finally took the break I so longed for, went far away from the madding crowd and fell right into the verdant green lap of nature & it was so damn refreshing. So now back to work 🙂 DFT is back to keep me busy &  this week is all about grill & to enjoy some awesome grill food and party 😉 . I decided to make this simple and delicious grilled Achari Chicken Tikka.
This recipe is part of recipes with a cause for Diabetes Friendly Thursday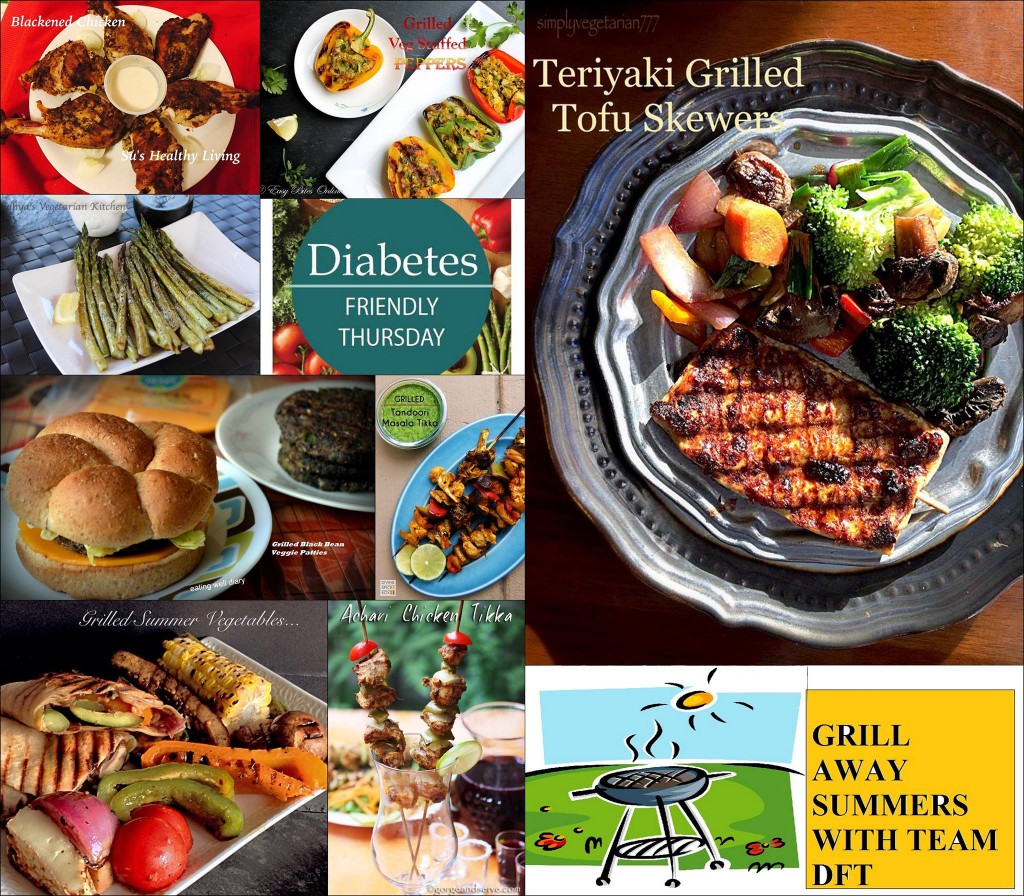 I am a proud DFT blogger. To learn about DFT, read this link. To view more DFT recipes, Click here!
Grill away the summers with team DFT!
The proud DFT team brings the scrumptious & delicious grilled recipes this week .Today I am bringing you Achari Chicken Tikka that has been marinated in an absolutely delightful yoghurt and homemade pickle (achari) masala. Grilled to perfection ,the tangy and unique pickle aroma will make you drool and the sight of the grilling chicken turning golden in front of your eyes is like the unfurling of a magical book. With only 1 tbsp of oil this is a perfect healthy option to include in your diet.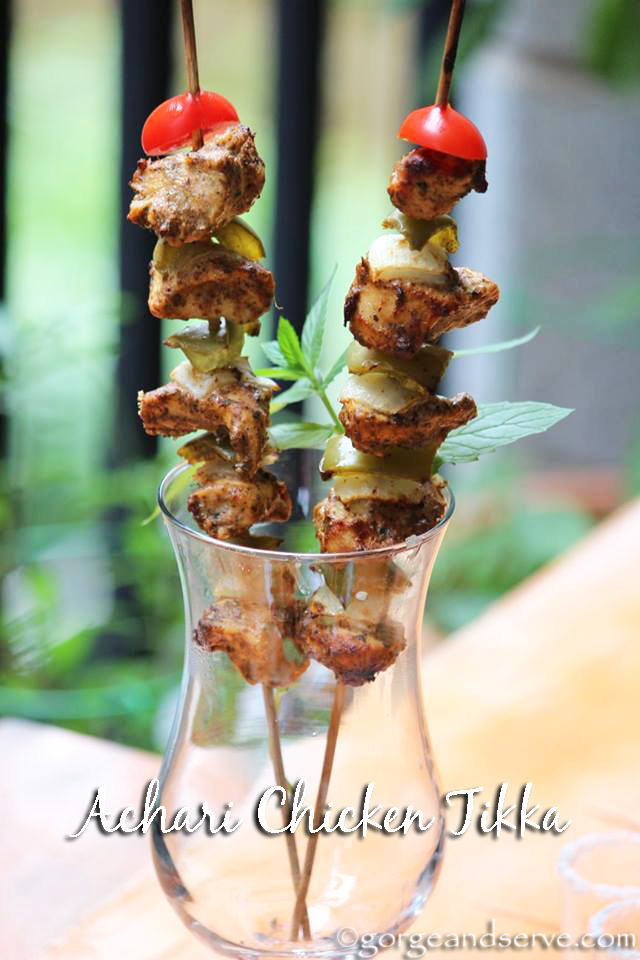 Achari chicken tikkas are basically pieces of chicken breast or thigh, marinated in yoghurt and spices and grilled to juicy perfection. tikkas are now made and relished all over the world. These delicious tikkas have emerged as a favorite in all parts of the world. Traditionally cooked in a tandoor, its taken the world by storm because of it's ease of preparation  This is a perfect party food that will never go out of style. The host will love making it as much the guests will enjoy eating it.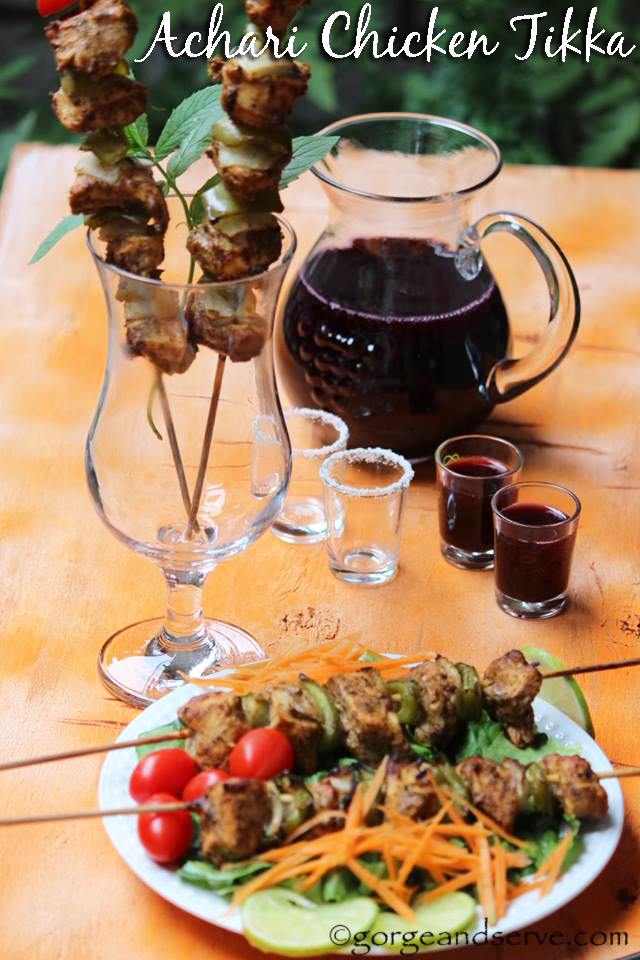 Prep time: 2
Cook time:  20-25
Serves: 5 servings
Ingredients
250 gm chicken breast , cut into 2 inch cubes. ( You need boneless chicken )
1/4 cup Hung Curd
1 tsp Garam masala
1 tsp Chicken tandoori masala
1 tsp Ginger paste
1 tsp Garlic paste
2 tbsp Kasturi methi / dried fenugreek
½ tsp Black salt
2 tsp Lemon juice
1 tsp Kashmiri red chilly powder
Salt to taste
1 tbsp Mustard Oil ( you can use oil of your choice)
For Achari Masala
1 tsp Mustard seeds
1 tsp Coriander seeds
1 tsp Cumin seeds
 1 tsp Fennel seeds
1/4 tsp Fenugreek seeds
1/2 tsp Nigella seeds
1/4 tsp Carom seeds
3 Whole red chilies
2 tsp Dry mango powder
 Process
Wash the chicken pieces thoroughly and pat dry. Keep aside.
To make Achari Masala : Dry roast mustard seeds, coriander seeds, cumin seeds, fennel seeds, fenugreek seeds, nigella seeds, carom seeds and dry red chilies till slightly browned and fragrant.
Blend & make a coarse powder of it along with the amchoor powder.
Lets start Marination : Add this powder ( Achaari Masala ), hung curd, ginger garlic paste, garam masala, lemon juice, dried fenugreek,remaining ingredients, 1 tbsp mustard oil and Kashmiri red chili powder to the chicken and mix well. I kept it overnight , you can keep it for 2-3 hrs.
Preheat the oven to 200C. ( 400 F)
Thread the marinated chicken in wooden skewers along with onion & green pepper pieces.
Grill the chicken skewers from both the sides spraying little oil till nicely browned for about 20-25 minutes.
Serve hot with mint coriander dip.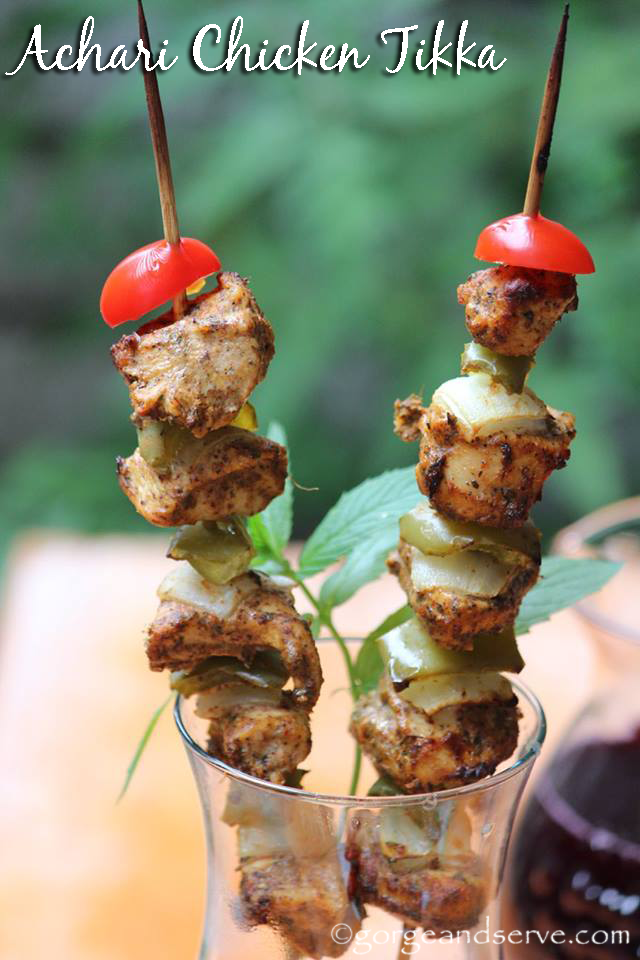 Now, lets look at the healthy facts of the hero of this recipe which is of course Chicken 🙂 cookdu…kooooooo
Including cooked chicken breast into your diet is one way of meeting the daily protein requirements recommended by the U.S. Department of Agriculture's Dietary Guidelines. The USDA's definition of a healthy diet includes lean meats and foods low in saturated fats and sodium. According to the National Chicken Council, or NCC, chicken is a lean protein source — and a wise selection, if selected and prepared properly. It's also important to include other protein sources in your diet as well.The NCC states that chicken is a complete source of protein — essential amino acids used to build and repair tissues in the body. Protein is also an important component of bones, blood, muscles, and skin. A single serving of cooked chicken breast — skinless, bone removed — as defined by the USDA as 3 ounces, contains 26.7 grams of protein. It would take about three 3-ounce servings of chicken breast for the average adult to get the requisite amount of protein advised by the USDA's Dietary Guidelines.n addition to protein, a cooked chicken breast also contains more than 5 percent DV of the following vitamins and minerals:
Niacin – 59 %
Selenium – 34 %
Vitamin B-6 – 26 %
Phosphorous – 20 %
Pantothenic acid – 8 %
Riboflavin, potassium and zinc – 6 %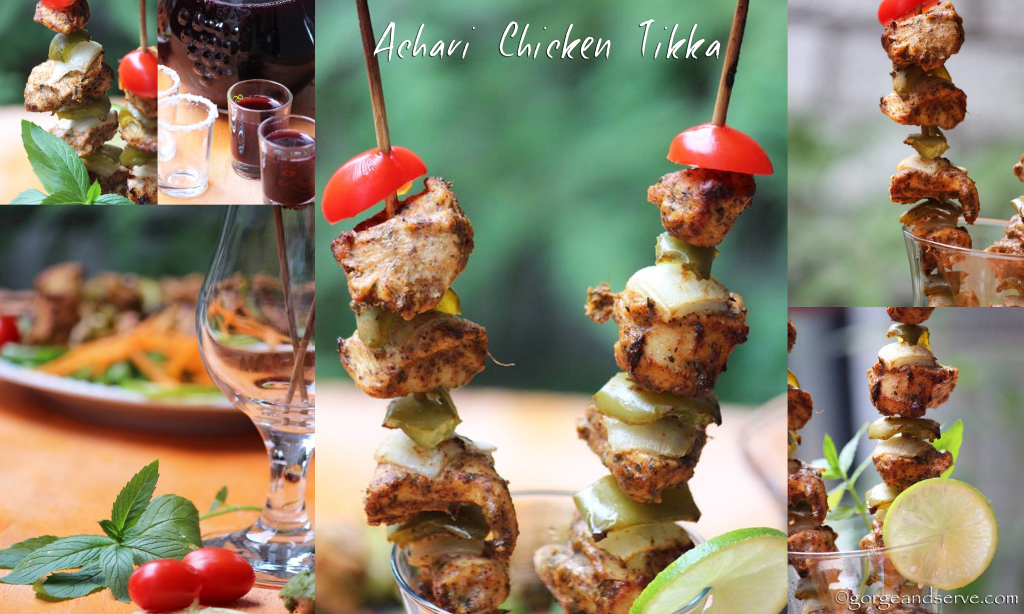 Please hop in to DFT page for more diabetic friendly recipes.
Disclaimer : I am not a nutritionist or dietician. My knowledge and information is based on my research and reading from different resources. Please consult your doctor or dietician before making any changes to your diet.
Recipes from my lovely DFT bloggers:
Sonal: Teriyaki Grilled Tofu Skewers
Prachi: Grilled Tandoori Masala Tikka
Anupama: Grilled Veg Stuffed Peppers
Shailaja: Grilled Summer Vegetable
Suchitra: Blackened Chicken
Srividhya : Baked Asparagus with Balsamic Vinegar
Apsara : Grilled Black Bean Veggie Patties