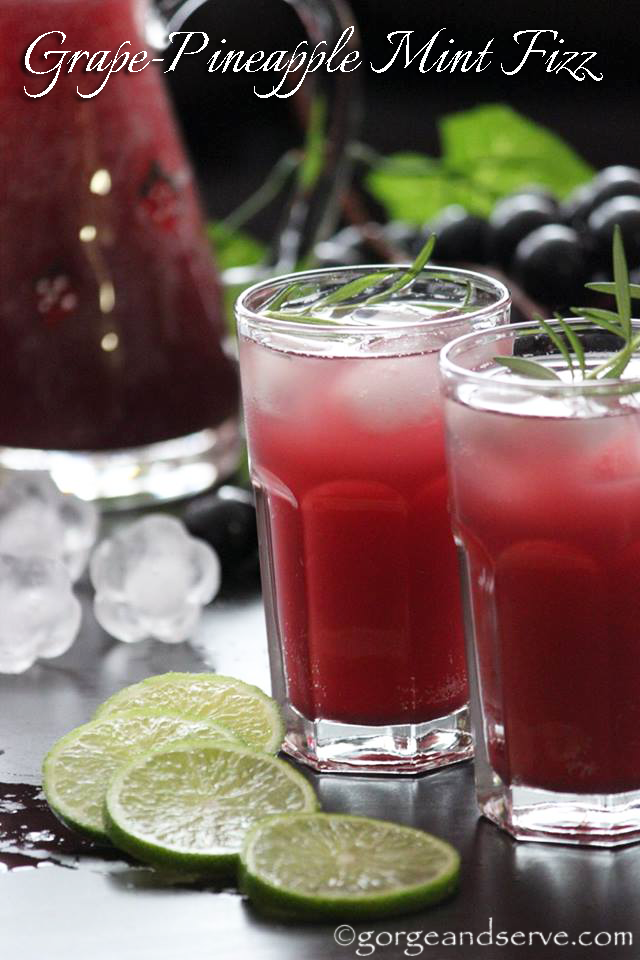 Grape-Pineapple Mint Fizz ( Sugar Free )
Its officially summer in Montreal and weather plays hide & seek a lot 🙂 But Since it's summer I love experimenting & creating different Mocktails at home. I love different fresh drinks that won't ruin our healthy eating plan & are fun to create. I love to play around with fresh fruit juices , club soda, sparkling water, ginger ale and create some tasty & refreshing skinny cocktails — alcoholic and nonalcoholic both. Mocktails are so fun to create , so this Father's Day I am contributing with one simple yet refreshing mocktail recipe " Grape-Pineapple Mint Fizz "
This recipe is part of recipes with a cause for Diabetes Friendly Thursday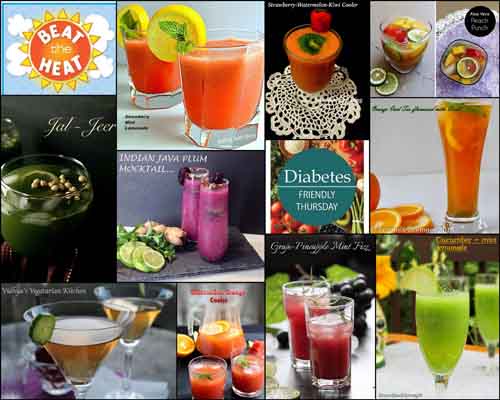 I am a proud DFT blogger. To learn about DFT, read this link. To view more DFT recipes, Click here!
Sipping on some Diabetic Mocktails and Coolers with Team DFT!
The proud DFT team brings the most refreshing & colourful mocktail recipes this week as we celebrate Father's day . I love drinking mocktails specially when Summer is in its full glory .The beauty of this sparkling mocktail comes from two simple juices, Red grape & Pineapple juice . You can't resist the sight of such a beautiful color mocktail . It's Fresh, it's Sweet  and of course loaded with lots of mint leaves and club soda, this one is an instant favorite 🙂 Grab a glass, take a sip and say hello to this gorgeous drink 🙂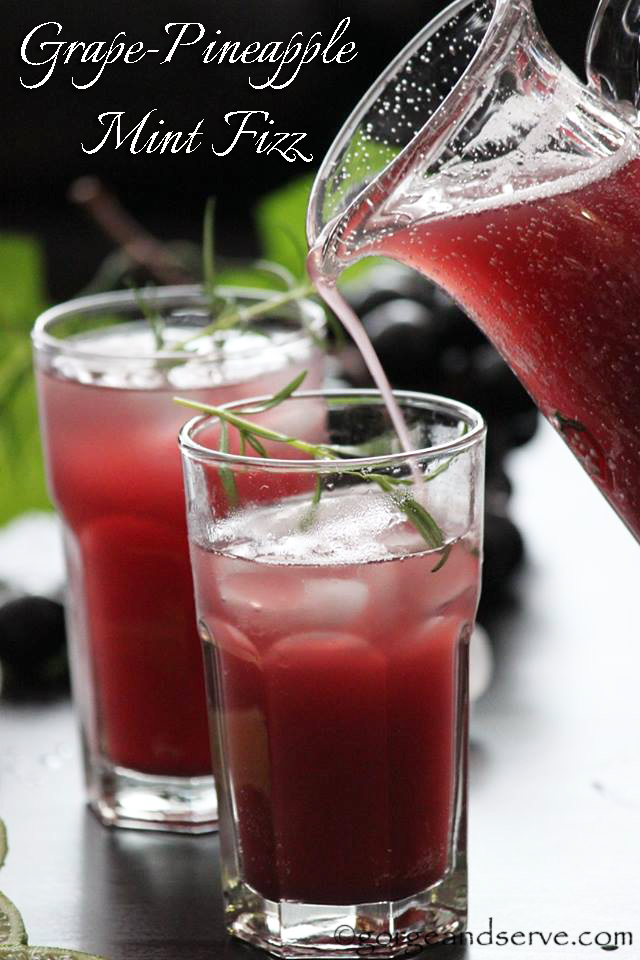 This is a perfect diabetic mocktail pick , Unsweetened grape juice, pineapple juice & soda come together in the form of a delicious mocktail. Add rum or vodka for a cocktail version.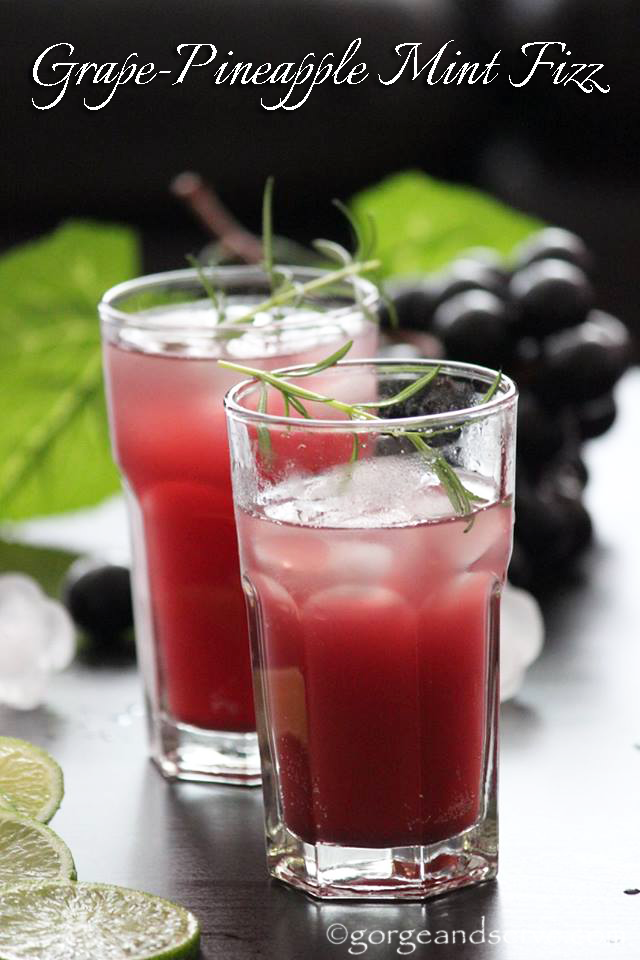 Makes: 3

 servings

Serving Size:

5 ounces each 
Ingredients
1/4

 cup

fresh mint leaves

3/4

 cups

unsweetened grape juice

8

 – ounce

unsweetened pineapple juice

1 

cup 

club soda, chilled

Ice cubes

Fresh rosemary sprigs (optional)
Process
Place the 1/4 cup mint leaves in a pitcher.

Use the back of a large spoon to lightly bruise the leaves.

Stir in grape juice and pineapple juice.

Cover and chill for few hours.

After strain mint from grape juice mixture and discard.

Stir club soda into juice mixture.

Pour into ice-filled glasses and, if desired, garnish with mint/rosemary sprigs.

Makes 3 (5 ounces each) servings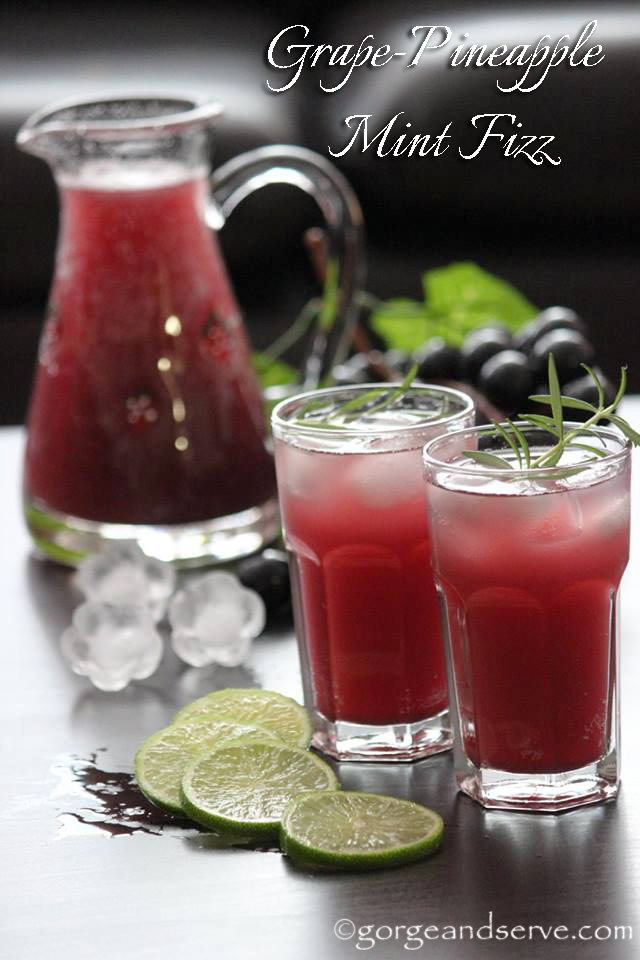 Now, lets look at some of the healthy facts of the key ingredients of this recipe
BlackGrape juice : Besides the fact that grape juice is rich in vitamin C, thiamine, riboflavin and magnesium, it's also packed with chromium.Its glycemic index remains at a low to medium effect of 9.It also posses naturally occuring chromium, a mineral thought to aid in glucose absorption.Chromium as a trace mineral that has shown positive effects in insulin activity. Insulin is the hormone responsible for stimulating glucose absorption in muscle cells.
Pineapple juice : Pineapple juice contains carbohydrates and other key nutrients such as vitamin C and calcium. According to MyPyramid.gov, the nutrients found in pineapple juice are an important part of a healthy diet. Understanding serving size and digestion regulation will help you enjoy pineapple juice while maintaining good blood sugar control and managing diabetes.One serving of 100 percent pineapple juice is equal to 4 oz., or 1/2 cup. Each serving contains about 15 g of carbohydrate comprised of sugar. The American Dietetic Association recommends you consume about 45 to 75 g carbohydrate per meal and 15 to 30 g carbohydrate per snack as part of diabetes management. If you drink more than one serving of pineapple juice, you must account for the extra carbohydrates in your diabetic meal plan.
 Please hop in to DFT page for more diabetic friendly recipes.
Disclaimer : I am not a nutritionist or dietician. My knowledge and information is based on my research and reading from different resources. Please consult your doctor or dietician before making any changes to your diet.
Recipes from my lovely DFT bloggers:
Sonal: Jal Jeera / Mint Cooler
Prachi: Aloe Vera Peach Punch
Anupama: Green Tea Infused Watermelon Orange Cooler
Swati: CUCUMBER AND MINT LEMONADE
Shailaja: Indian java plaum mocktail 
Suchitra: Strawberry-Watermelon-Kiwi Cooler
Srividhya : NonAlcoholic Green Tea Spritzer With Fruits
Parvathy : ORANGE ICED TEA FLAVOURED WITH
Apsara : Strawberry Mint Lemonade