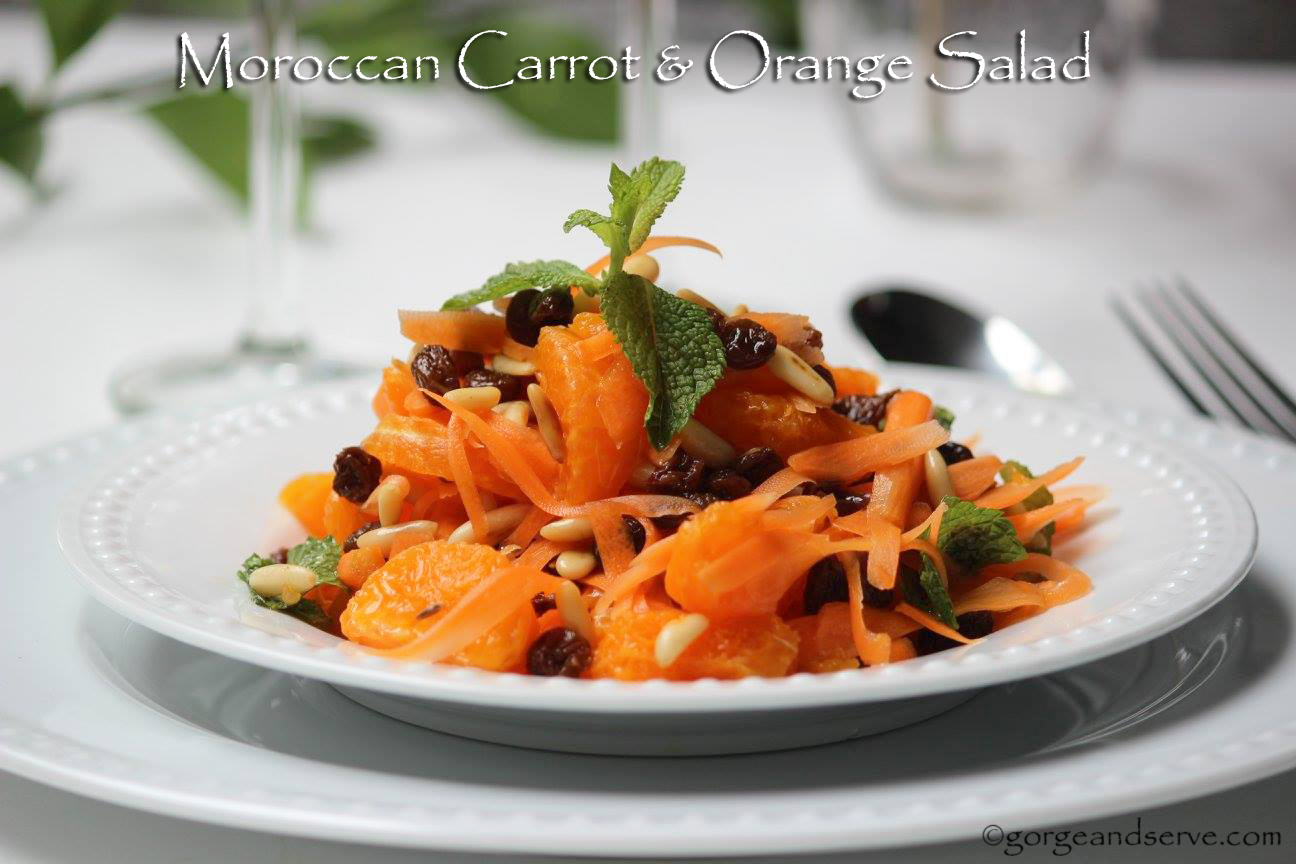 Moroccan Carrot & Orange Salad
Food historians tell us salads (generally defined as mixed greens with dressing) were enjoyed by ancient Romans and Greeks. As time progressed, salads became more complicated. Recipes varied according to place and time.Have you ever thought from where Salad got it's name , The basis for the word salad is 'sal', meaning salt. This was chosen because in ancient times, salt was often an ingredient in the dressing. Everything has history you Know 🙂 Now the part of world I come from Salad is considered as a " side dish " but majority of the countries treat Salad as a " Complete meal ". Expert says eating salad almost every day may be one of the most healthy eating habits you can adopt — and one of the simplest too.
The proud DFT team brings the most healthy & delicious Salad recipe this week. I am contributing to the cause with my dish of " Moroccan Carrot & Orange Salad" . This salad is made of traditional Mediterranean ingredients & Interesting combination of carrots and oranges along with pinenuts & raisins. A crisp, refreshing salad, this glows with warm, sweet spices and bright orange colours to brighten up your day – and give you your vitamin C 🙂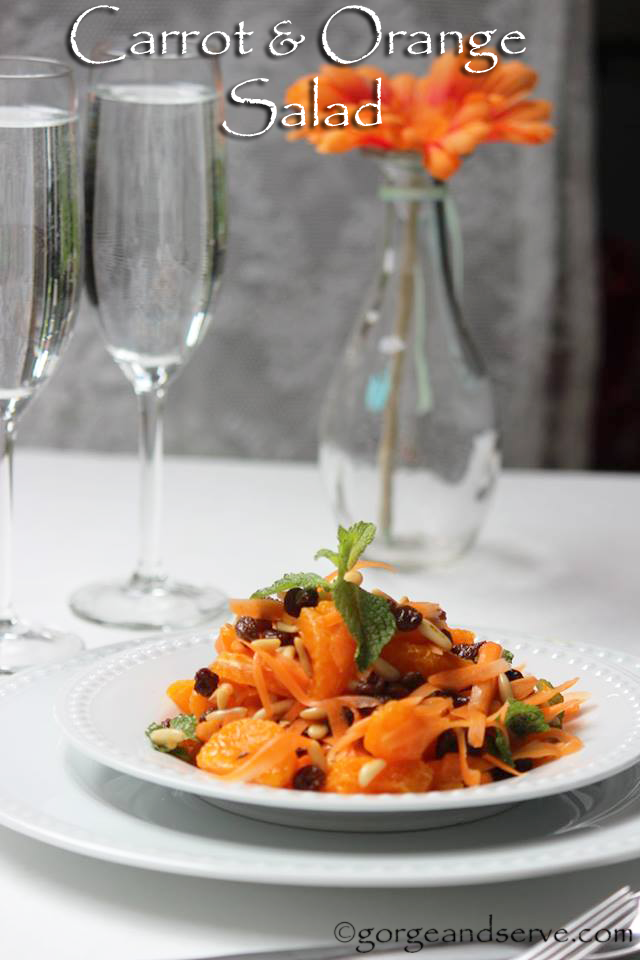 While eating the salad you will have a riots of flavors in your mouth. The sweetness is coming from honey & the hint of lemon juice gives a tangy flavor to it. Although cumin seed looks rather unassuming, it's nutty peppery flavor packs a punch with each bite you take. The pine nuts are adding a nutty flavor to the salad too.I am very choosy when it comes to salad, BUT I was bowled over with this salad. It's yummylicious.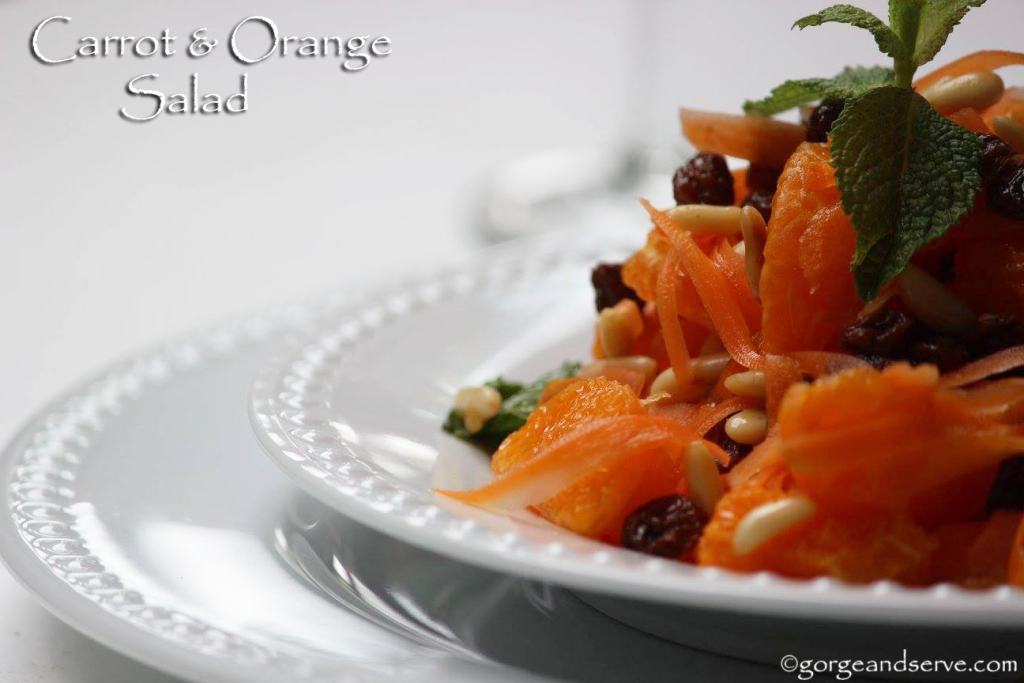 Serve : 2 person
Ingredients
3 Carrot
2 Orange
1 tsp Golden raisins
1/4 cup Pine nuts ( You can use sunflower seeds as well )
1 tbsp Lemon juice
1 tspn Honey
1/4 tsp Cumin seeds
1 tsp EV Olive oil
3-4 Mint leaves
Sea salt to taste
Process
Lets start by Soaking our raisins in boiling water for around 10 min so that it get soft.
Mean while peel the carrot, firstly remove the outer skin and throw it.Collect that skin afterwards using a peeler. Keep aside in a bowl.
Remove the skin of the orange using a sharp knife & carve out flesh. Add the orange flesh to the carrots.
Now add raisins. Add toasted pine nuts
Tear mint leaves and put them to salad.
Add cumin and salt.
Squeeze lemon`s juice, add honey and olive oil.
Mix well & we are ready to serve.
The key here is PORTION CONTROL , I can eat the whole salad but diabetic ppl make sure you eat a controlled portion.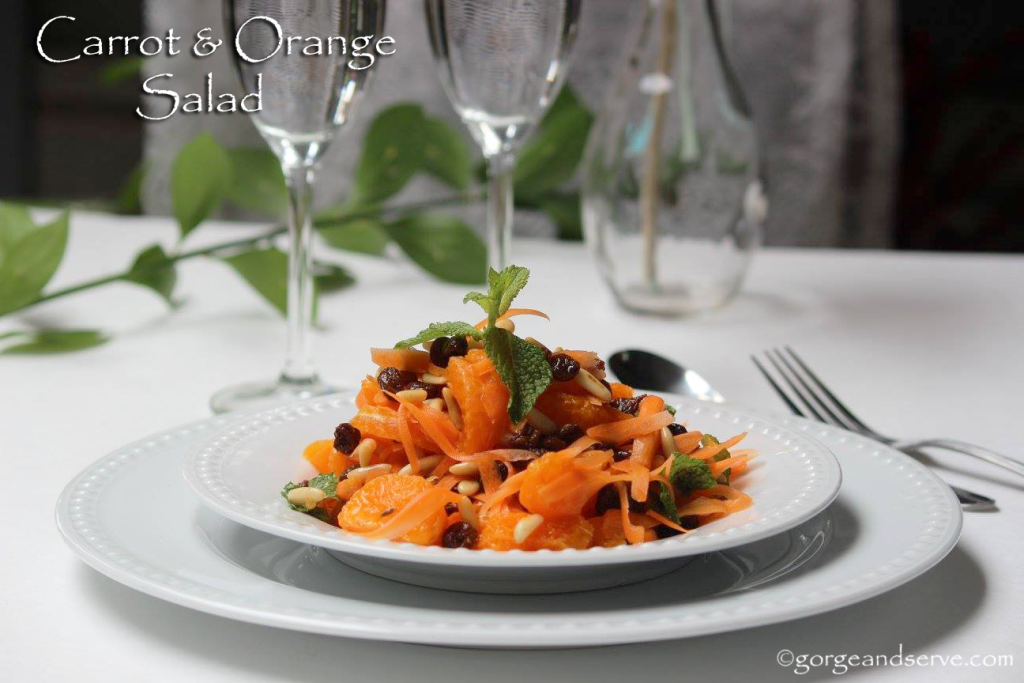 Now, lets look at some of the healthy facts of the key ingredients of this recipe :
Carrot : A medium-size carrot has 25 calories, 6 grams of carbs, and 2 grams of fiber. The veggie is an excellent source of vitamin A, providing more than 200% of your daily requirement in just one carrot. Carrots are loaded with beta-carotene, a natural chemical that the body changes into vitamin A. The deeper orange the carrot, the more beta-carotene you're getting.There's good reason why you should  include carrots in your regular diet, it may help reduce your risk of chronic diseases like Cancer & Heart Disease. **Diabetic patients can have carrots preferably as a snack or adding it to salads and pasta dishes. Cooking carrots caramelizes the sugar in the carrots and increases the glycemic index. Cooking or roasting is not a good idea but you can steam them if eating them raw is not always palatable. 
Orange :  Orange is one of the fruits for diabetes. American Diabetes Association considers oranges as a "diabetes super food" and encourages including oranges in the diabetic diet. Oranges have a low GI (33 to 51) and diabetics can consume one orange per day. Oranges have very high content of soluble dietary fiber which helps in controlling blood glucose level by lowering the sugar absorption rate. Oranges also contain several antioxidants in high concentration which are helpful against several ailments including diabetes.
Pinenuts : Pine nuts contain the highest amount of proteins, found in any nut. Pine nuts are the only source of pinoleic acid, that helps in stimulating the hormones that act as appetite suppressants.A handful of pine nuts have enough pinoleic acid, that can stimulate the intestines to produce hormones called CCK. This CCK signals the brain to turn off the hungry mode. Thus, slowing down the stomach's rate of digestion and giving you a feeling of full stomach. This is great for those who are watching their weight or are dieting.
Raisins : Raisins have a relatively low glycemic index and contain fiber and antioxidants, all factors which contribute to blood sugar control.Consuming raisins three times per day may reduce postprandial (post-meal) sugar levels significantly, according to a new study. To learn more click here .
Honey : Consuming honey might lower glucose levels, according to a study conducted by researchers at the Islamic Establishment for Education in the United Arab Emirates. To learn more click here 
Making one simple change to your diet can pay off with plenty of health benefits.So why not change & indulge in healthy eating 🙂