Mexican food has been my favorite after I landed in Canada. It is considered to be very spicy. Well, that is partially true. Mexican food history shows that Mexico has given chocolate to the world, as well as several other specialties, including peanuts, vanilla, beans, coconuts and tomatoes.The Mexican cuisine eventually met the cuisine from the north, and Tex-Mex food was created.Tex-Mex food is a blend of flavors and recipes from the Mexican, Texan and American culture.
 Ideally an enchilada is a tortilla rolled around a filling and covered with a chili pepper sauce. Enchiladas can be filled with a variety of ingredients, including meat, cheese, beans, potatoes,vegetables, seafood or combinations. I gave a twist to my enchiladas because this recipe was suppose to be healthy and diabetic friendly ,instead of using the conventional red sauce & plenty of cheese, I used low fat sour cream & yogurt to make my sauce & very less cheese. The result was not only scrumptious but it was super healthy. It was a twist to the conventional enchilada recipe.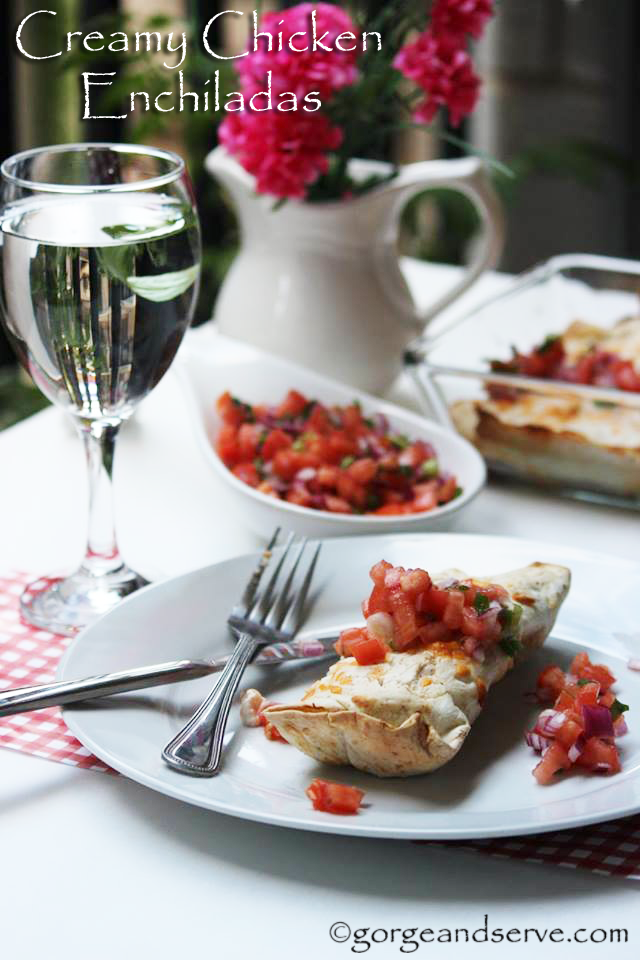 The enchilada is one gastronomic delight that is considered quintessentially Mexican. It's cooked differently in every home. Every recipe is different , so this is my version based on my requirement. Less use of cheese makes this super healthy & guilt free.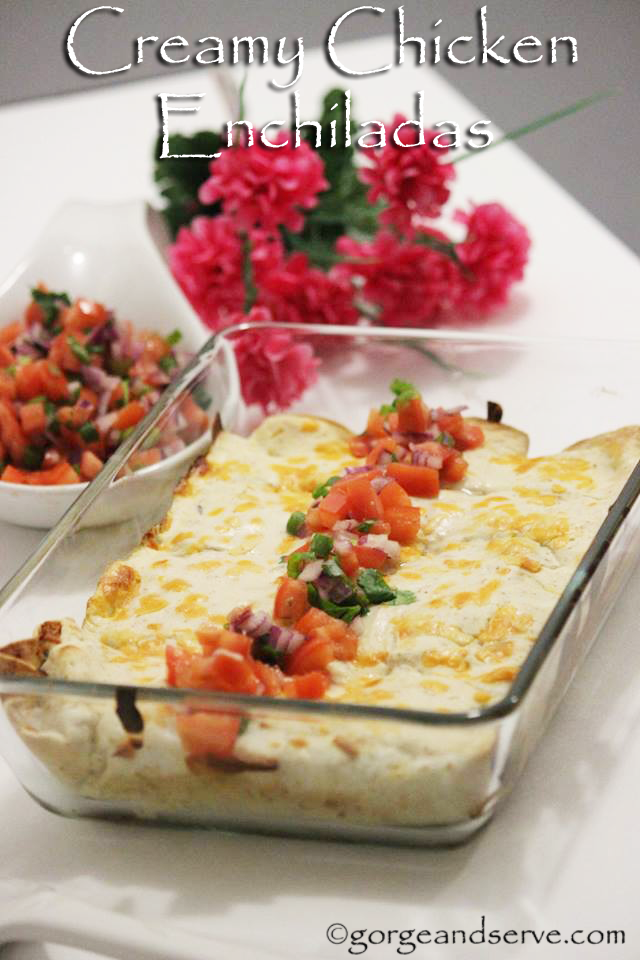 Makes 4 enchiladas.
Per person : 1
Ingredients 
1 medium size 

boneless chicken breast


1 cup 

fresh spinach or frozen chopped spinach, thawed and well-drained

1/2 onion chopped into small pieces

1 cup

 light dairy sour cream


1

cup plain fat-free yogurt


2

tablespoons all-purpose flour


1/4

teaspoon ground cumin powder


1/4

teaspoon salt


1/4

 cup fat-free milk


1/4 cup

 green chili peppers, drained

1/4 Jalapeno chopped ( Its optional ,I love it & I try to add this every where 🙂 )

4

 flour tortillas


1/4

 cup shredded reduced-fat cheddar

Salsa (optional)

Thinly sliced green onions (optional)

Salt to taste
1/4 crushed black pepper
2 tsp veg oil
Process
Lets prepare the filling first 🙂

In a saucepan place boneless chicken in enough water to cover.

Bring to boiling; reduce heat.

Cover and simmer about 15 minutes or until chicken is no longer pink. Remove chicken from saucepan.

When cool enough to handle, use a fork to shred chicken into bite-size pieces.

If using fresh spinach, cook in a small amount of boiling water, covered, for 3 to 5 minutes. Drain well.
Heat 2 tsp oil in a pan, add chopped onions & saute for few seconds .
Add the shredded chicken & chopped spinach mix well.
Add salt to taste & crushed black pepper, saute for 2-3 min in medium low heat.

Once cool add green onions, keep aside.

In another bowl combine sour cream, yogurt, flour, cumin, and salt.

Now add milk and chili peppers.

Divide this sauce in half. Set one portion aside.

Add one portion of the yogurt sauce into the chicken-spinach mixture. Our filling is ready 🙂

Divide the filling among the tortillas. Roll up tortillas. Place, seam side down, in an greased rectangular baking dish. Sprinkle with cheddar cheese.

Spoon reserved portion of sauce over tortillas.

Bake, uncovered, in a 350 degree F oven about 25 minutes .

 

Transfer to a serving platter.

To serve, if desired, garnish with chopped tomato or salsa and additional green onion. 

To make the super easy Pico de Gallo Salsa

You need 2 Plum Tomatoes chopped, 1

 Scallions trimmed and finely minced , 1 red onion finely chopped , 

1 Jalapeno seeded and finely chopped,

4 Tbsp of Chopped Fresh Cilantro,

Juice of One Fresh Lime,

Salt and Pepper, to taste

Toss all ingredients into a bowl and let it sit for about 20 minutes before serving so that all the flavors can blend together well.
Enjoy with the healthy Enchiladas 🙂
I also have a fire roasted version of Pico de Gallo Salsa ,Try it out I am sure you will love it too. 
Easy to assemble, deliciously creamy and a great choice for once-a-month cooking. And there is NO canned mexican sauce in my enchiladas — Hope you give them a try!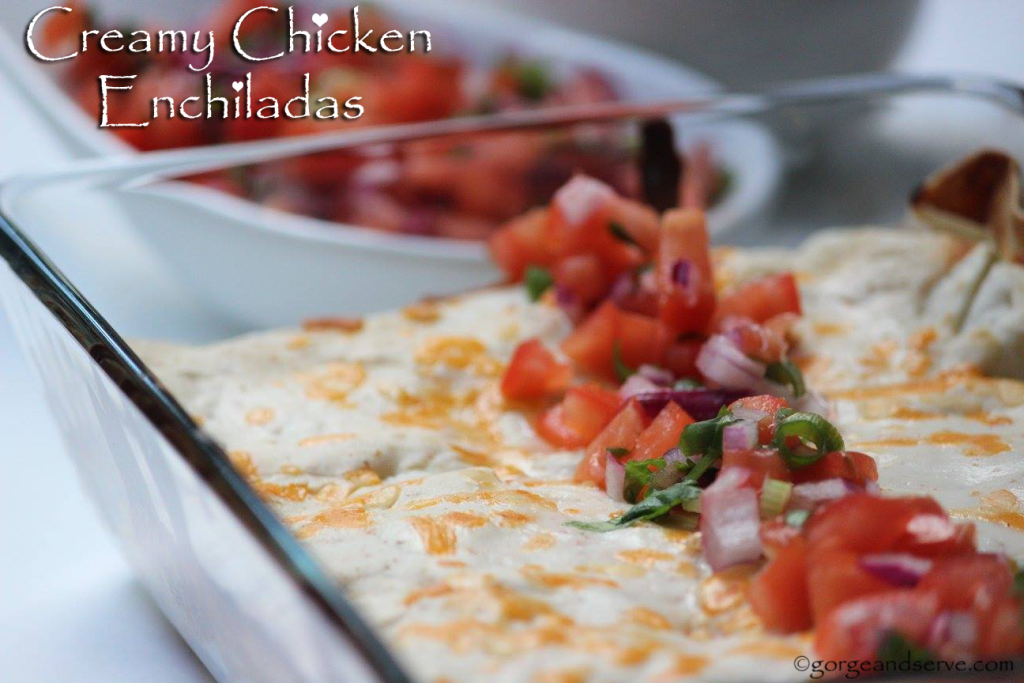 Nutrition Facts Per Serving:
PER SERVING: 287 calorie, 15 g total fat (8 g sat. fat), 51 mg chol., 460 mg sodium, 21 g carb. (3 g fiber, 2 g sugars), 17 g protein.
Now, lets look at some of the healthy facts of the key ingredients of this recipe :
Chicken : Chicken is good for diabetic patients because of its low fat content. The high fat content in red meats causes elevated levels of cholesterol which can lead to blockages in the arteries resulting in coronary heart disease.Chicken is good for type 1 diabetics. For more info click here 
Spinach : Spinach is one of wonderful green-leafy vegetable often recognized as one of the functional foods for its wholesome nutritional, antioxidants and anti-cancer composition. Its tender, crispy, dark-green leaves are one of the favorite ingredients of chefs all around the planet.Spinach is store house for many phyto-nutrients that have health promotional and disease prevention properties. For more info Click here
Yogurt : Eating a serving a day of yogurt may lower your risk of developing type 2 diabetes, new research suggests. To learn more about it click here Yogurt May Help Prevent Osteoporosis.It also helps reduce the risk of High Blood Pressure.Yogurt With Active Cultures May Discourage Vaginal Infections.To know more about it click here The Benefits of Yogurt