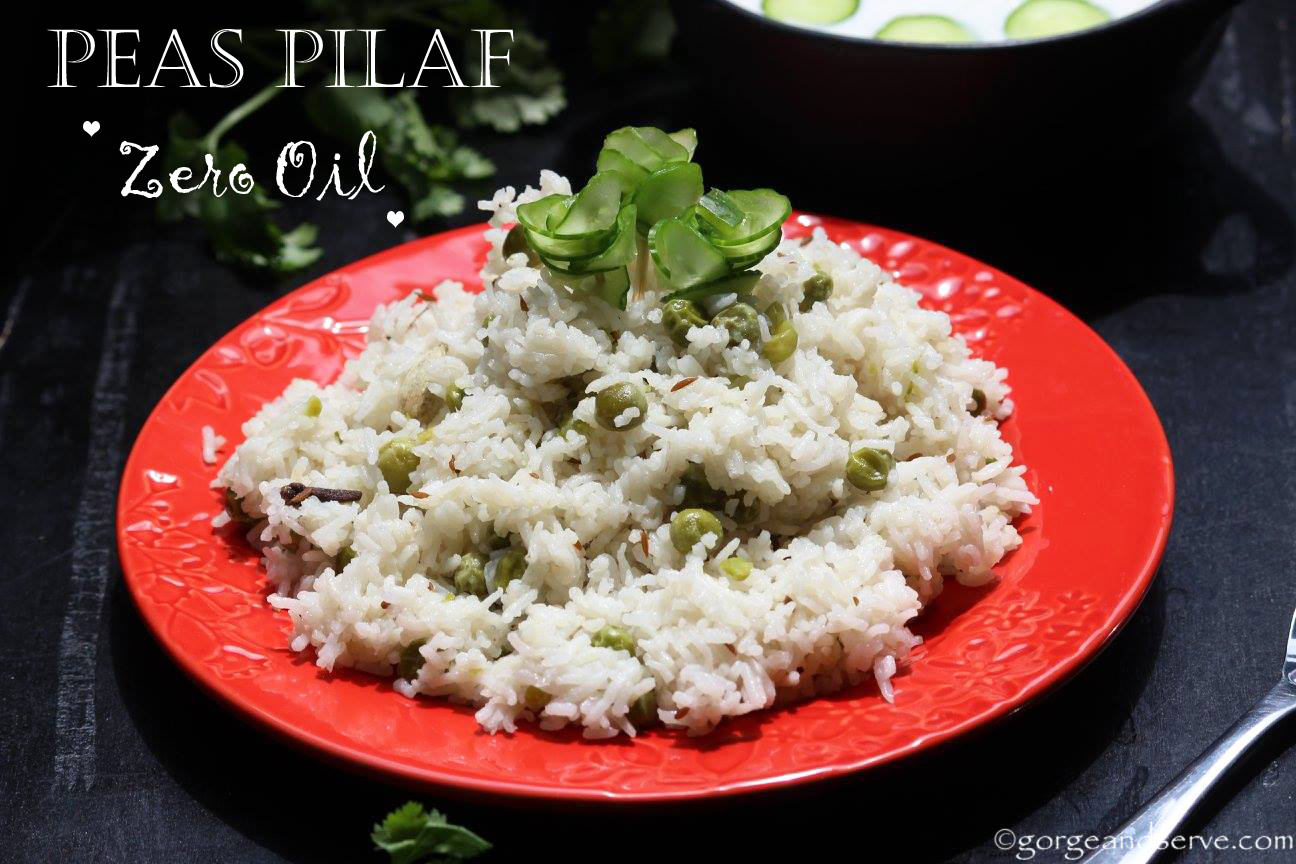 Peas Pilaf ( Matar-Pulav) – Zero oil recipe
This recipe will captivate you for sure. It is a twist on the conventional Pulav. Truly royal! unlike the traditional method of adding loads of oil , ghee etc. To make this "Peas Pilaf " recipe, here we have use zero-oil. You won't know the difference… it tastes just as good!
This recipe is part of recipes with a cause for Diabetes Friendly Thursday.
I am a proud DFT blogger. To learn about DFT, read this link. To view more DFT recipes, Click here!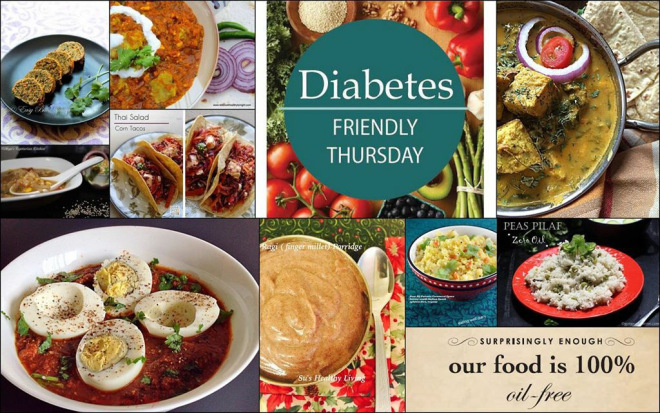 Binge with DFT this time in OIL FREE Madness!
The proud DFT team brings the indulging dishes made without oil. How cool is that 🙂  I am contributing to the cause with my dish of "Peas Pilaf ( Matar-Pulav) with Cucumber raita" which is oil free yeahhhhhhhhhh !!!  🙂
I was very excited to cook a zero oil recipe becos I have never done this before &  after seeing the result I am overwhelmed .Why no oil? It is not just to reduce calories in order to reduce those extra kilos. Modern lifestyle comes with loads of stress, tension and other related problems.Vegetable oils contain large amounts of omega 6 fatty acids and polyunsaturated fats. While being processed chemicals in the form of preservatives, additives, artificial antioxidants etc are also added to it.
A little goes a long way! Smart substitutes and a few simple tweaks in cooking, you're on to a great serving that's low fat and delicious. You've got to try your hand at this & other zero-oil recipes listed at the bottom of the page.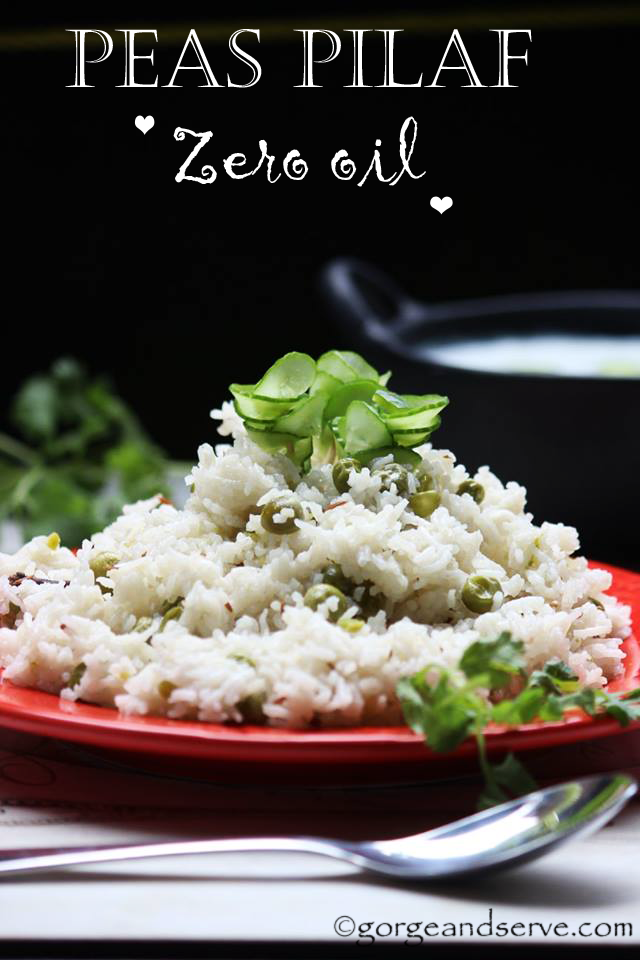 Serving size – 1/2 bowl per diabetic person
Ingredients for Peas Pulav
1 cup uncooked long grained (basmati) rice (I used Tilda)
3 cloves
2 cardamoms
1/4 tsp cumin seeds
Salt to taste
1/2 cup peas
Process
Clean, wash and soak the rice in water for 1 hour. Drain and keep aside.
Heat the pressure cooker and when hot, add the cloves, cardamom and cumin seeds and dry roast on a slow flame for a few seconds.
Then add peas & fry for 1-2 min.
Add the rice now and salt, mix well and sauté on a medium flame for 1 to 2 minutes.
Add 1 1/2 cups of water, mix well and pressure cook for 2 whistles.
Allow the steam to escape before opening the lid. Keep aside.
Serve this with simple & delicious Cucumber raita .
Ingredients for Cucumber Raita
1 cup low fat yogurt
2 cucumber peeled & grated
Salt to taste
1/4 tspn cumin powder
Process
Mix all the ingredients well & serve with hot Peas pulav.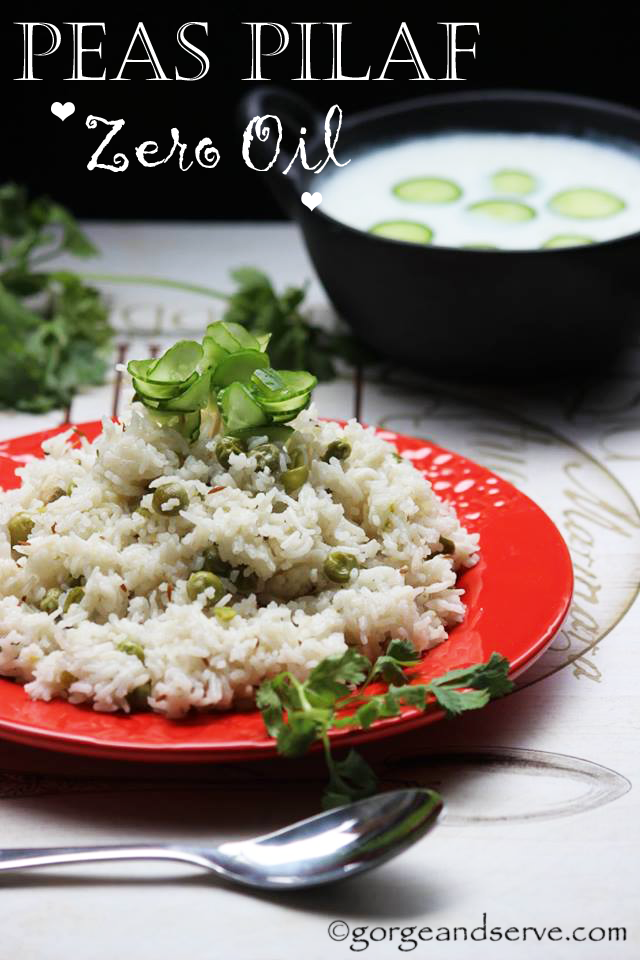 This is a great,satisfying and filling meal. If you want, you can also enjoy this with some curry or dal.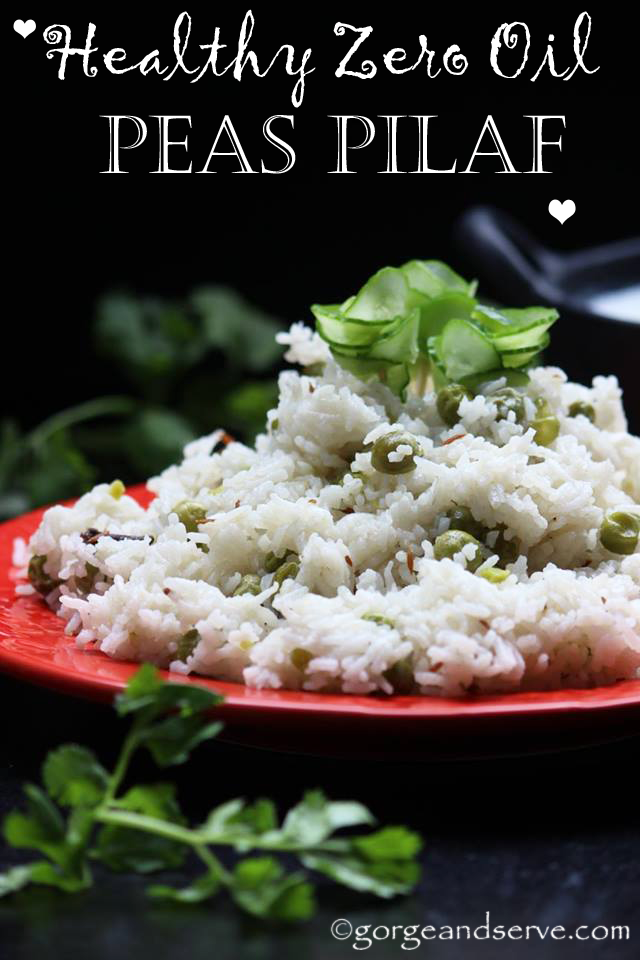 Now, lets look at some of the healthy facts :
Basmati Rice : Basmati rice, particularly wholegrain Basmati rice can and should be a regular addition to the diets of people who suffer from diabetes. Wholegrain Basmati rice has the lowest GI (glycaemic index) of all rice types, which means once digested it releases its energy slowly keeping blood sugar levels more stable, which is a crucial part of diabetes management.To learn more click here
Peas : Peas are also a good low calorie source of protein. A 100-calorie serving of peas (about 3/4 cup) contains more protein than a whole egg or a tablespoon of peanut butter and has less than one gram of fat and no cholesterol.Their antioxidants and anti-inflammatory agents prevent or reverse insulin resistance (type 2 diabetes).
Yogurt : Eating a serving a day of yogurt may lower your risk of developing type 2 diabetes, new research suggests. To learn more about it click here Yogurt May Help Prevent Osteoporosis.It also helps reduce the risk of High Blood Pressure.Yogurt With Active Cultures May Discourage Vaginal Infections.To know more about it click here The Benefits of Yogurt
Cucumber : Cucumbers are the fourth most cultivated vegetable in the world and known to be one of the best foods for your body's overall health, often referred to as a superfood. It has many health benefits , it rehydrates body and replenishes daily vitamins, Relieves bad breath ,Aids in weight loss and digestion & Cures diabetes, reduces cholesterol and controls blood pressure.
Doesn't all this sound exciting !! . Please hop in to DFT page for more diabetic friendly recipes.
Disclaimer : I am not a nutritionist or dietician. My knowledge and information is based on my research and reading from different resources. Please consult your doctor or dietician before making any changes to your diet.
Recipes from my lovely DFT bloggers:
Sonal: Methi Paneer/Tofu curry
Prachi: Thai Salad Corn Tacos
Anupama: Kothimbir Vadi
Swati: Lauki Koftas
Shailaja: Egg Masala Curry
Srividhya: South-Indian Quinoa Stew with Veggies
Suchitra: Ragi or Finger Millet Porridge
Apsara : Zero Oil Polenta or Cornmeal Upma