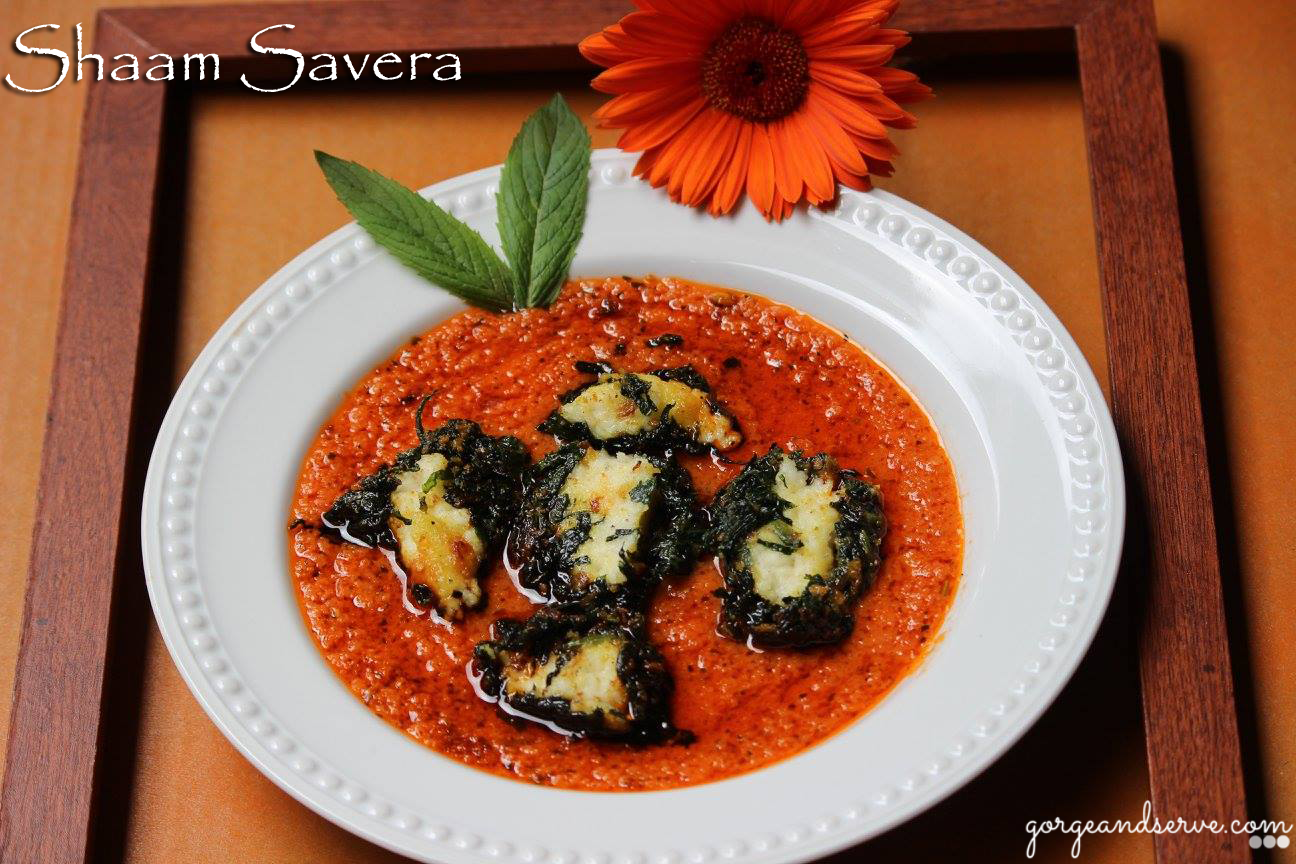 Shaam Savera (spinach & cottage cheese kofta in rich tomato gravy)
Who isn't a fan of Chef Sanjeev kapoor , so am I 🙂
Shaam Savera is one of his  signature dish, which is fresh and classy, this recipe continues to steal the hearts of millions of people across India. So when I had an oppurtunity to create a recipe for DFT in appe pan ,I quickly decided to make Shaam Savera in appe pan ,going little unconventional way & making it a perfect healthy option for everyone.Since the kofta's are shallow fried it makes this dish an extremely healthy option for people who are health cautious.
For people who are still wondering what Appe/Paniyaram/Abelskiever Pan is 🙂 it's a special pan with several hemispherical indentations. Pans are usually made of cast iron, allowing good heat retention. With this versatile utensil you can create magic in the kitchen. Any recipe which is deep fried can turn super healthy by using appe pan. Check below to get such more wonderful recipes.
Let me introduce to you my colourful Shaam Savera .It's a recipe made with spinach & cottage cheese kofta simmered in rich tomato gravy.Cottage cheese balls covered with spinach roundels gives this dish a very eye pleasing look.I didn't added corn starch while making kofta's as I shallow fried them in appe pan.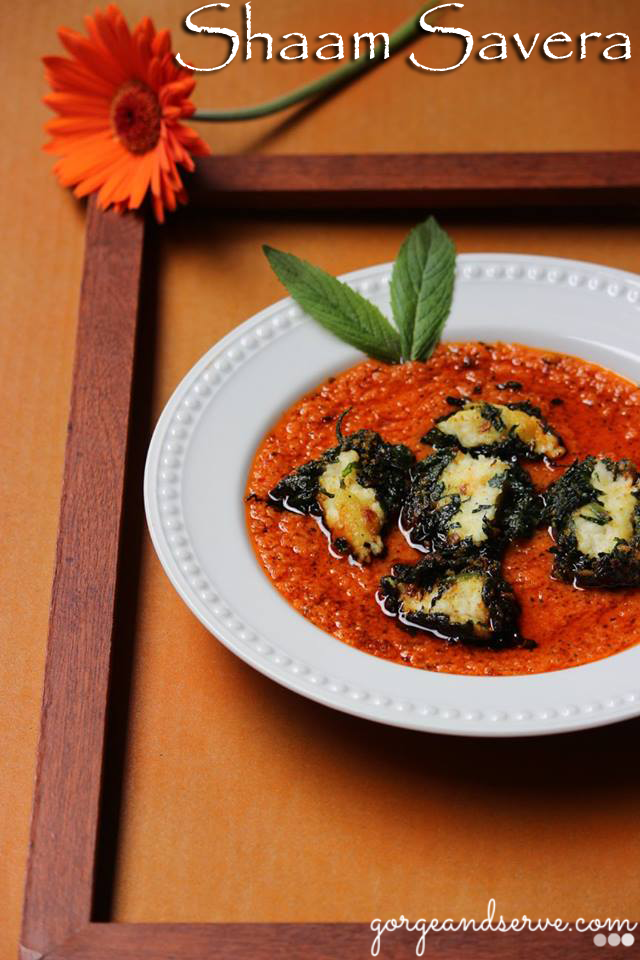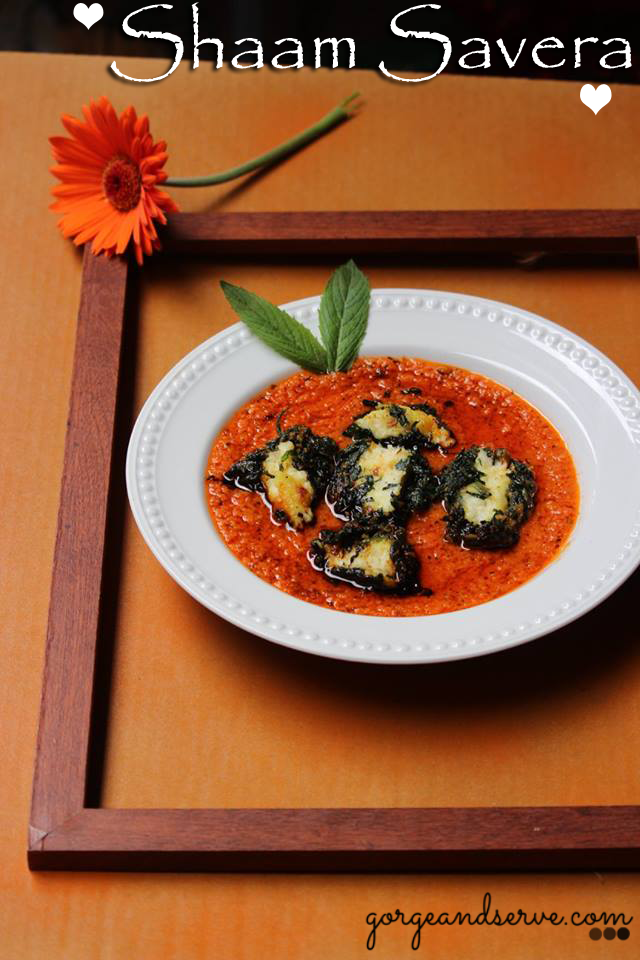 Preparation Time : 31-40 minutes
Cooking time : 31-40 minutes
Servings : 2
Ingredients
For koftas – to be made in appe pan
1 cup fresh spinach / palak leaves
1/4 cup Paneer / Indian cottage cheese, grated
3 tbsp chickpea flour / besan
1 tsp garlic, chopped
2 green chilies, chopped
1/4 tsp turmeric powder
1/2 tsp cardamom powder / elaichi
1 tspnOil
Salt to taste
For Makhani gravy
2 cup tomato puree
1 tbsp oil
1/2  Mace blade, Jaivintri
2 cardamom
1 tsp  garlic chopped
2 tsp red chilly powder
Salt to taste
1/2 tsp butter ( optional)
1 tbsp dry kasoori methi
1 tspn sugar ( optional) or honey
Garnish it with fresh cream if you like.
Process
Trim the spinach leaves and blanch them in boiling water for two to three minutes.
Drain and refresh under cold water.Squeeze out the excess water from the leaves and chop finely.
In another bowl mash the paneer (indian cottage cheese) with a little salt and a pinch of green cardamom powder. Make small balls of the paneer that can be stuffed.
Heat two tbsp oil in a  pan / kadai , add chopped garlic and green chilies and saute for a min.
Add chickpea flour / besan and continue to saute for one to two min, add turmeric powder and mix well.
Add the chopped spinach and salt and continue to saute, stirring continuously, until the mixture is dry .Set aside to cool.
Now take little spinach on hand , flatten it on your palm.place a paneer ball in the center.Gather the edges and close them in the shape of a ball.( if require take little more spinach to cover the paneer & make a ball)
Heat the appe pan and cook the spinach paneer balls for 10-12 mins. Keep tossing sides every 2-3 mins.
Once cooked, wait for them to cool down before you cut them into half.
Heat the oil in a pan. Add cardamom & mace ,saute for 10 sec & add chopped garlic , saute it for a minute.
Now add the tomato puree ,add chilly powder & salt.Let the mixture cook in medium heat till it starts leaving oil.
Now add little butter , & 1 tspn sugar, mix well.
Add crushed kasoori methi & let the garvy cook from another 5-7 min.
To serve, put the makhni gravy in a bowl, cut the koftas into two pieces & place them on the gravy.
Garnish with fresh cream ( I am not using fresh cream because it will make the dish quite rich as this is a DFT post )
Enjoy this healthy & hearty dish with some hot chapati 🙂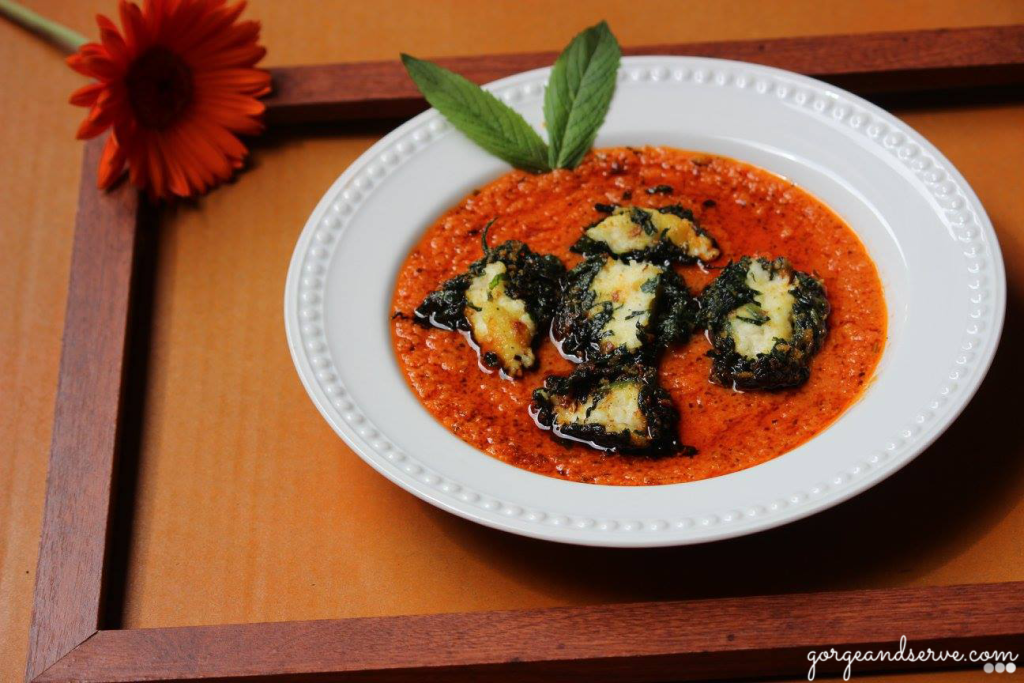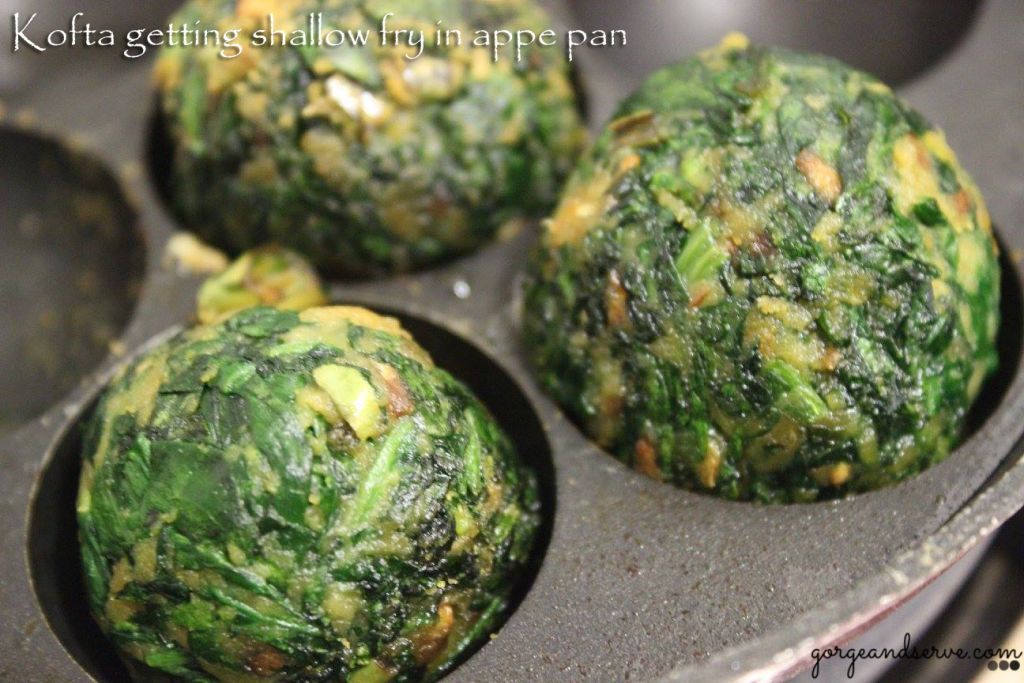 Note : Now if you don't have a appe pan you can coat the kofta balls in little corn starch & deep fry them .
Now, lets read some benefits !
Spinach : The American Diabetes Association calls spinach a diabetes superfood and recommends that you regularly include this dark green leafy non-starchy vegetable in your diet. Besides being rich in vitamins, minerals and phytochemicals, spinach possesses a low glycemic index, which means eating it will help support healthy and stable blood glucose levels. To learn more click here 
Cottage cheese or Paneer : Cottage cheese is a great source of calcium,Vitamin D,vitamin B complex and protein.Intake of cheese prevents osteoporosis that is caused due to the deficiency of calcium.The presence of conjugated linoleic acid and sphingolipids in cottage cheese makes it effective in preventing cancer.Cottage cheese is also known to enhance blood formation, strengthen the liver and facilitate absorption of nutrients.Low fat paneer is ideal for diabetic patients.
Tomatoes : Tomatoes are a rich source of vitamins A and C and folic acid. Tomatoes contain a wide array of beneficial nutrients and antioxidants, including alpha-lipoic acid, lycopene, choline, folic acid, beta-carotene and lutein.One medium tomato (approximately 123 grams) provides 22 calories, 0 grams of fat, 5 grams of carbohydrate(including 1 gram of fiber and 3 grams of sugar) and 1 gram of protein.