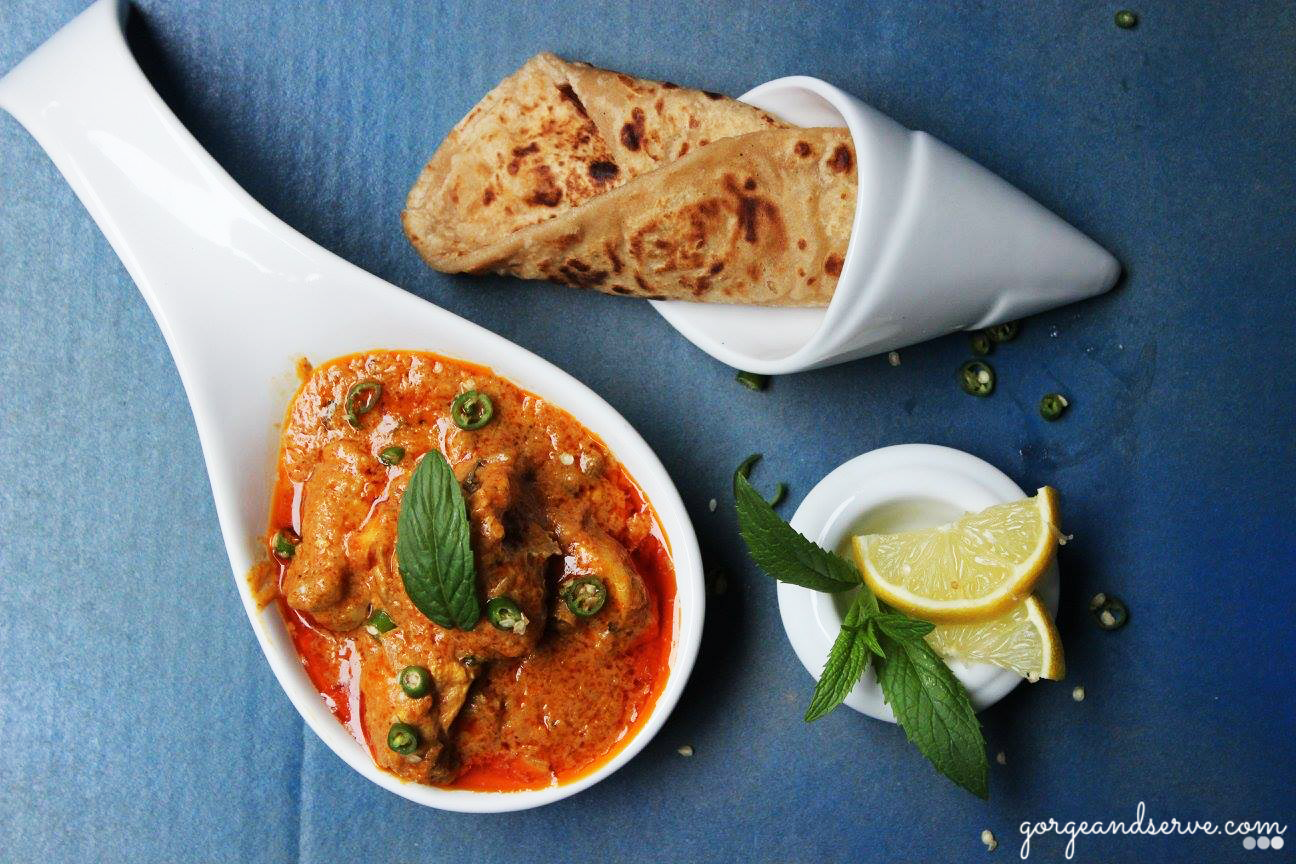 Dahi Murg ( Chicken cooked in Yogurt )
Some dishes are sinfully delicious & this is one such chicken recipe.
Dahi-murg , chicken that's absolutely tender and moist..Gravy that's just perfect & ideal for this beautiful weather in Montreal .
It's delicately flavored with yogurt , fragrant with cardamom & cinnamons and perfectly balanced …All one needs is some good hot parathas/naan to go with it, and there…your perfect lunch/dinner is served!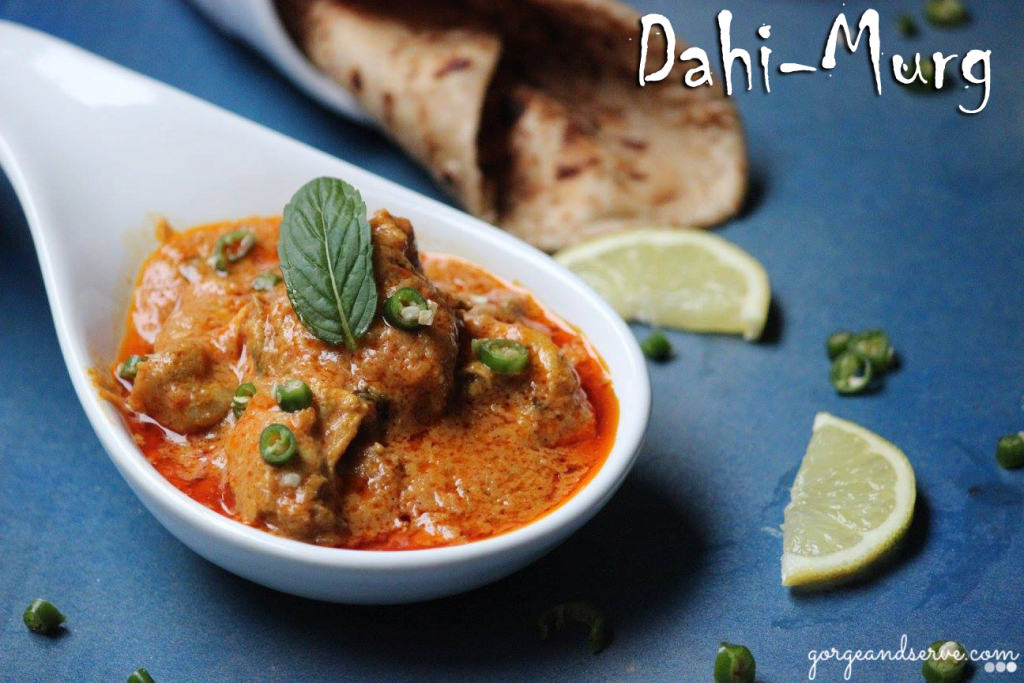 Dahi Murg is simmered in a spicy yogurt and tomato based gravy redolent with the aroma of cardamom.It has a subtle hint of earthy sweetness from cinnamon and a big punch of heat from the red chilly powder.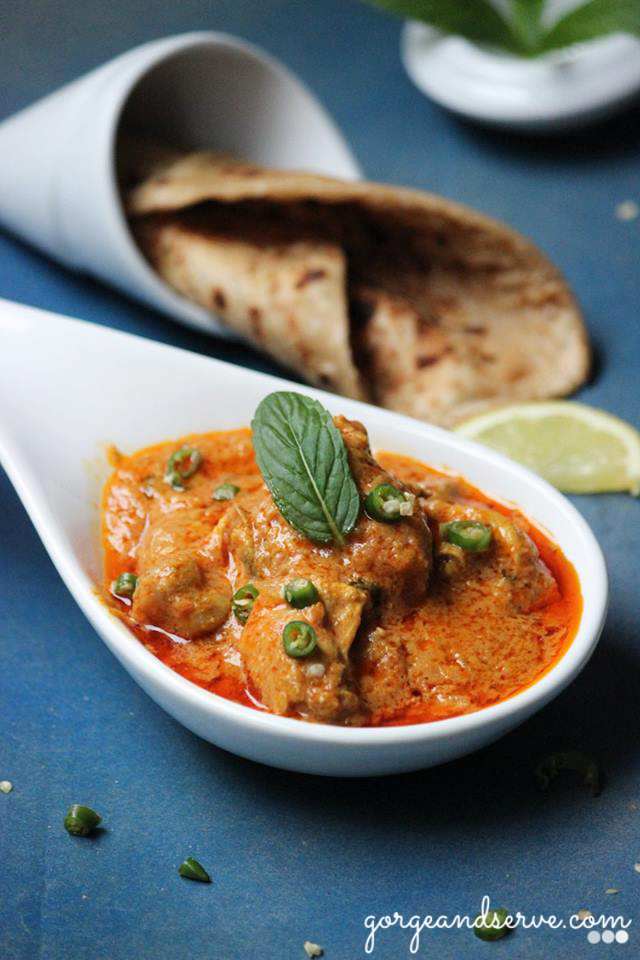 Ingredients
1 kg Chicken ( with bone)
2 onions chopped into small pieces
2 big tomatoes
2 cup yogurt
2-3 green chilly slitted
2-3 green Cardamom
2 pieces of Cinnamon (small)
1 tsp Coriander powder
1 tsp Cumin powder
2 tbsp Red chilly powder
1 tsp Turmeric powder
1/2 tsp Garam masala powder
1/2 tsp Nutmeg powder
2 tbsp Garlic powder ( If ths is not available replace with 2 tbsp garlic paste)
Salt to taste
4 tbsp oil
Coriander for garnishing.
Process 
Heat a pan in low flame & add green cardamom & cinnamon &  sauté it for few seconds.
Add chopped onions and green chilies & cook till onions are golden in colour. ( around 4-5 min in medium low flame )
Now add turmeric powder,cumin, coriander powder,garlic powder ( or garlic paste ) & red chilly powder, mix well and add little water. Fry this masala for 5-7 min by adding little water in between till it starts oozing oil.(We are adding the water in between to make sure the masala doesn't get dry )
After 5-6 min when the onion masala is fried nicely add the chicken pieces & cook the chicken for another 7-8 min in the spices. ( medium -high flame)
Mean while chop tomatoes & in a blender add yogurt & tomatoes to make a fine paste.
Now add the yogurt & tomato puree, along with garam masala & nutmeg powder, mix well.
Cook the chicken for 20 minutes covering the lid in medium heat till chicken is nicely cooked & you can see oil on the top.
Your Dahi-murg is ready to be served .
Garnish with chopped coriander.Enjoy this delicious chicken gravy with some hot paratha or Naan.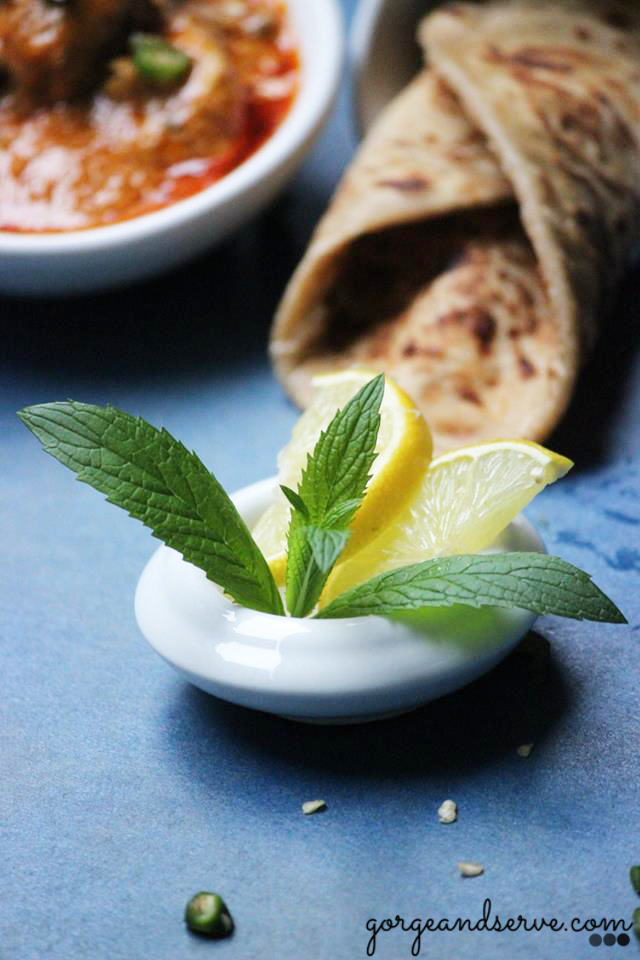 It's moist and tender,with just the right amount of heat that you will experience as an aftertaste. some time the recipe needs to do the talking. So I will leave this up to you guys, try this simple yet lip smacking chicken curry & share your experience with me.
Love
CK