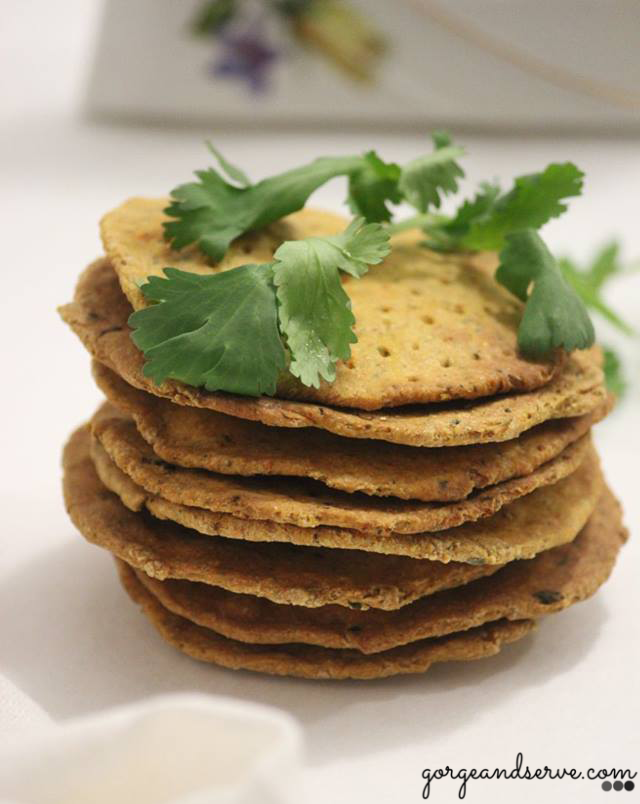 Baked Methi Pooris
.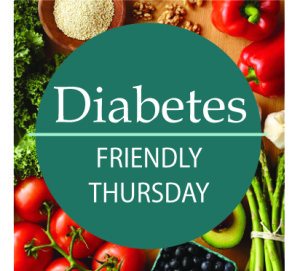 Creating Recipes with a Cause! I am a proud DFT blogger. To learn about DFT, read this link. To view more DFT recipes, Click here!
Yeahhh we are back again with some more innovative & delicious diabetic recipes  🙂
Who doesn't love pooris ,most of the times it's deep fried ,sadly it's not as healthy as we think & full of calories. So I have a great option for you which is not only healthy but it's delicious.So next time when you're craving for a cripsy crunchy snack, you can satisfy with this baked pooris ! Switch up those fried pooris with these baked version to add a nice twist to your poori treat! This is not only healthy but they are super tasty and its diabetic friendly too 🙂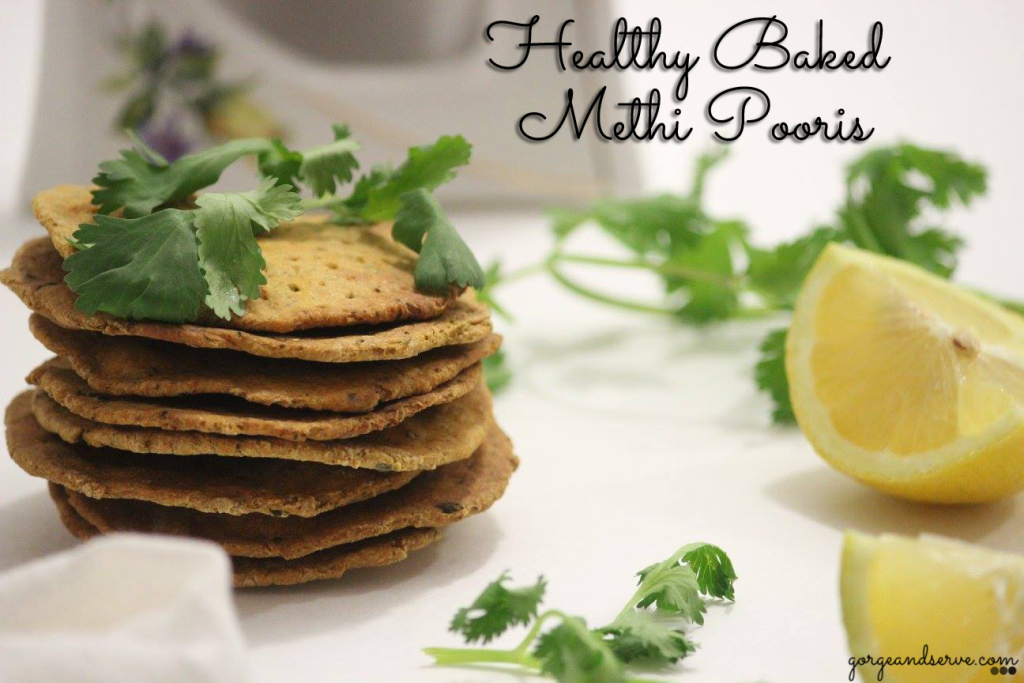 Preparation Time: 10 minutes
Baking time: 15-20 minutes.
Baking Temperature: 180°C (360°F).
Makes 10 pooris
Ingredients
1 cup whole wheat flour (gehun ka atta)
1/2 cup finely chopped fenugreek (methi) ( you can use dry Kasoori methi as well)
1/2 tsp turmeric powder (haldi)
1 tsp chilli powder
1 tsp coriander-cumin seeds (dhania-jeera) powder
1 tsp oil
salt to taste
1/2 tsp oil for greasing
Process
Pre-heat oven at 180°c (360°f)
Meanwhile combine all the ingredients in a bowl and knead into a stiff dough using enough water. Keep aside for 10 to 15 minutes.
Divide the dough into equal portions and roll out each portion into a circle of about 75 mm. (3″) diameter.
Grease a baking tray using oil, place 6 to 8 puris at a time on it and prick all over using a fork.
Bake in a pre-heated oven at 180°c (360°f) for 15 to 20 minutes or till the puris are golden brown, turning them once in between.
Cool and store in an air-tight container.
Devour 🙂  ✌️
Minimal usage of oil makes this recipe enjoyable to eat without the guilt of indulging in the original fried version of pooris. These baked pooris moreover provide iron and calcium in your diet. These pooris can easily find place in a low calorie diabetic menu .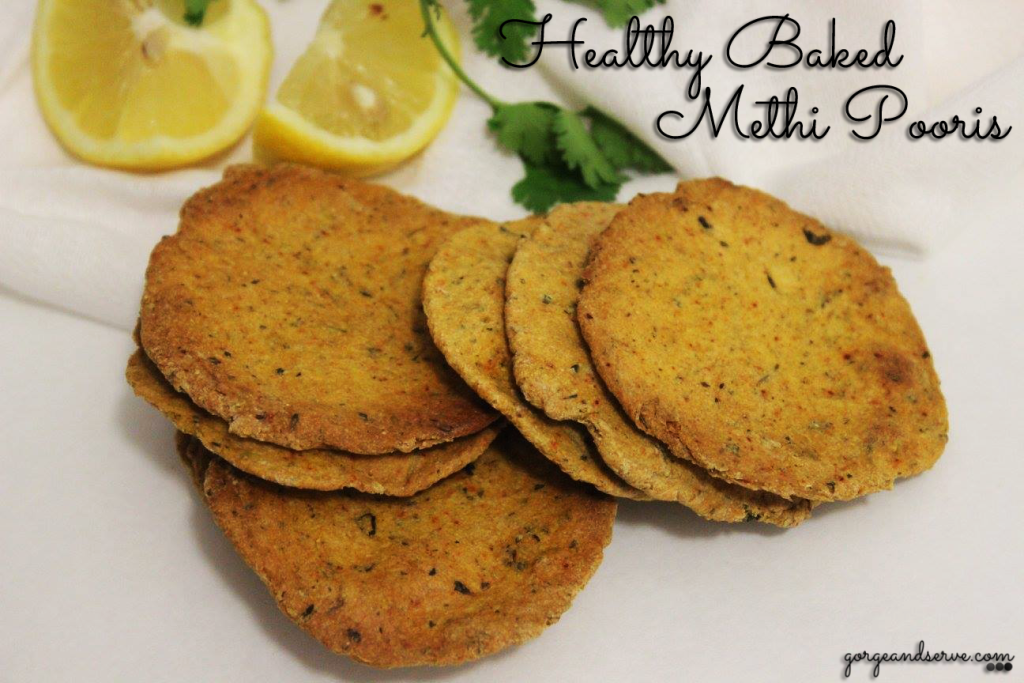 Lets check out the components of this Baked pooris :
Whole Wheat Flour –  Whole-wheat flour is more in fiber Content . Whole wheat has Low-GI which helps the foods absorb more slowly to prevent blood sugar spikes and crashes, so you're satisfied for longer after your meal.Whole-wheat flour contains several vitamins, including folate, riboflavin and vitamins B-1, B-3 and B-5.
Fenugreek – Helps reduce cholesterol, aids digestion, Helps control blood sugar. Galactomannan, a natural soluble fibre present in fenugreek slows down the rate of sugar absorption into blood. Fenugreek also contains amino acid responsible for inducing the production of insulin.
Turmeric – Turmeric contains curcumin, a substance with powerful anti-inflammatory and antioxidant properties.Turmeric helps in repairing and regenerating Diabetic Liver Function.
This is a great way to fulfill your morning or evening cravings along with tea.Just 2 pooris with morning or evening tea is enough to boost of energy your body needs to kick start your day. I love eating these pooris with my Garam chai ki pyaali 🙂 You can have them with pickle or Coriander Mint Chutney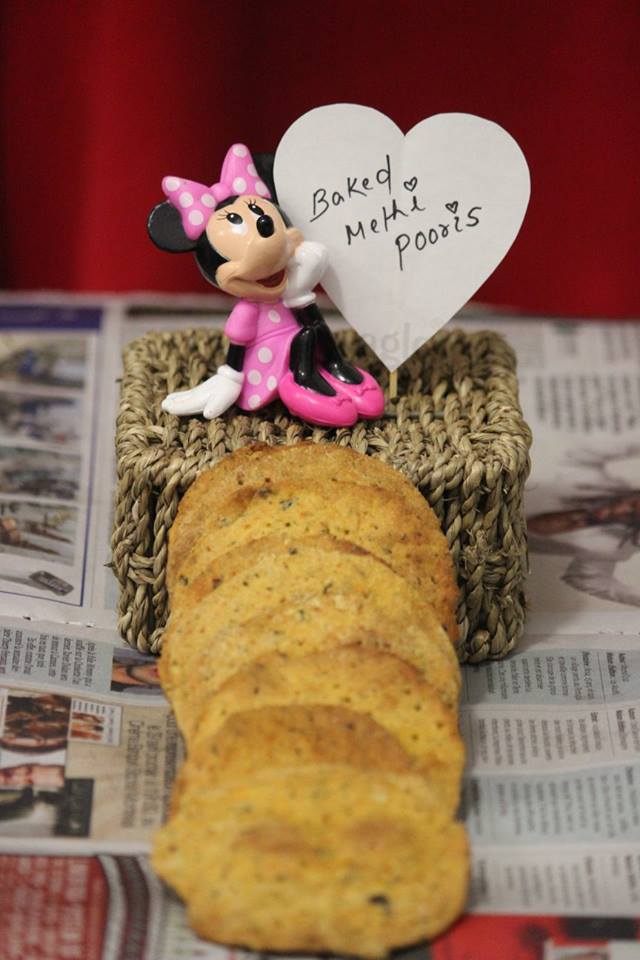 For information please refer to these links
http://www.webmd.com/
http://www.livestrong.com
http://www.diabetes.org
http://www.idf.org/membership/sea/india/diabetic-association-of-india
Discalimer : I am not a nutritionist or dietician. My knowledge and information is based on my research and reading from different resources. Please consult your doctor or dietician before making any changes to your diet.
Other Entries from this week DFT featuring more Dry Snacks!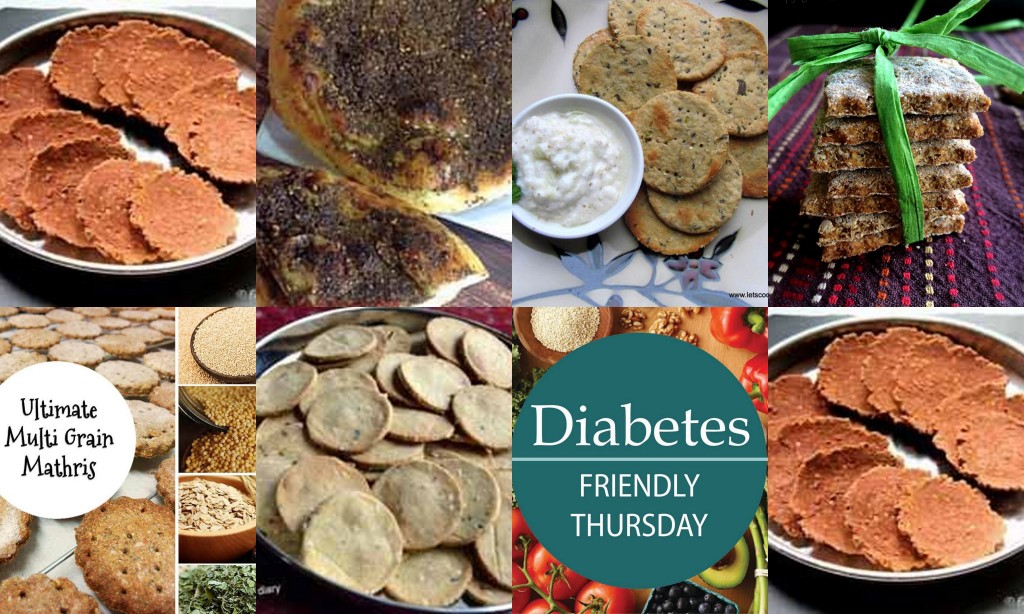 1. Prachi's Multigrain Mathris
2. Shailja's Manakish, a middle eastern bread
4. Suchitra's Masala Peanuts, pan roasted
5. Sonal's Lemon Pepper Crackers
6. Anupama's Red Rice Flour Baked Nipattu with oats and mung dal