Few memories are to cherish &  few brings tears in your eyes 🙁 I was going through my old albums & I came across few pictures of my college friend Subodh Jain ,my best buddy a very lively ,carefree & vivacious person. He died in a road accident ,and I still can't believe that he is no more . I can still hear him calling my name " Chikooooo " , still remember his voice ,his black jacket & his favorite bike . RIP Subodh ,where ever you are ,you are being missed by everyone of us. I still remember how much he loved Jackfruit Curry ( Kathal ki sabzi ) . I am sure he is in a much better place then us & smiling as I remember him today ,I miss You Subodh 🙂
Now talking about Jackfruit,it's one of the most loved vegetable in my family .My mum cooks it so well that it feels we are eating chicken 🙂 It's delectable, mouthwatering, and appetizing. Jackfruit is eaten as a fruit as well.It is known for having a distinct aroma. The flesh of the jackfruit is starchy and fibrous and is a source of dietary fiber. It  is commonly used in South and Southeast Asian cuisines.
This curry is simple but delicious and will leave you wanting more. Promise. 🙂 My curry gets its pungent heat from black peppers. It's a tomato based gravy, where spices like coriander & cumin as the base, letting the flavors simmer and come together in perfect harmony.  It's fairly thick gravy that is perfect with some plain boiled rice & green chutney.
Ingredients
500 gm kathal (jackfruit, unripe,cut into small cubes, I used canned )
1 medium onion, chopped
6-7 garlic pods
1 inch ginger
1 1/2 tbsp Coriander seeds
1 tbsp cumin seeds
1 tbsp black pepper seeds
1 tsp  Turmeric powder
1 1/2 Kashmiri red chilly powder
2 medium tomatoes, chopped
oil for shallow frying, mustard or any
1/2 tsp -Garam Masala
1 bay leaves
Salt to taste
Mustard oil for gravy
Process
Mix onions,garlic,ginger,coriander seeds,cumin seeds & pepper & with little water make a smooth paste in blender.
Heat 2 tbsp mustard oil in kadai and shallow fry the jackfruit pieces adding little turmeric powder & salt to taste. Fry till u get golden brown colour.
Remove from oil & keep aside.
In the same pan/skillet or kadai add 3 tbsp mustard oil ,heat the oil nicley & add bay leaves .
Now add the onion-ginger-garlic & spices paste & fry for about 6-7 min nicely .
Add turmeric powder & kashmiri chilly powder & mix well.
To this add either chopped tomatoes (you can even roughly puree the tomatoes ).
Fry for another 5-7 minutes, it the masala starts oozing oil.
Now add the fried jackfruit and mix well and cook covered for 10 minutes turning in between.
Finally, add garam masala and little water ,depending upon how much gravy you want & let it simmer for another 5 min.
Finally garnish with lots of cilantro & serve hot with rice or chapatti.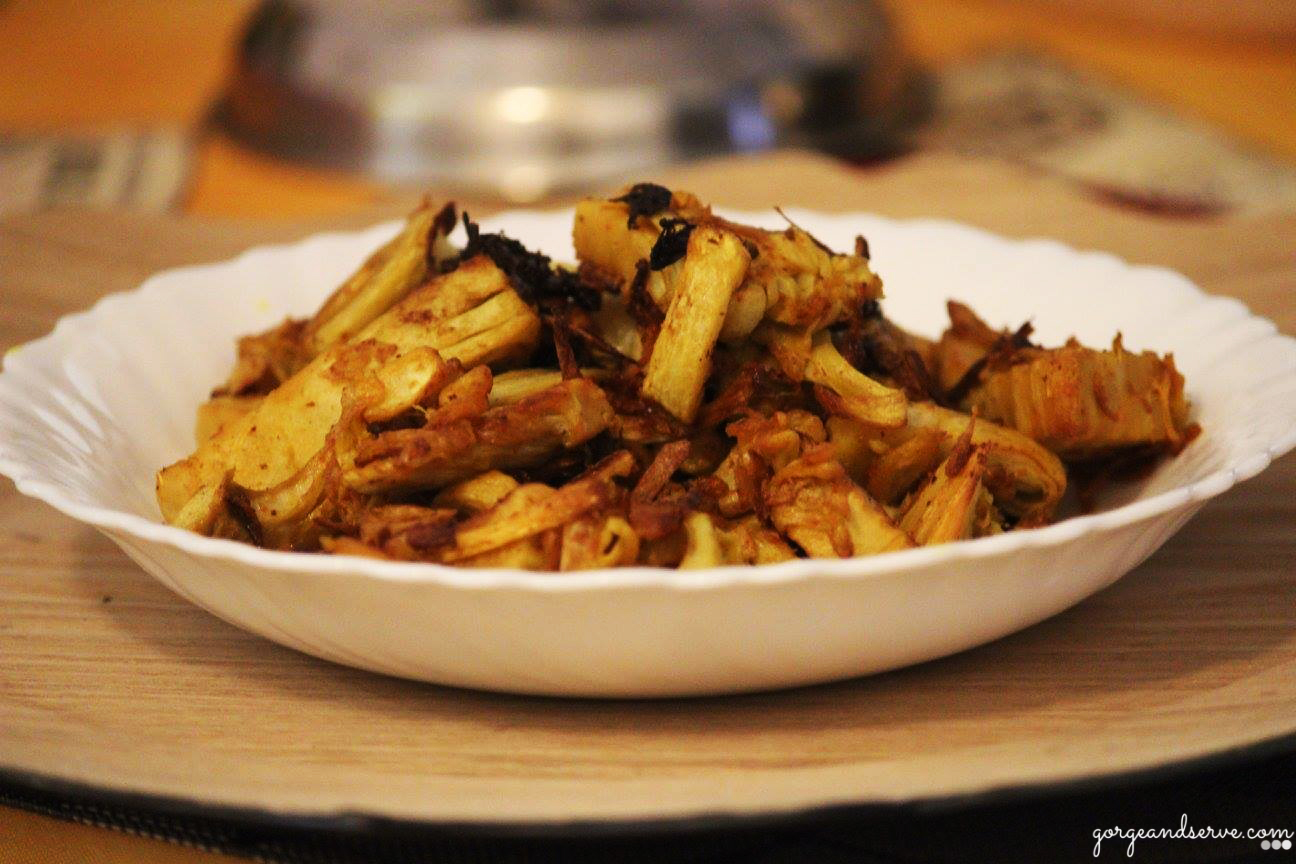 Love
CK