Who doesn't love savory biscuits 🙂 When I was a kid I use to buy these monacco biscuits in one shop near my house with my pocket money every evening to have with milk or tea 😛 The shopkeeper use to sell these biscuits loose ,so in 1 rupee I use to get some 6-7 biscuits.I was so addicted to these monacco's that I want them every day ,and while coming from my tution classes it was my routine to buy them.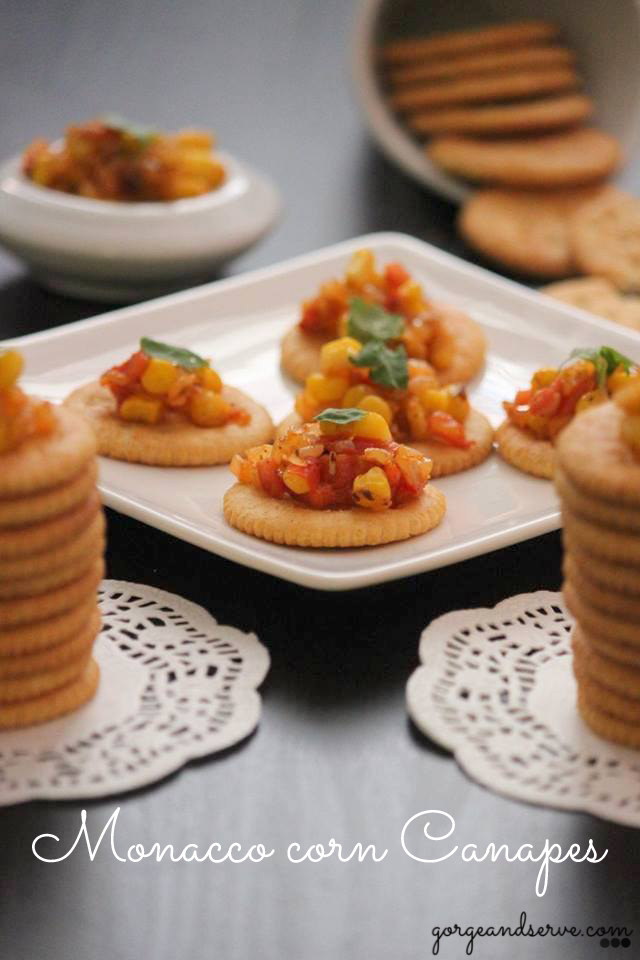 They are still my favorite & I always eat them with my evening tea. Times changes but habits doesn't. 🙂 I keep my monacco or Ritz in a glass jar just to get that feeling ,just the way it use to be kept in that shop ,Lol I don't sell them though 😛 .Using these little bundle of joy I make different kinds of Canapes which is a cherry on the top. It looks cute & tastes amazing 😉 You can serve these to your guests in emergency ,it's ideal for kids as well. I am sure like me they are gonna love them.
You can ask your kids to make them & it will be great fun , You can think of any interesting toppings you want to ,I use fruits, flavored yogurt, Nutella & vegetables. Today I am making a simple & delicious Corn Canapes & I am sure you are gonnna love them.
We need 
Monacco or Ritz biscuits
1/4 cup Corn ( boiled till soft )
1 tsp Olive oil or butter
1 Garlic cloves  ( finely chopped )
 2 tbsp Onion ( finely chopped )
2 tbsp Tomato deseeded ( finely chopped )
Salt to taste
1/2 tsp Oregano
 1 tsp Tomato ketchup
1/4 tsp Black pepper
Coriander to garnish
Cheddar cheese – 1 tsp ( grated )( optional)
Process 
Heat oil/butter in a pan and add garlic.saute for 10-20 seconds.
Add onion, tomato and corn.saute for 2 minutes.
Add oregano, black pepper,tomato ketchup & salt to taste.Cook for a minute.
Let it cool 🙂
Now top the biscuit with a little bit of corn mixture.
Sprinkle little cheese on top. (no cheese for me today ,its over 😛 )
Garnish with coriander leaf.