Yeahhhhhhhh it's weekend again 😉 Happy weekend foodies
How are you celebrating your weekend ??? relaxing, shopping, cleaning or cooking something special for you & your family 🙂
So here I am back again with a very delicious,refreshing & world famous Mango lassi 🙂 but with a twist
Mango lassi is made by blending yogurt, water and mango pulp often sprinkled with ground pistachio nuts .
When it comes to chocolate, resistance is futile. so keeping that in mind I am making Chocolate Mango Lassi  and presenting them in little glasses as shots , Isn't this a fun idea .We are going little away from the conventional way ,just to make our world famous Lassi little more interesting & yummylicious 🙂
I believe that specially in cooking people should think, things out fresh and not just accept conventional terms and the conventional way of doing things.
Ingredients 
I cup mango puree ( I used alphanzo)
2 cups yogurt
2 Tablespoon of sugar ( adjust as per taste )
Chocolate syrup
Few cherries
Process 
Drizzle chocolate sauce on the sides of individual serving shots glass in a decorative pattern. Refrigerate to chill.
In a blender add mango pulp,yogurt & sugar & blend it till smooth.
Take the chocolate prepared glasses & pour lassi into them.
Garnish with some more chocolate syrup & cherries.
You can add some mango cubes, dry fruits ,basically you can decorate the way you want  😉
Serve chilled and enjoy 🙂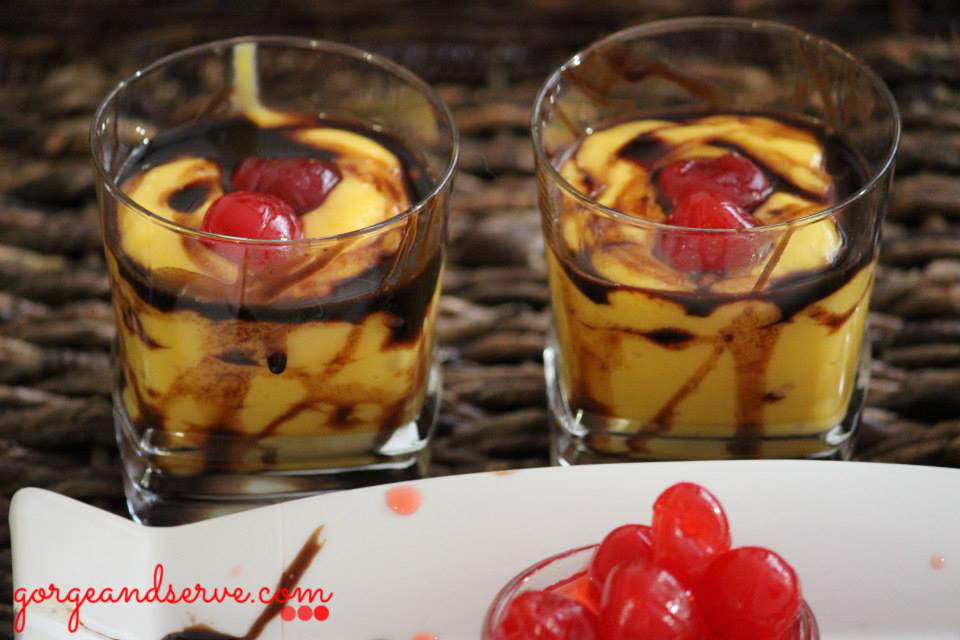 Wish you all a very happy weekend & do let me know if you try this chocolaty drink at home 🙂
Love
CK