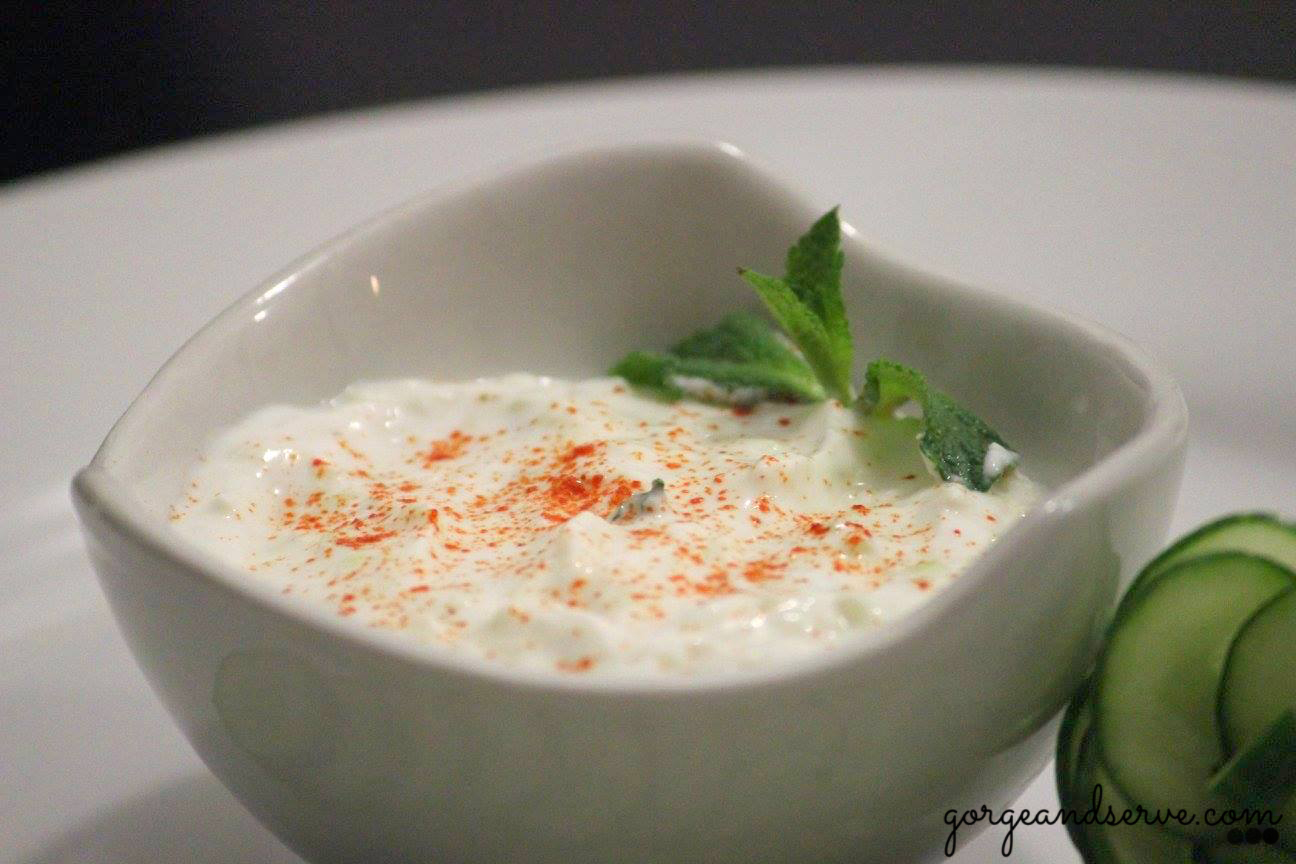 Tzatziki (Greek Garlic Yogurt Sauce)
Tzatziki, is a greek sauce served with grilled meats or as a dip.Tzatziki is made of strained yogurt mixed with cucumbers, garlic, salt, olive oil, sometimes lemon juice, and dill, mint, or parsley. Tzatziki is always served cold. Its healthy to core and so yummy that once you taste this you would make it again & again. I got introduced to this mouthwatering dip in Montreal . I always wanted to create this classic tzatziki, the traditional style . Its an ideal partner with pita bread and falafal sandwiches but you can eat it with anything you like. I love eating this with potato wedges & some time even my Indian food 🙂 I used greek curd to make this dip, if you are using a normal yogurt keep in mind that the yogurt needs to strain for about 8 to 10 hours, so it's best to begin the preparation the day before you plan to serve it. I am using a bit of chopped mint to give that extra flavour. This is my first recipe in the MEDITERRANEAN CUISINE.
Ingredients
1 cup of plain yogurt or greek yogurt
2 cloves of garlic crushed/minced
1  cucumber ,peeled & grated
1 tablespoon of olive oil
1 tablespoon of fresh lemon juice
Salt to taste
Pinch of Cayenne powder ( optional ) for that extra zing 🙂
Pepper
Few Mint leaves ( chopped)
Process 
Place the yogurt in a medium-sized bowl.
Add the crushed garlic to the yogurt.
Peel the cucumber, slice it in half, remove the seeds, and shred the cucumber using a grater.
Add little salt & let it rest for 10 min.It will release lots of water & we want to get rid of that .
After 10 min squeeze out any excess water from the cucumber and add it the yogurt mixture.
Add the olive oil,cayennepowder, salt, pepper and fresh lemon juice.
Stir the mixture well. Taste & add the spices as per your taste .
Garnish with an olive or a slice of lemon or drizzle cayenne as I did.
Now its ready to be served.You can also refrigerate this overnight and it taste much better the next day .
To me, the extraordinary aspect of cooking lies in its simplicity. The easy way is also the right way.Enjoy this simple yet healthy dip & do let me know your views on it.