Ghugni is an evening snack in Eastern India (Assam, Bengal, Bihar, Odisha).Dried yellow peas or dried white peas is cooked with gravy, It is then served with murmura (puffed rice), and at times with hot onion pakoda/bhajiya. Back in my home town we get  Ghugni in road side restaurants,they serve this with sliced boiled potato ,some time with aloo- chop. There are many ways to cook it ( I am sure ) but the way I make it is the way I saw my mom/aunts cooking . Being a punjabi I always want that spicy flavour in all my curries. So this is my version of making this yummy and delicious ghugni. So lets begin.
Ingredients 
Main 
250 gms White peas (soaked overnight)
1 medium size onion Chopped
1 inch ginger
5-6 pod of garlic
1 big tomato (purée)
Chopped Cilantro for garnishing
Spices 
1 small bay leaves
1/2 tspn turmeric powder
1 tbsp Red chilly powder
1 tbsp Coriander powder
1 tspn Cumin powder
1/2 tspn Black pepper powder
1 tspn Garam masala Powder
1/2 tspn Aamchur Powder
3 tbpn Oil (vegetable)
Process 
Soak the peas overnight or 5-6 hours before cooking.
Pressure cook with little salt for just 2 whistle . ( they get mushy very fast)
Add onion,garlic & ginger & make a puree in blender.
In a Pan heat oil , add  bay leaves, add the puree and cook nicely for 8-10 min till it changes the colour and the raw aroma goes away.
Now add the spices turmeric powder, Red chilly powder, Coriander powder, Cumin powder, Black pepper powder and   and cook till you see that the masala starts oozing oil in the corner.
Now add the tomato puree and cook for another 7-8 min  till oozes oil.
Add the boiled peas now, add garam masala & aamchur  and cook for another 7-8 min in low flame so that all the peas can absorb the spices flaovour. ( Please dont throw the water in which you boiled the peas,we will use that for gravy)
Add the left over water and boil it for 5 min in low flame. You can add water as per your desired consistency.
Garnish with chopped Coriander.
There are several ways to eat ghugni lets see a few of them :
Aloo ghugni 
Slice one boiled potato in a plate, pour some ghguni,drizzle with chilly powder,chat masala powder and 2 tablespoon of tamarind water .
Katori Chat  
Grate few potato ,squeeze between palm to removed water.
Add little salt,pepper powder & 1 tablespoon of corn flour.
Grease a muffin tray put the mixture and  press to give a katori/bowl shape.
In a preheated oven at 350 C bake for 30 min.
Fill the katori with the ghugni and garnish with chopped onions,tomatoes,bhujia. serve 😉
Moori-ghugni
Mix ghugni with puffed rice ,add some chopped onions and tomatoes,mix nicely with a spoon & serve.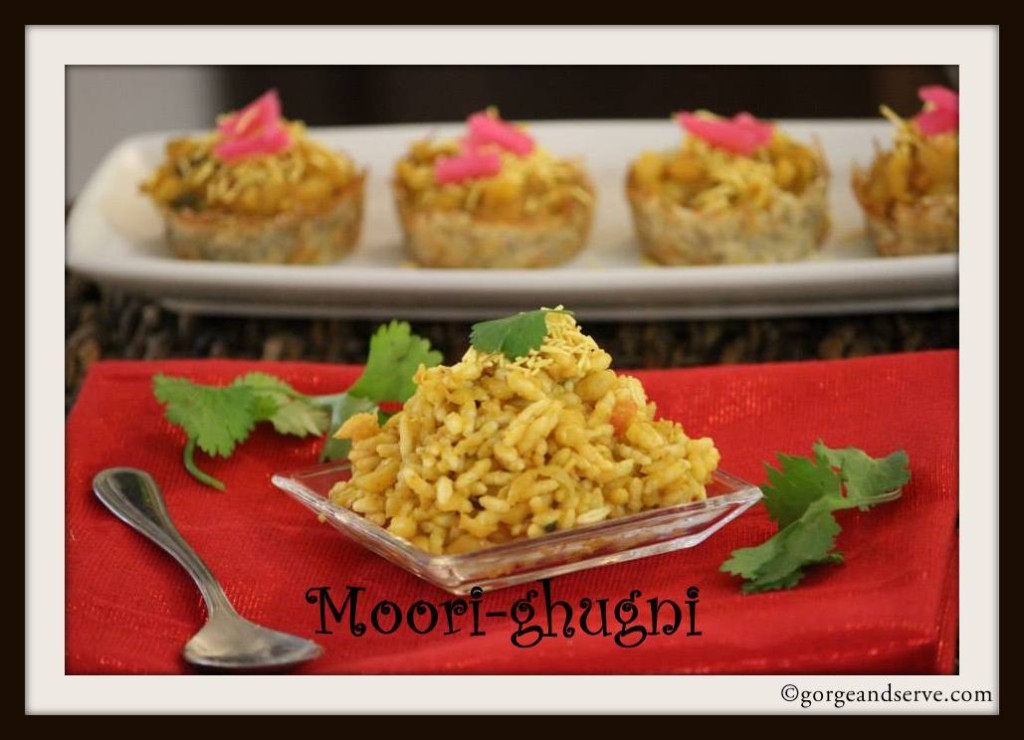 Apart from this you can make aloo-tikki chat, you can eat this with rice,chapati,paratha ,you have plenty of options 😉 Enjoy ting !!!!!