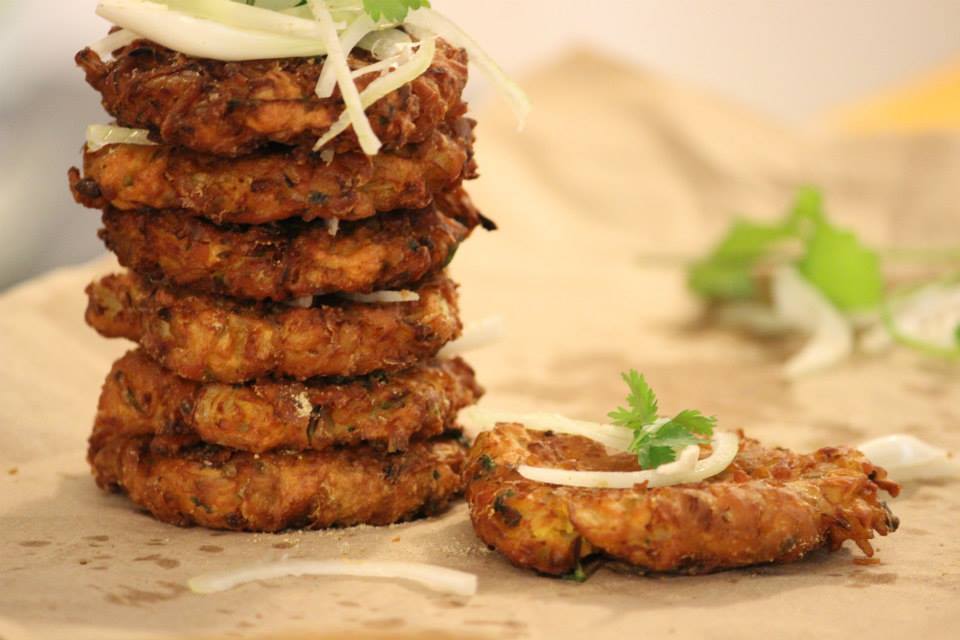 Pyaazi( Flat onion fritters)
Pyaazi (I call it as lost snack of Bihar and Jharkhand )brings some nostalgic moments back from my childhood, You won't get this " Tea-snack" in any fancy restaurant ever. This is a road side snack (street food ) sold by street vendors. People from Bihar,Jharkhand might identify this delicious snack .I ate this when I was a kid ,we had this small resturants ( pronounced " hotail") near our home and every evening I use to buy either hot samosa, pyaazi, cutlet, aloo-chop, nimki to hog with our evening tea. We use to fondly called the hotel owner as " nadu dada " ( dada means brother in bengali ) . Oh "what an amazing memory! " 🙂 I miss all those golden days , when life so simple and hassle free. Anyways today I thought of making this and surprisingly it came out as tasty as Nadu dada's Pyaazi .The hotel(resturant) does not exist anymore but his expertise in making these snacks is incomparable.
Ingredients
2 big onions chopped into random small pieces
4-5 tablespoon gram flour (besan)
1/4 tspn Turmeric powder
1/2 tspn cumin powder
1 tspn Red chilly powder
1/2 tspn Carom seeds (ajwain)
1 tablespoon rice powder
1 tablespoon oil
1 tspn chat masala powder
Salt to taste
1 tablespoon chopped coriander leaves
1 tablespoon chopped mint leaves
Chaat masala to sprinkle
Few chopped onions to sprinkle ( vertically)
Oil to fry
Water ( only if required,in my case I didn't put even one drop of water)
Process
In a bowl take the roughly chopped onions and add red chilly powder,turmeric powder,cumin powder,carom seeds,salt,chopped coriander,mint,1 tspn chat masala powder,gram flour , rice flour and 1 tablespoon oil and using you hand mix all the mixture giving little pressure.
In the process the onions will release water so I did not added water at all. You have to make a thick mixture so that you can make balls.You can add little extra gram flour if you feel you need it.
The amount of gram flour is only to bind the onions and it should not over power the onions.
Now heat enough oil and make small balls and fry them for 1-2 min .
Remove the half fried pyaazi from the oil and keep in a paper towel.
Flattened the balls.
Reheat the oil again to maximum temp and deep fry the flattened pyaazi again til crisp and golden .
Drain on absorbent paper,paper towel.
To serve ,transfer pyaazi on serving plate ,sprinkle chat masala on top with some chopped onions and enjoy with hottttttttttt tea 🙂