Home >> Bread basket >> Chana dal Paratha (Protein packed bengal gram split Flat bread )
I was born in Bihar and while growing up I witnessed  many Bihari delicacies ,Chana dal paratha is one among them . It resembles the famous Maharashtrian dish " Puran poli" which is made using chana dal but sweet in taste. The process of making the savoury chana dal paratha is a bit different from Puran poli. But ,its a must try friends.I call this as protein packed paratha because dal is full of protein 😉 Try it out , eat this soft parathas with pickle, chutney or Ginger tea ( the way I do ) and I am sure you will make it again and again and again  😉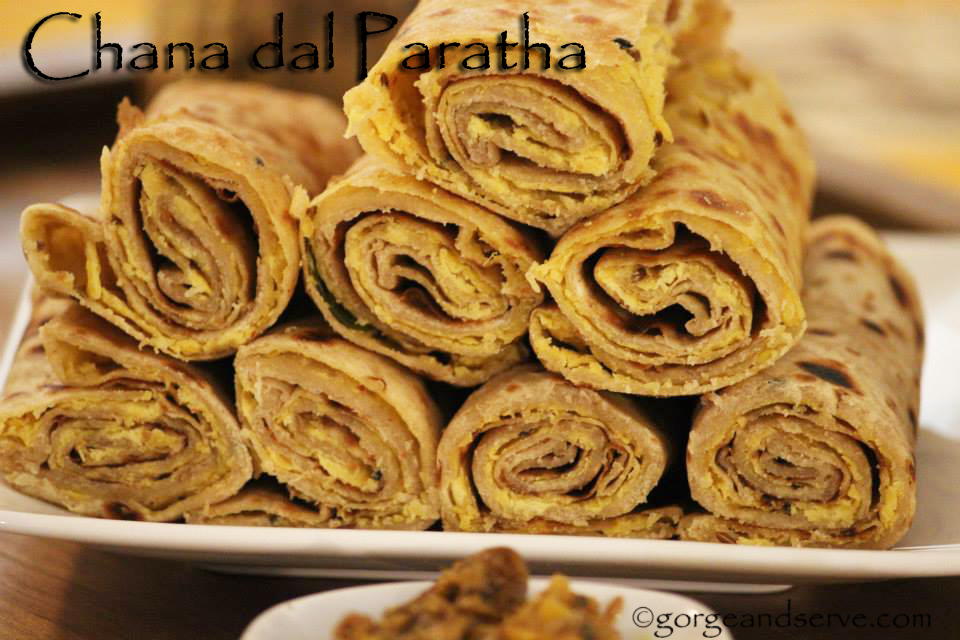 Ingredients 
1 cup Chana dal (bengal gram spilt)
1-2 green chillies finely chopped
A pinch of turmeric
1/2 tspn red chilly powder
1/2 tspn coriander powder
1/4 tspn dry mango powder
1 tspn cumin seeds
Salt to taste
1 tablespoon oil
few Coriander leaves chopped (optional)
For the Dough 
2 cups Wheat flour
1 tspn Nigella seeds ( Kalonji)
Salt to taste
1 tablspoon oil
Process 
Dough Preparation :
In wheat flour ,add nigella seeds ,1/2 tspn salt and oil and mix well with your hands.
Now add little water at a time and make a soft smooth dough kneading for around 5 min. Keep aside.
Chana dal filling :
Pressure cook the soaked dal for 1 whistle and let the pressure cooker cool down.
Sieve the chanal dal and remove water .Spread the dal in a news paper or cloth to get rid of the excess water.
Now in a pan heat 1 tablespoon oil, add green chilly & cumin seeds and saute for 10 sec ,now add the chana dal and fry for 2-3 min.
Now add red chilly powder, turmeric ,coriander powder & dry mango powder  and fry mashing the dal mixture in medium flame till the chana dal mixture is dry .Turn off the heat and let it cool.
You can mash the dal mixture using with hand if you see any whole dal left.
Now take a piece of dough. Roll it out in a small circle. Now put 1 1/2 tablespoon chana dal mixture filling in the center of the rolled out dough.
Take it in your palm and bring all the edges together.
Now by applying pressure with your fingers press the edges down.
Gently roll the stuffed dough with a rolling pin. Make sure that the parathas do not break,Applying some wheat flour while rolling to make the process smooth.
Put the rolled dal paratha on a hot griddle.
Fry the dal paratha with oil/ghee as you would usually fry them..
Fry the parathas till you see some brown spots. You can also press the paratha edges so that they are fried well. as some time, the paratha edges are not cooked well.
Serve hot with your favorite accompaniments. Ting !!!!