I got the Appe/Abelskiever pan  from India & I never knew that it will become one of my ultimate favorites in the kitchen. This is such a versatile utensil in the kitchen, It can give you healthy and scrumptious meals every single day without any guilt. I wanted to try this vegetarian version of famous Chicken 65  which is Tangy, delicious, soft, just ready to melt in you mouth,a must try for all potato lovers 🙂 Not sure how it got it's name, there are several theories .
I didn't wanted to deep fry the potatoes so I used Appe pan & it was superb. When something is guilt free & healthy there is no way ,you can resist yourself making it.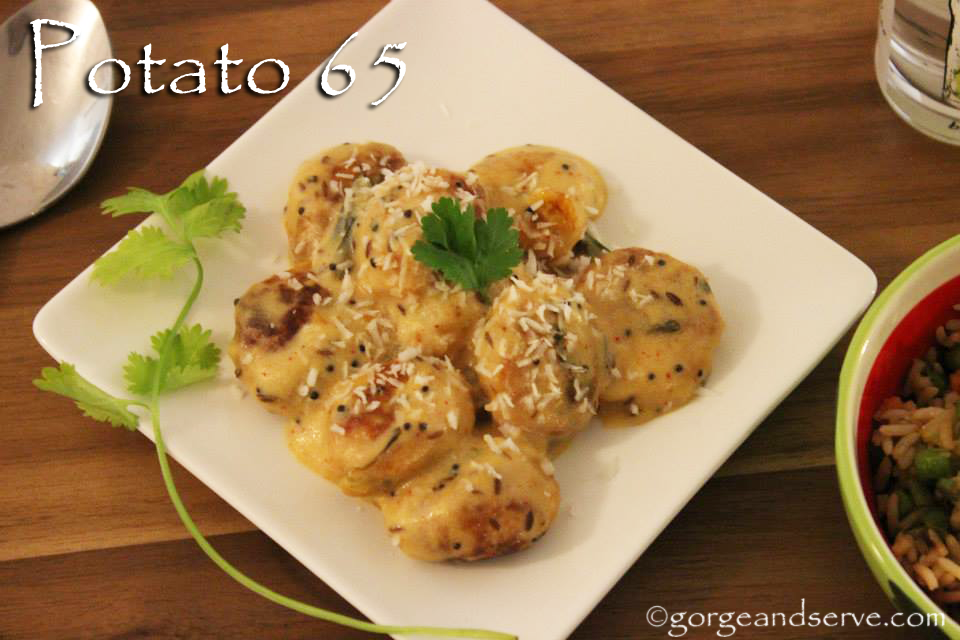 Instead of deep frying the potato balls ,we shallow fried in appe pan ,still the taste was to die for. I made some vegetable fried rice along with it and it was a complete meal.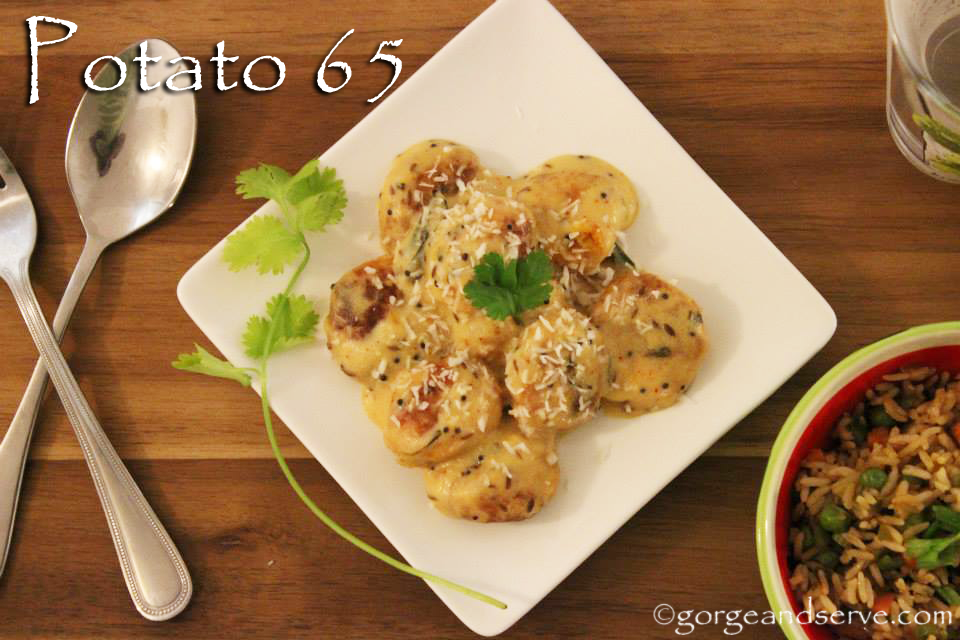 Ingredients 
2 paraboiled potatoes ( grated)
1/2 cup yogurt
2 tablspoon maida
4-5 dry red chillies
7-8 curry leaves
Dry coconut powder for garnishing
1/2 tspn mustard seeds
1/2 tspn cumin seeds
1 tablespoon Ginger grated
1 tablespoon Garlic grated
1/2 + 1/2  tspn red chilli powder
1/2 tsp turmeric
Salt to taste
1/2 +1/2  lime juice
Coriander leaves
2 tablespoon oil.
Process
In a bowl mix grated potatoes, 1/2 tspn of red chilli powder,1/4 turmeric powder,salt to taste,1/2 tablespoon juice, chopped coriander leaves,2 tablespoon maida .Mix well and make small balls.
I used appe pan to shallow fry the balls instead of deep frying.So go ahead and shallow fry/deep fry the balls as per your wish.
Meanwhile in a separate bowl mix 1/2 cup of yogurt,1/2 tspn red chilly powder,1 tablespoon maida and mix well,keep aside.
Heat yok ,add 2 tablespoon of oil,add 1/2 tspn cumin seeds ,1/2  tspn mustard seeds ,red chilly and curry leaves .
Now add ginger & garlic & saute for 2 min .
Now add yogurt mixture ,cook stirring the mixture till it has became little thick.
Now add potato balls and cook till all the potatoes absorbs the yogurt mixture.
Garnish with coriander leaves and dry coconut powder.
Serve hotttttttt 😉 Enjoy ting !!!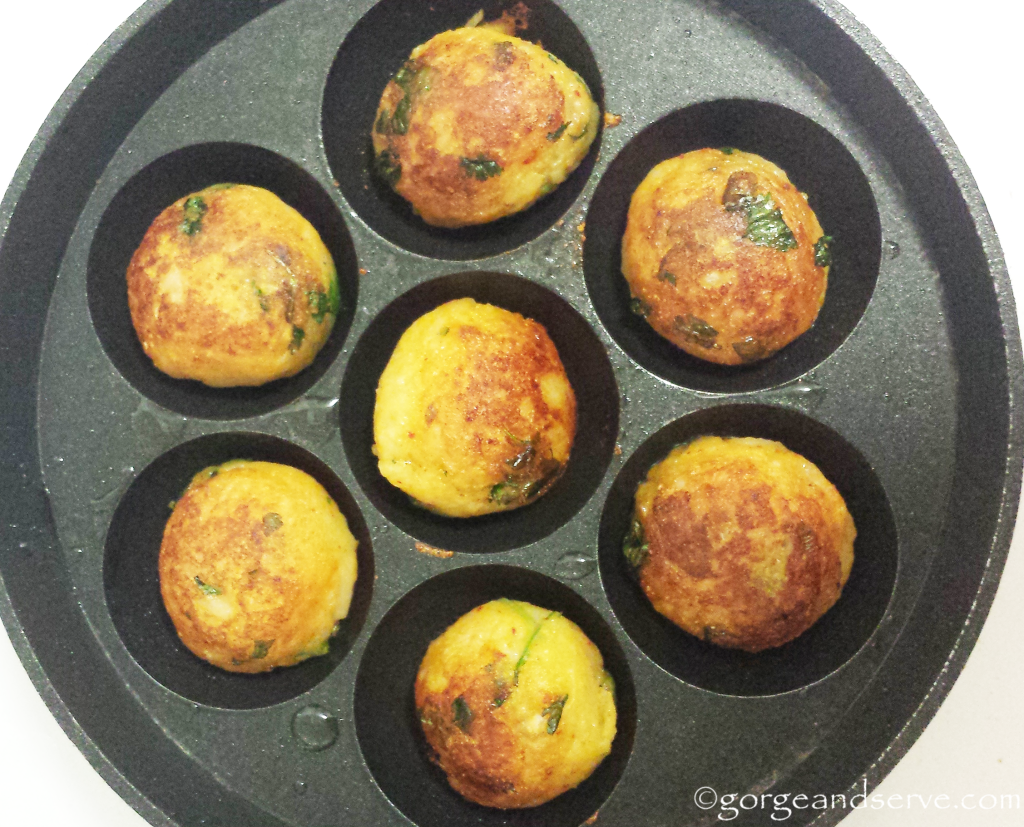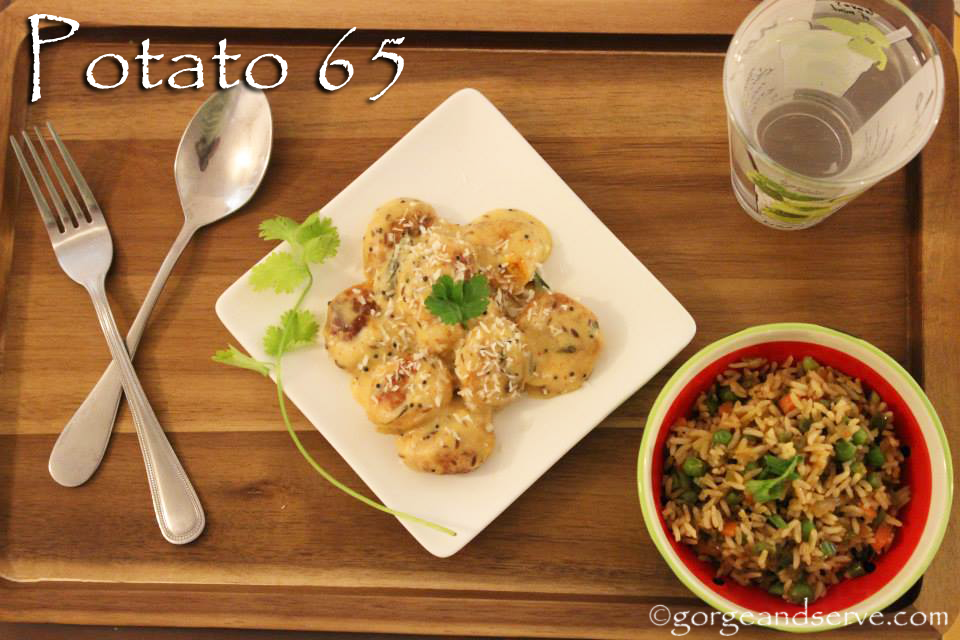 Appe pan is not only a wonderful Kitchen friend but it's a revolution in healthy cooking.I hope you will love this twist to this scrumptious dish. Do Try this out & let me know 🙂
Love
CK
Inspiration by Chef Harpal singh.