Medu Vada ,the Indian doughnut 😉  is a savoury fritter-type snack from Southern region of  India .The general way of preparing medu vada is to make a thick batter of Black gram (without skin ). This mixture may then be subsequently seasoned by mixing with cumin seeds, onion, curry leaves, salt, chilies, black pepper grains & coriander leaves.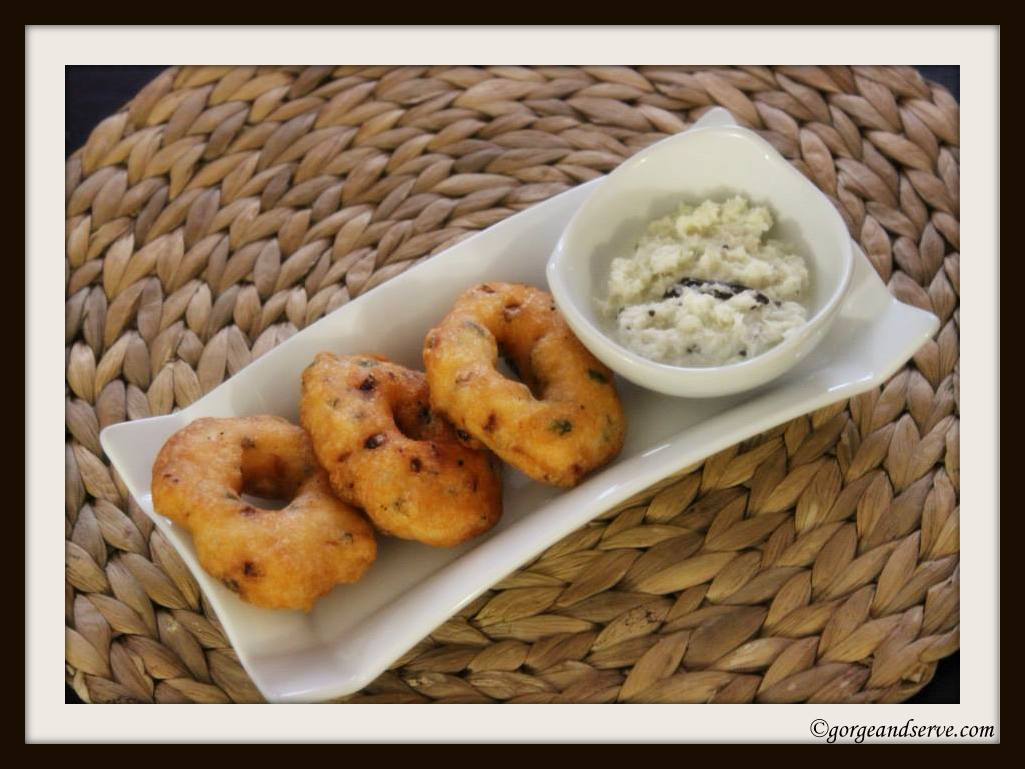 Ingredients 
1 cup Urad dal soaked for 2-3 hrs ( Black gram without skin )
Vegetable Oil to deep fry
1 medium sized onion finely chopped
2-3 green chilly chopped
1 tspn coarsely pounded black pepper
Freshly chopped Coriander leaves
Salt to taste
Process
Soak urad dal for 3 hours in water.
Grind into a paste using as little water as possible,add salt to taste and mix well.
Cover it  keep aside for about 4-5 hours or even overnight if you are planning for breakfast.
Beat the batter with a spoon for 3-4 min, this will help the batter becomes light and fluffy.
Now add freshly chopped coriander leaves,finely chopped onion,chillies and coarsely pounded black pepper.
Wet you hand and place a tablespoon of batter on the hand in the shape of a circle.
Dip a wet finger in the middle to create the hole in the vada.
Slide vada into hot oil using other hand slowly .
Fry on medium high heat till golden.
Serve hot with Sambhar & coconut chutney. Enjoy Ting !!!